Josh Aloiai says it himself: "You're not really a part of Wests Tigers until there's a 10-metre dash and an Instagram shout-out."
New recruit Harry Grant can now officially call himself part of the club.
Run by the Samoan international himself, the unofficial test of joining Wests Tigers has been in operation since the start of the 2019 pre-season when Aloiai took on arguably the fastest player in the club in Jacob Liddle over ten metres... and won.
We know what you're thinking. We have pictures to prove it.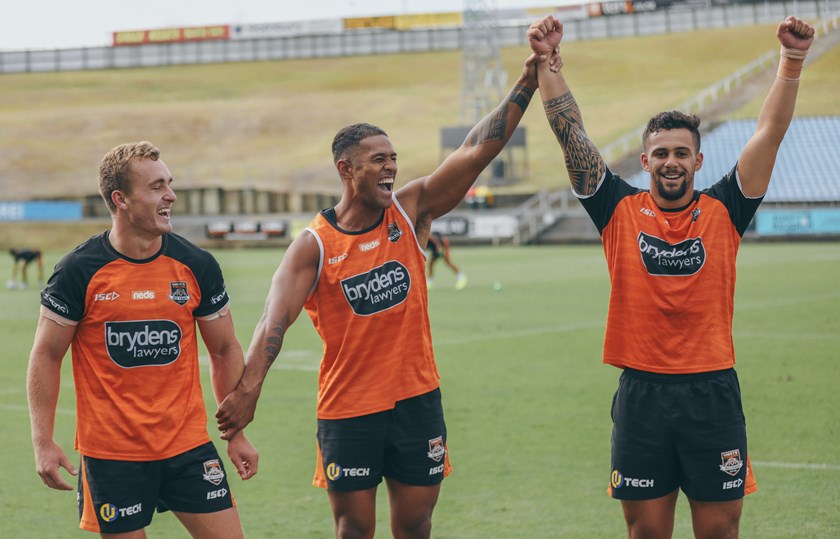 Since then, the 108-kilogram forward has gone self-claimed undefeated over the distance — taking out a number of high-profile teammates along the way in David Nofoaluma and Corey Thompson as well as former teammate Esan Marsters. 
New recruit Billy Walters also came up short — leading to Aloiai's next target in rising star hooker Harry Grant after training on Thursday.
The 24-year-old Aloiai helped set the scene of today's event.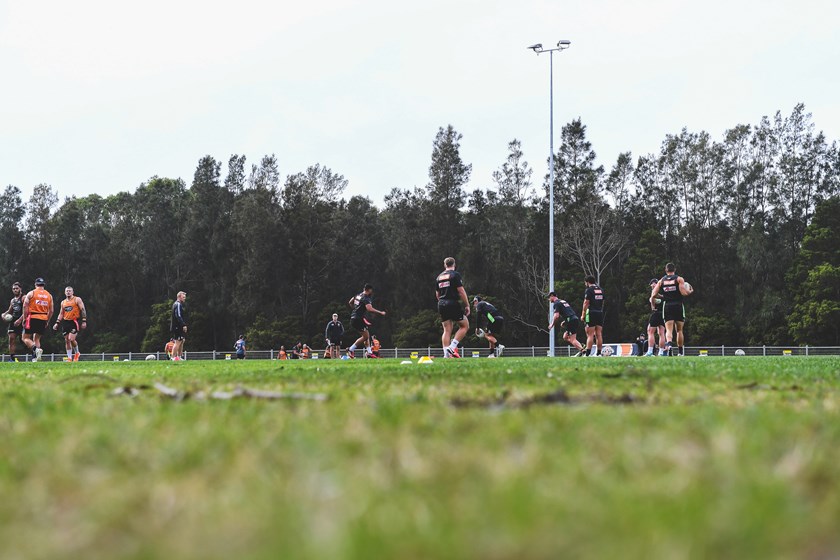 "I go after the fast backs because they underestimate us hard-working forwards," Aloiai said in a serious tone that didn't quite encapsulate the jovial question.
"No-one has got me yet."
"When Harry got to the club, I started to hear that he was asking around as to who the fastest was over a short distance. I was nominated by my peers and I could just tell that Harry was lurking around at training looking for a race.
"I told him if he wanted it he could come and get it. 
"The challenge was for a week of coffees in the morning, and an Instagram post. Once he heard that I think he became a bit reluctant and he heard my resume and became a bit intimidated, but the boys starting to get him fired up for it."
After a bit of back-and-forth, Thursday would eventually set the gauntlet thrown down by Grant in a brazen attempt to stake his claim at the club. 
"To be fair, he smoked me in the conditioning today and thought I'd be a bit tired so he called me on it," Aloiai reflected.
"But I had a little bit extra in the bank... a little side account.
"Our Head of Physical Performance Andrew Gray was on the camera so there could be no disputing it. Assistant Coach Andrew Webster was also there, and there's no doubt that. Ask whoever you want — it was a win fair and square."
Quiet up until this point in the story, Grant chimed in with a different version of events that could cause some controversy but ultimately accepted his fate.
"There were definitely some suggestions of a false start," the rake admitted.
"And they didn't come from someone who wanted me to win — they came from Chris Lawrence who we all know is one of the most honest blokes you'll ever meet.
"But I guess it's good for Josh.
"He's been my conditioning partner in the past couple weeks so I had to give the guy one win just to help him feel okay."
All the action as training returns!
While certainly far from humble in his ten-metre victory, Aloiai did return the credit for Grant in his conditioning — commenting on the way the hooker has adjusted to the club since making the mid-season switch from Melbourne.
"I'll be honest — being his isolation partner for conditioning was depressing," Aloiai said. "The bloke is a freak. I felt like I was running by himself he's that fit.
"He's scary fit; we're worlds apart in conditioning. I've got him over ten metres but after that... well, I'm 110 kg's and that kind of takes way. 
"But in all seriousness, he's a great guy and he's going to be awesome for us. We've got a pretty welcoming group who takes things pretty lightly and he's settled in really well. The way we welcome people is through banter and these dashes, and this was his official warm welcoming to Wests Tigers today."
So it's official — welcome Harry Grant!