Wests Tigers co-captain Moses Mbye says the first day back of contact has him ready to go for the 2020 season after missing out on the first two games of the year due to a knee injury.
Mbye joined his Wests Tigers teammates in a physical but manageable session in Sydney's Inner West on Monday as they officially gained the green light from the NRL to resume contact drills — a welcome sight for the 26-year-old after he was forced to watch the opening two rounds of the year on the sidelines.
"We certainly eased our way back in to it," Mbye said.
"Obviously it's been a few weeks since we made tackles so it was a bit of an introduction day today — we didn't get in to it too much. 
"We'll get in to more technique this afternoon indoors and then ramp it up tomorrow.
"Everyone has adapted pretty quick to what we need to do to get the game up and running and everyone has been good around that side of things. Getting to training and getting close to each other has been a bit of a nice reward!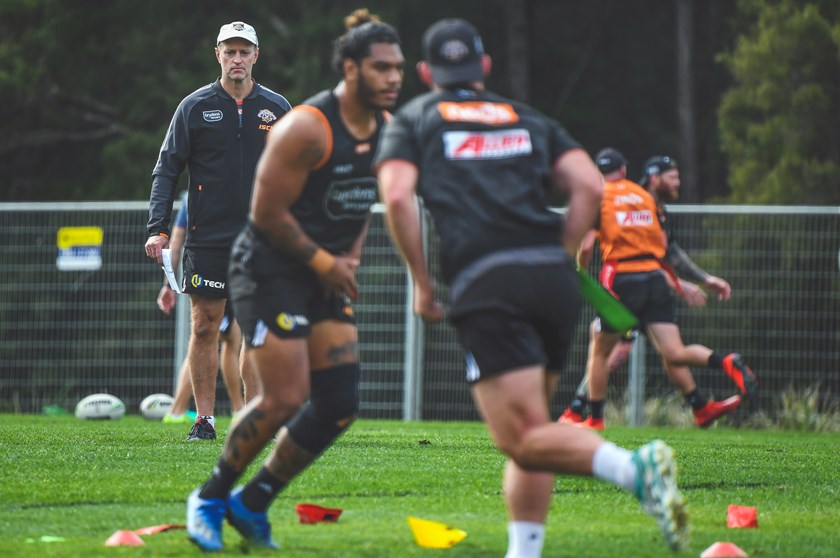 "We did a lot of contact work in the pre-season around contact so we've got a lot of resilience built up there," Mbye said. "I think the two-and-a-half weeks of preparation this time around is fine to get ready to go again.
"If it happened at different time of the year for some guys it might have been a different story but I think it'll be okay the way it is."
It was certainly a frustrating start to the season for the Queensland Origin representative, who missed the first two rounds of the season after picking up a knee injury in the club's final trial match against the New Zealand Warriors.
Originally scheduled to return in Round 3 — the round which saw the competition eventually suspended until May 28 — Mbye was forced to endure the difficult wait having missed out on the opportunity to join his teammates in the first two rounds and said he was looking forward to finally making it back on the field.
"COVID-19 was pretty weird timing for me," Mbye reflected.
"I was injured and didn't miss too many games because of the break but I'm certainly looking forward to playing some footy. It feels like it's been forever since I last played and it's only a couple of weeks now which is good.
"I've had a long time to get my rehab right and was fortunate enough to have access to the club's physiotherapy staff. They've been putting a lot of work in to make sure I'm right and ready to go for when we do come back."