Wests Tigers will play their first game in over two months when they face off against the Cronulla Sharks on Saturday, May 30 at Bankwest Stadium — marking the end of the competition suspension that had seen all games halted since late March.
After making their return against the Sharks, Michael Maguire's side will then travel interstate to face the Gold Coast Titans at Suncorp Stadium in Round 4 before taking on the Canberra Raiders in their first home fixture of the amended season.
Wests Tigers will be one of four teams to call Campbelltown Sports Stadium home after the venue was given the green light by the NRL as one of six grounds to host rugby league in the next few months.
A stadium Wests Tigers have called home since their foundation in 2000, the venue will play host to two more Wests Tigers home games against the North Queensland Cowboys in Round 6 and Penrith Panthers in Round 8, with fixtures after Round 9 still to be allocated venues by the NRL in the comings weeks.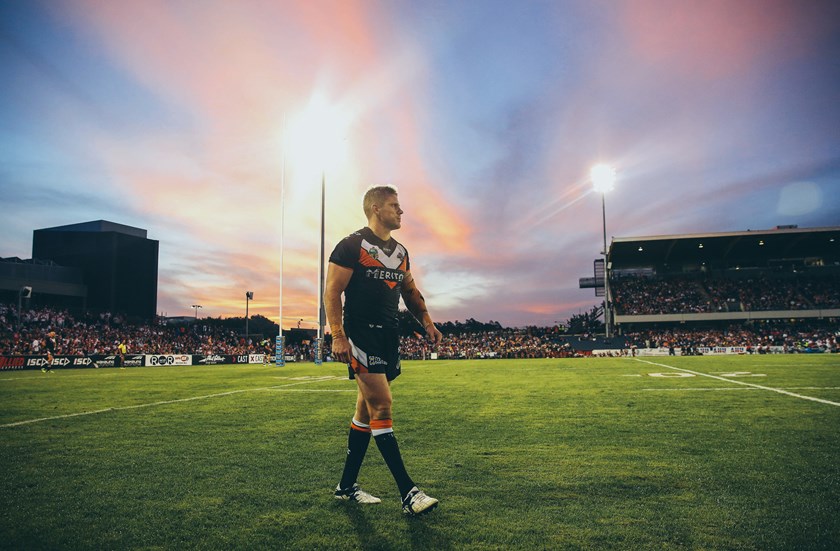 The draw is certainly a positive one for Wests Tigers, who face just one five-day turnaround all season — coming between two Sydney-based games in Rounds 17 and 18 — and have just two interstate games all season.
The first of those is against the Titans in Round 4 while the second is in the penultimate round of the regular season against Melbourne in Round 19.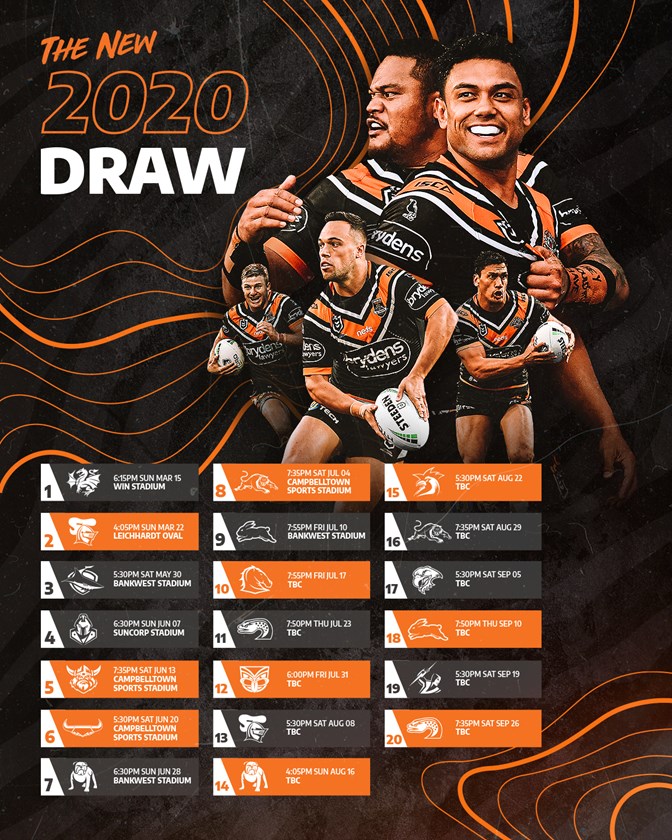 With the potential of Members and fans hopefully returning at some point during the year, Wests Tigers will end their regular season with a mouth-watering home fixture against local rivals in the Parramatta Eels (who they also face in Round 11).
Wests Tigers are continuing to work closely with the NRL regarding Member and fan access throughout the revised 2020 season and will provide an update shortly when more information is available to be distributed. Wests Tigers thank all those affected for their continued patience and unwavering support for the year ahead.
Click here to visit the full 2020 Draw and Results page.
Wests Tigers 2020 NRL Draw
| RD. | DATE | OPPONENT | VENUE | TIME |
| --- | --- | --- | --- | --- |
| 1 | Sun., March 15 | St. George-Illawarra Dragons (A) | WIN Stadium | 6:00pm |
| 2 | Sun., March 22 | Newcastle Knights (H) | Leichhardt Oval | 4:00pm |
| 3 | Sat., May 30 | Cronulla Sharks (A) | Bankwest Stadium | 5:30pm |
| 4 | Sun., June 7 | Gold Coast Titans (A) | Suncorp Stadium | 6:30pm |
| 5 | Sat., June 13 | Canberra Raiders (H) | Campbelltown Sports Stadium | 7:35pm |
| 6 | Sat., June 20 | North Queensland Cowboys (H) | Campbelltown Sports Stadium | 5:30pm |
| 7 | Sun., June 28 | Canterbury-Bankstown Bulldogs (A) | Bankwest Stadium | 6:30pm |
| 8 | Sat., July 4 | Penrith Panthers (H) | Campbelltown Sports Stadium | 7:35pm |
| 9 | Fri., July 10 | South Sydney Rabbitohs (A) | Bankwest Stadium | 7:55pm |
| 10 | Fri., July 17 | Brisbane Broncos (H) | Venue TBC | 7:55pm |
| 11 | Thu., July 23 | Parramatta Eels (A) | Venue TBC | 7:50pm |
| 12 | Fri., July 31 | New Zealand Warriors (H) | Venue TBC | 6:00pm |
| 13 | Sat., August 8 | Newcastle Knights (A) | Venue TBC | 5:30pm |
| 14 | Sun., August 16 | Canterbury-Bankstown Bulldogs (H) | Venue TBC | 4:05pm |
| 15 | Sat., August 22 | Sydney Roosters (H) | Venue TBC | 5:30pm |
| 16 | Sat., August 29 | Penrith Panthers (A) | Venue TBC | 7:35pm |
| 17 | Sat., September 5 | Manly-Warringah Sea Eagles (A) | Venue TBC | 5:30pm |
| 18 | Thu., September 10 | South Sydney Rabbitohs (H) | Venue TBC | 7:50pm |
| 19 | Sat., September 19 | Melbourne Storm (A) | Venue TBC | 5:30pm |
| 20 | Sat., September 26 | Parramatta Eels (H) | Venue TBC | 7:35pm |