Wests Tigers co-captain Benji Marshall says he's excited to return to action this Saturday against Cronulla, blessed with a deeper appreciation for rugby league having gone through its absence.
Marshall, who will play game number 244 for Wests Tigers on Saturday, says there was no hiding the excitement of a return to rugby league, and said the break in competition had in fact renewed his energy and passion for the season ahead.
"You start thinking about how grateful you are that the game is coming back, first and foremost," Marshall told reporters after training today.
"For me at my age, there could have been a chance this year that the game wasn't played at all. And when something gets taken away from you, you realise how much it means to you.
"For me, just the realisation that footy is back this week has given me the energy and spark back.
Marshall keen to get fans back in stands
"We get to play rugby league for a living so that's the important message for our players to be back and playing," Marshall added.
"From the amount of energy I've seen at training with the contact and intensity, we're ready to pick up and be better than where we left off.
"We just have to go out on the field and do it now."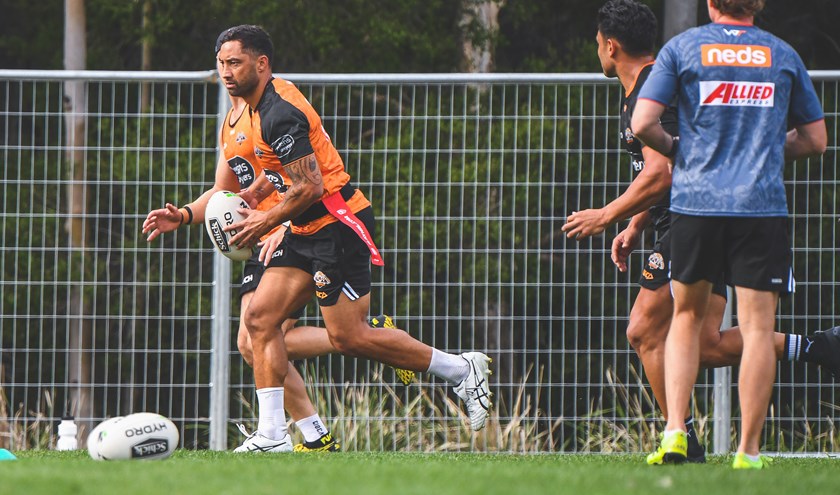 With a limited preparation time as a full squad and the addition of the controversial "six-again rule" with one referee, the 35-year-old said there was still a lot unknown in terms of game style but that he expected the game to open up late on.
"Typically in the back end of the second half, fatigue sets in and the little blokes seem to takeover," Marshall reflected. "It's going to be interesting because it's a lot of unknown. For all the players, we're all in the same boat so we have just have to expect the unexpected.
"It could be the 60th minute or it could be the 70th minute where it opens up but, at some stage, I guarantee it's going to open up a bit.
"We've done a lot of work over this break to make sure we're ready to roll and I think our team fitness and physically is ready.
"Defending a set of six on its own is pretty tough but then when you chuck in the mix a set of six again — it's takes a lot of your energy," he said. 
"When you're defending two or three sets in a row without the ball that's going to catch up to you at some stage. You'll see more teams fighting quicker and harder to play the ball quickly so I think it could open up the game."
Who did you support as a kid?
While disappointed with the fact no crowds will be returning alongside the players this Saturday at Bankwest Stadium, the Kiwi international captain said he was eagerly awaiting the day they were able to return.
"It's definitely tough playing with no crowd," Marshall said.
"Of course we want crowds to return — they play a massive part in our game — but not until it's safe and healthy for everyone to be able to do that.
"Our supporters is what the game is about."
Marshall will be joined by co-captain Moses Mbye for his first game of the season when Wests Tigers take on the Cronulla Sharks this Saturday.
Match: Sharks v Wests Tigers
Round 3 -
Venue: Bankwest Stadium, Sydney