It might have been a strong return to the winners' circle on Saturday night but Wests Tigers fullback Adam Doueihi says the side were filthy with the way they finished against the North Queensland Cowboys and determined to make amends this weekend.
Having led 34-0 at half-time off the back of some scintillating attacking footy, errors and drop intensity allowed the Cowboys back in to the contest with 20 second half points while Wests Tigers managed just a solitary penalty goal.
The result was seemingly never in doubt, but speaking with ABC Grandstand on Sunday, Doueihi reflected that it was a very frustrated dressing room after the game, having recognised the way they had let slip in the second half.
"We'd been speaking all week about putting together an 80-minute performance and we thought we were going to do it last night," Doueihi said. "The boys were energetic... but it's two weeks straight that we've failed to do it in the second half.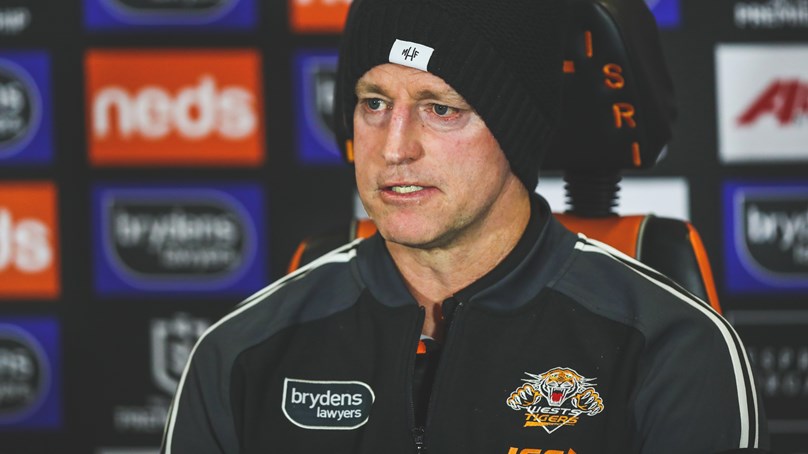 "It's really disappointing. There were a few disappointed boys coming in to the sheds at full-time and it was a disappointing change-room, to be honest.
"We were filthy at giving them 20 points in the second half with a few soft tries.
There were a few disappointed boys coming in to the sheds at full-time and it was a disappointing change-room, to be honest.

Adam Doueihi
"We weren't sticking to our structures and process, so we'll need to get stuck in to the video and come up with a game plan to try and fix it."
Having come up with two errors on the night, Doueihi was quick to note that the improvement in that is an area the side's spine can improve on.
"It's on us as a spine — me, Harry, Luke and Josh," Doueihi said.
"Luke and Josh do most of the talking and have the experience under them, but us as a spine need to try and help us nail down that 80-minute performance.
Wests Tigers just keep producing unbelievable team tries
"There's a few little areas that we need to be accountable with.
"The game isn't always going to go our way so when we do face some adversity we're going to need to try and find a way to fight ourselves back out of it. It's something we've failed to do lately and we're trying to find everything we can to find a trigger to get back in that process."
Signed to Wests Tigers on a long-term deal, the 22-year-old Doueihi said that area of leadership was something he was determined to keep working on, and said it was something he and Coach Michael Maguire have spoken previously about.
"I'm still new to the club and a younger player in the team but Madge does seem me as a future leader and I feel I have some capabilities in that area," he said.
"I'm starting to get more vocal with the more game time I get under my belt and the more we do at training. I'm still growing in that side of the game, and Madge is continuously having leadership conversations with me and little triggers about what to say and when to say them."
Wests Tigers will look to make it back-to-back wins for the first time this season when they take on the Canterbury-Bankstown Bulldogs at Bankwest Stadium on Sunday night in the final game of Round 7.
Match: Bulldogs v Wests Tigers
Round 7 -
home Team
Bulldogs
16th Position
away Team
Wests Tigers
6th Position
Venue: CommBank Stadium, Sydney