Wests Tigers forward Josh Aloiai says he's expecting nothing but a physical battle on Sunday night as Michael Maguire's men face off against a gritty Bulldogs outfit at Bankwest Stadium.
Far from perfect in their last-start win over the Cowboys, Aloiai said his side knows that their attitude has to be on from the opening whistle against a Bulldogs side that narrowly went down to the Cronulla Sharks last weekend.
Asked if the home side were "easy-beats" due to their ladder position, the 24-year-old was quick to dismiss suggestions of a straightforward game day.
"I think it'd be a stupid mindset to think that," Aloiai retorted.
"After watching some video and things, they really work hard for each other.
"They're one of those teams that really turn up and have each other's back. They scramble and work hard together and they're going to play a good 80 minutes against us and we're expecting a pretty good Bulldogs outfit.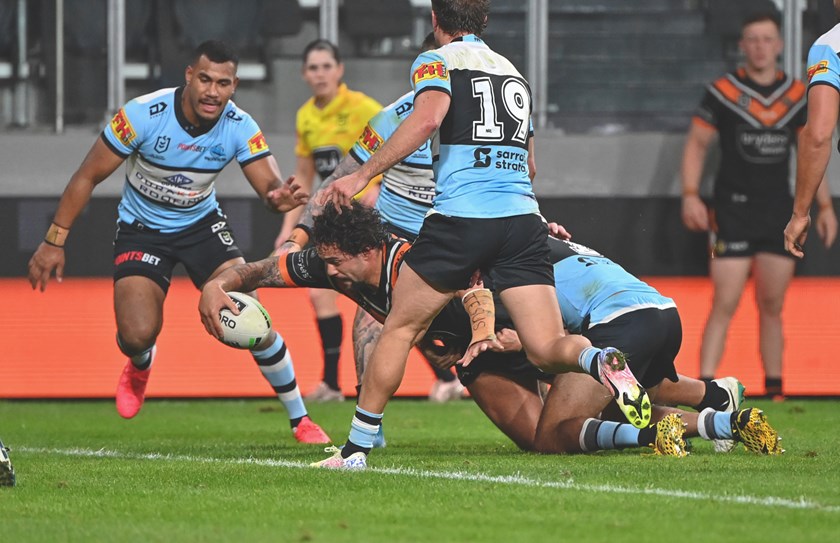 "Dylan [Napa] is a physical dude and has some iron shoulders but I think every week is a physical battle in the middle of the park.
"It's something I really look forward to but the contact is fun and physicality is fun."
Match: Bulldogs v Wests Tigers
Round 7 -
Venue: Bankwest Stadium, Sydney
Having not produced back-to-back wins in the 2020 season to date, Aloiai said Sunday's game was a big opportunity for the team to back up on their words and discussions around consistency in the past fortnight or so — particularly after a disappointing second half against the Cowboys last weekend.
"That's not the standard that we're shooting for," Aloiai reflected on Round 6.
"It's not attitude — I think everyone has displayed the right attitude. It's about getting better in our game management and growing as a team.
"It's fair to see that, as a club, we don't often string wins together back-to-back.
"We really want to start doing that now.
"It's fair to say it's a pattern for us but we're working really hard to break that cycle because it's not what good teams do. We're aiming to be a top four team and to do that we need to be more consistent each week and for the full game."