Wests Tigers Coach Michael Maguire said he was proud of his side's gutsy effort last night as they took on the in-form Penrith Panthers.
With his men going down 19-12 in a gritty contest, Maguire said he was impressed with the side's passion and commitment to each other, but highlighted the need for the squad to find that little bit extra in the key moments of games.
"We definitely put ourselves in the fight," Maguire said.
"There were key moments in the game we need to be better at and that's the next step for us now. I thought the effort the boys put in and how they tried is one thing that I'm proud of.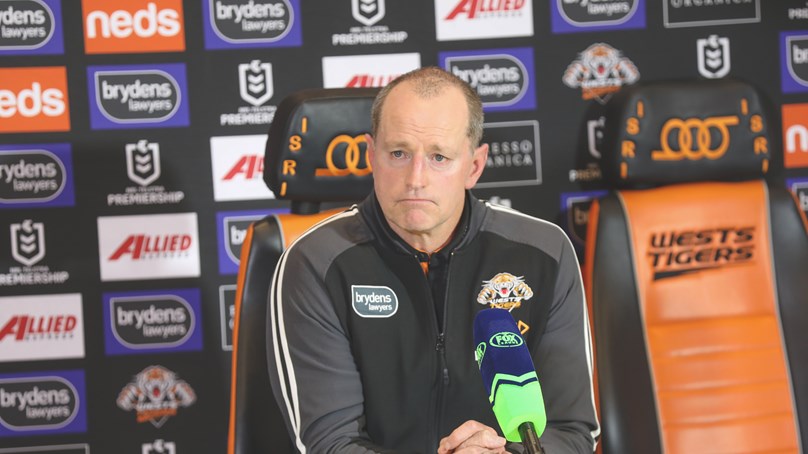 "There was a lot of passion — you could see that. The boys are fighting really hard to change what we've spoken about over the last month and I've really seen that change.
"Now, it's about challenging that to win those games.
"We put ourselves in a great position to take that game, but they've got to learn now how to take the next step to where we want to get to."
Post-Match: Josh Reynolds
For the past couple of weeks Maguire has been calling on his squad to keep up momentum and put in consistent efforts in full 80-minute performances.
On Saturday, he said he could see a significant shift in attitude and performance as the side works on being better each week.
"After the Titans game I spoke about the need to change and what we've been doing and that we're not where we needed to be," Maguire said.
"I had to make some tough calls there around the changes. I have seen what this team is very capable of and you can see that tonight.
"We've got to learn fast how to make the right decisions in key moments. There's a lot of great things happening in the team and we now need to take a step forward.
"We should be higher than where we are.
"We're a better team than what is shown at times.
"But we're the ones that is in control of that — and I see the players moving towards that — but we need to take another big step now.
We need to be better; we have a short turn around and we need jump straight back into the next game."
Match: Wests Tigers v Panthers
Round 8 -
Venue: Bankwest Stadium, Sydney