It might not have led to the desired result on Thursday night, but Wests Tigers senior players all expressed their excitement at the potential of rookie forward Shawn Blore following his NRL debut.
Having only joined the club in May earlier this year, Blore returned for his first game in almost 18 months of football following an ACL injury last season — called on to the bench by Coach Michael Maguire for his first-grade debut.
Playing bigger minutes than expected, Blore churned out 31 tackles and 48 metres in a 46-minute stint, and earned significant praise from the likes of Benji Marshall, Josh Reynolds, Chris Lawrence and Coach Maguire after the game.
"I thought Shawn Blore's debut was one of the best I've seen from a young fella," co-captain Benji Marshall said after the game.
"Especially considering he's been out for 18 months without any footy and this was his first game back.
"He's really impressive. 
Post-Match: Benji Marshall
"Just watching him at training I saw signs of that performance coming, but the physicality he showed in defence and making his presence known for such a young dude is pretty impressive.
"He's still got a long way to go and a lot of work to do but he showed some great signs."
Coach Maguire said there was plenty to look forward to in the future for Blore.
"It was good to see Shawn — I don't think he's played a proper game of rugby league in 14 months," said Maguire.
"To see a young fella to come out and play the way he did it was a great welcome to first grade. He played a lot of time too and I wasn't expecting that.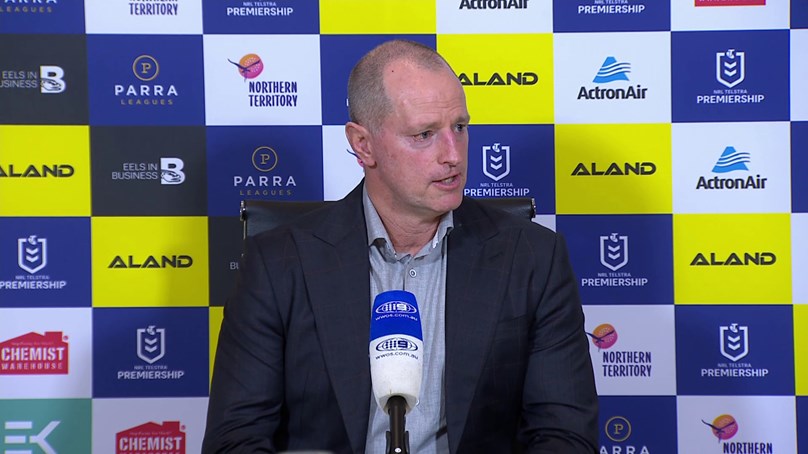 "He is strong and showed that he can play at this level now and I'm looking forward to seeing him push for an opportunity again."
Wests Tigers players took to social media to continue their congratulations for Blore.
"Best debut I have seen from a big man," Josh Reynolds wrote.
"Didn't take a backwards step — love that s*** brother. 
"First of many."
"Going to be seeing a lot more of this guy!," Chris Lawrence wrote.
"Very impressive."
Shawn Blore to make NRL debut