Wests Tigers co-captain Moses Mbye says his side can't avoid any slip-ups as they look to bounce back from a close loss to the in-form Parramatta Eels last weekend.
As the side prepares for a must-win clash this Friday at the Sydney Cricket Ground, Mbye said it was crucial his team remain focused this week against a Warriors side that continues to display resilience and determination each week.
"The thing for us has been looking at the top sides — if you slip up for just a few minutes in the game then they make you pay for it," Mbye said.
"Unfortunately for us, we've done it once or twice this year so we will need to continue and remain consistent in that.
"The Warriors are in a unique situation every week but it's a real credit to them and their organisation for the drive in their team.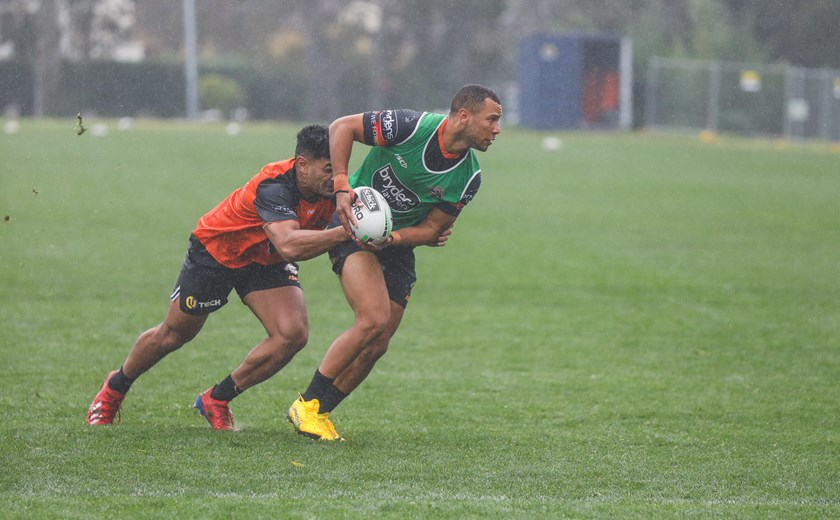 "They've been really resilient and selfless in what they've committed to help the game get on.
"Every week they turn up and challenge and they showed that even against the Roosters, who are a benchmark in the competition.
"It's going to be a tough game for us."
Donning the club's 2020 Indigenous jersey which will be worn on Friday, Mbye said it was always a special feeling to take part in the NRL's annual Indigenous Round.
"It's a good initiative to hold Indigenous Round," Mbye said.
"It's something we do annually as a game to celebrate our Indigenous people and culture and I think it's a fantastic thing.
The story behind Wests Tigers 2020 Indigenous Jersey

"Some of our greatest players to have played the game are Indigenous and it's good to recognise that. For myself, I think it's a really good time to reflect and pay respects to the broader community but also to the players of our game.
"Some of the names that have played our game are phenomenal athletes. I think it's a good time for them to have their time together to reflect and celebrate what Indigenous people have achieved.
"Growing up in South East Queensland there is quite a large Indigenous community there. The list goes on when we talk about Indigenous greats of the game and I think this round is a great initiative."
Match: Wests Tigers v Warriors
Round 12 -
home Team
Wests Tigers
10th Position
away Team
Warriors
12th Position
Venue: Sydney Cricket Ground, Sydney