Wests Tigers forward Josh Aloiai was there the night Jacob Liddle's 2019 season was cut short with an awful injury.
Having finally got his shot at the starting number nine jersey, the talented young rake would last less than one half of football against the Sea Eagles — suffering a complex knee injury that saw him tear several ligaments.
Fast forward twelve months and one day and Liddle is set to run out for his first game in season 2020.
In addition to being a crucial two points for the club, it's a huge milestone for the rake who had been forced to work extremely hard — often on his own — throughout the competition shut-down and eventual return earlier this year.
The occasion of Liddle's pending return wasn't lost on his Wests Tigers teammates.
"It's pretty exciting," Aloiai said of the team news.
"It could be a huge opportunity for him.
"I think it'll be one of the great stories for him to come back.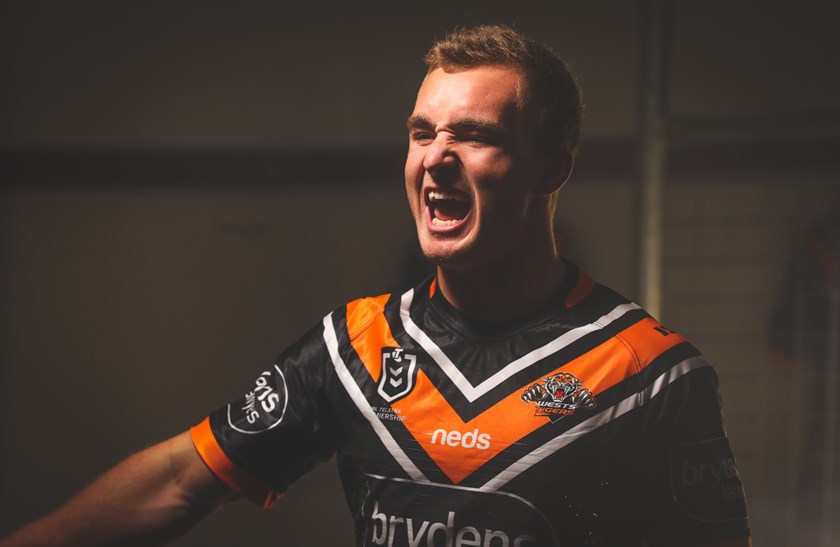 "He's had a really special attitude right throughout his recovery process. He comes in and has a laugh and joke with the boys, even though some days it's so tolling being in rehabilitation and battling everything he's gone through.
"It'll be one of the great stories when he comes back and plays NRL again — I'll be so happy for him to be out there."
Press Conference: Matt Eisenhuth
"I think everyone in the club and all the boys are so excited to see Lids get his chance," Matt Eisenhuth echoed.
"He's worked his butt off to be in a position to be ready. He's done everything right because he's the type of kid that if you ask him to do something then he's going to do it.
"He'll even go beyond that to make sure he's doing things right.
"Everyone has got full faith in him to step up and do that role."
Having not played a match all year — and with no Canterbury Cup to get match fitness up to speed — Liddle's teammates said they held no fear for his fitness or capabilities having proved that time and time again at training.
"If he's thrown in then he'll be thrown in because he's ready," Aloiai said.
"The good thing about Jacob is that he's extremely fit; he could probably roll out with an injured knee and beat half of us in the fitness testing.
"He's really fit and disciplined. He's put on some really good size and I'll be excited to see him come back when he's ready."
Match: Wests Tigers v Bulldogs
Round 14 -
Venue: Bankwest Stadium, Sydney