The surname Seumanufagai is one Wests Tigers fans became accustomed to over the years and it's back again.
Harvey Norman NSW Women's Premiership forward Tasia Seumanufagai is a woman of ultimate sacrifice and commitment to the great game of rugby league, having given up more than most to get her 2020 season underway.
The cousin of former Wests Tigers forward Ava, Sia has made multiple sacrifices to follow her dream — with her family, her location and her health.
Her wholehearted commitment was first put to the test last year when she left her three-year-old son Zyrie with her partner in Melbourne to pursue her NRLW dream with the New Zealand Warriors.
The closest the pair came to seeing each other was FaceTime.
The move from Melbourne to Sydney this year to join Wests Tigers eventually put that heartache to an end, with Seumanufagai pushing the limits for her dream.
"It actually started for me when I began playing at home in Wellington for the Randwick Kingfishers in 2010 at 20 years old," Seumanufagai reflected.
"I spent three years there before moving to Melbourne. There wasn't a rugby league competition when I first moved there so I made the switch to rugby union to keep playing.
I made the move to Sydney to take my chance with rugby league. I just wanted to give it a crack.

Tasia Seumanufagai
"I had the opportunity to play with the New Zealand Warriors in the NRLW — it was a good team and a I learned a lot — and then I got part of the Fetu Samoan squad. 
"I didn't get to play but was very grateful to be a part of the squad."
Those seasons didn't come without some big learning curves for Seumanufagai, as she battled form and injuries en route to Wests Tigers.
"I really had to learn how to tackle better," she said with a smile.
"The NRLW really helped me improve my technique.
"I learned more about my position as a lock as I've only just moved there in the last couple of years — I was usually in the backs based on my size."
"But the biggest thing for me that I've been working with the team is to help get the arthritis in my knee under control," she said.
"I can still play so I'm just thankful to keep getting minutes.
"It's so exciting to be back with the girls. I've been here for a couple months and everyone is great — they've really looked after me in the rehab squad."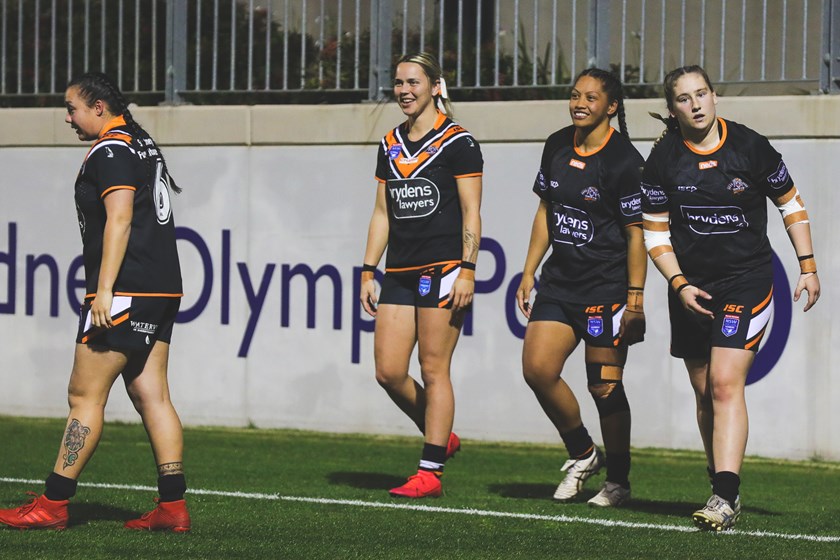 Seumanufagai will feature again for the side this Sunday in a must-win game against the South Sydney Rabbitohs — a game that will determine whether Wests Tigers finish inside the top four or not.
With the benefit of experience on her side, and the exposure of playing in some big games already in her career, Seumanufagai is prepared.
"This squad has a lot of young guns coming up," she enthused.
"I'm sure we'll make finals, it's just this one more game against the Rabbitohs.
"We have a good squad – everyone has stepped up and knows their roles.
"We're continuing to improve every game and that's the best thing."