The NRL and the RLPA have announced the 2020 Academic Team of the Year.
Included in this year's Academic Team of the Year is the first player in the full-time professional era to complete a Master's Degree while still playing, Gold Coast Titans' Anthony Don. There are six other current players undertaking a Master's program.
Don was awarded the "2020 Academic Male of the Year", while Kirra Dibb took out "Female of the Year" honours.
NRL CEO Andrew Abdo congratulated all the players named in the Team of the Year, along with all players who have furthered their education in such a challenging environment.
"This year's Academic Team of the Year takes on even more importance this year given the circumstances which all our players faced," Mr Abdo said.
"With our players in the bubble, seeing so many players still further their education is quite frankly inspirational.
"As a game, we have taken great strides in ensuring there is a strong focus on the players' off field development.
"Our players should be congratulated for setting this example for others to follow."
RLPA Chief Executive Clint Newton said education should always be a priority for the game.
"We congratulate the academic achievements of these individuals, who are rightfully being celebrated for their continued engagement in career development, despite the many challenges season 2020 has placed before them," Mr Newton said.
"We need to continue supporting and championing players, investing in their future by prioritising education and professional development."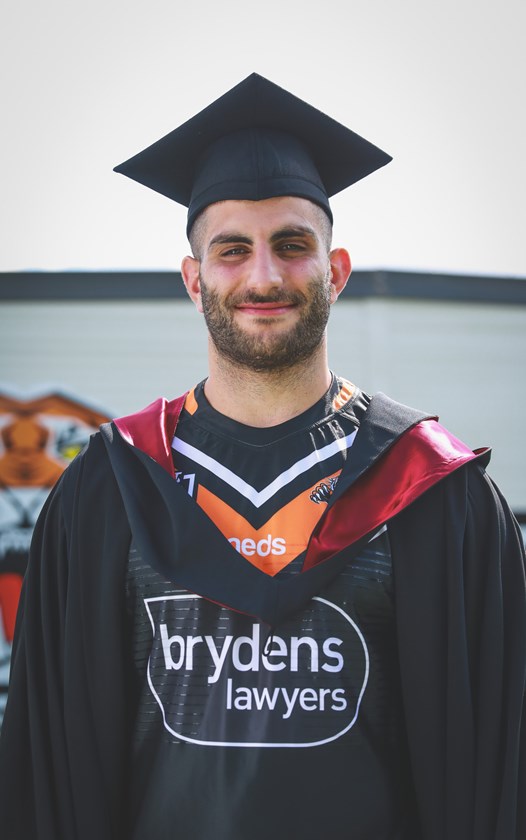 NRL Wellbeing & Education Manager, Paul Heptonstall said of 550 contracted players, 93 current NRL players have completed or are completing a University Degree, while seven players are doing a Masters degree, through 32 different universities.
A further 106 players are completing traditional trades while a total of 610 VET qualifications have been achieved by all the Players.
"We have 84 percent of players currently engaged in career development," Mr Heptonstall said.
"We have long believed, and it is backed up by research, that players who further their education are more likely to succeed on the field.
"It is also pleasing to see some of our most successful clubs off the field as some of the most engaged clubs with their off-field development and education."
"It's pleasing to see such a high number of players combining football with study or work," Mr Heptonstall said.
"Research confirms that players with a balanced life perform more consistently than those with a sole focus.
"The courses that our players undertake are varied and it's great to see so many of them enjoying their rugby league and studies together."
2020 NRL Academic Team of the Year
PLAYER
CLUB
COURSE/S
Rhys Kennedy
Brisbane Bronccos
Completed Bachelor of Exercise Science
Completed Cert. III in Fitness
Connor Tracey
Cronulla Sharks
Completed Bachelor of Accounting and Financial Services
Completing Post Grad Cert in Chartered Financial Analyst
Anthony Don
Gold Coast Titans
Completed Masters of Business Administration
Christian Welch
Melbourne Storm
Completed Bachelor of Commerce
Completing Masters of Business
Jayden Brailey
Cronulla Sharks
Completing Bachelor of Exercise Sports Science
Jake Granville
North Queensland Cowboys
Completing Carpentry Apprenticeship
Completing Diploma of Business Management and Hospitality
Reed Mahoney
Parramatta Eels
Completed Cert IV in Business, Education Support & III & IV Fitness
Completed Diploma in Business
Completing Bachelor Sport Business
Adam Clune
St. George-Illawarra Dragons
Completed a Bachelor of Laws-Bachelor of Commerce (Finance)
Euan Aitken
St. George-Illawarra Dragons
Completed Cert IV in Fitness
Completed Cert IV in New Small Business
Completing Bachelor of Exercise Science
Nat Butcher
Sydney Roosters
Completed Diploma in Business
Completed Cert IV in Small Business Management
Completing Bachelor of Business Administration
Matt Ikuvalu
Sydney Roosters
Completed Diploma in Business
Completed Cert IV in Small Business Management
Completing Bachelor of Business Administration
Alex Twal
Wests Tigers
Completed a Bachelor of Commerce
Completed Cert III in Fitness
Kirra Dibb
New Zealand Warriors
Completing Bachelor of Applied Science - Exercise Physiology