Wests Tigers are extremely pleased to announce that local junior David Nofoaluma has signed a new playing contract with the club.
The new, four-year deal will see the 27-year-old remain in Wests Tigers colours until at least the end of the 2025 NRL season.
A Campbelltown junior, Nofoaluma made his first-grade debut for Wests Tigers in 2013 having starred in the club's Holden Cup Premiership victory the year prior. He has since gone on to play a total of 139 NRL games — all in Wests Tigers colours — and currently sits third on the club's all-time top try-scoring list with 74 tries.
Having played for NSW U/18's and Australian Schoolboys as a junior, the dynamic winger made his senior representative debut for the Prime Minister's XIII in 2015 before going on to make his international debut for Samoa the following season.
Named the Dally M Winger of the Year in 2020 after an outstanding individual season that saw him post career highs in tries, try assists, linebreaks and tackle breaks, Nofoaluma capped off his year by becoming the first winger in history to win the club's Kelly-Barnes Award (Player of the Year) as well as the NRL Players' Player Award.
He can become just the 13th player in club history to reach 150 games for the club in 2021.
The local junior said he was delighted to extend his playing future with Wests Tigers.
"This really is the only club for me, and I'm really pleased to be staying on at Wests Tigers," Nofoaluma said. "I've only ever wanted to play for Wests Tigers, and I can't thank the club, the Members and the fans enough for their support for me over the years.
Pulling on the Wests Tigers jersey has always been a huge honour for me and I'm really excited that it's something I get to do for many years to come.

David Nofoaluma
"I'm determined to ensure our Members and fans are rewarded with the success they deserve, and I can't wait to help play my part in making that happen."
Wests Tigers Chair Lee Hagipantelis congratulated Nofoaluma on his new deal.
"On behalf of the Board of Wests Tigers and all at the club, I'd like to congratulate David on signing a new playing contract with the club," Hagipantelis said.
"David has shown over a number of years that his heart lies with Wests Tigers and his commitment to the club in the face of external interest is a wonderful sign of his passion and dedication to the future of Wests Tigers.
"As a proud local junior, David embodies all of the core values we hold dearly at Wests Tigers — that is, team, excellence and respect — and constantly strives to make both himself and the team better in every way. 
"I have no doubt that David's loyalty to Wests Tigers is an inspiration to all local juniors at Wests Tigers and that he will play a leading role in delivering the on-field success that the Members and fans of this club deserve."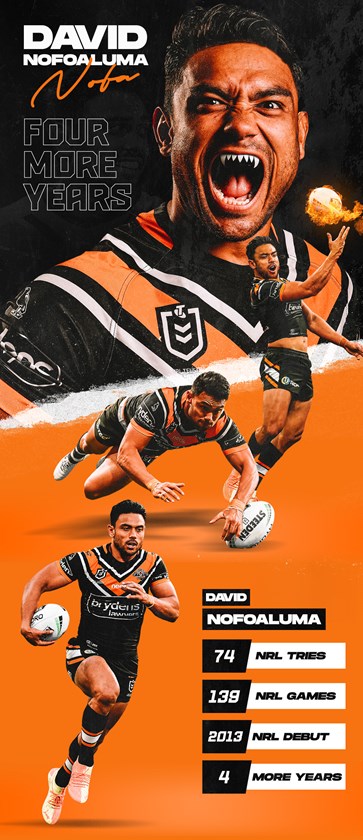 Wests Tigers CEO Justin Pascoe echoed his congratulations to Nofoaluma.
"As a club, we're extremely proud to see David commit his future to Wests Tigers," Pascoe said. "As a local junior and one-club player, David epitomises what it means to be Wests Tigers and it is clear that he loves playing in the colours of our club.
"His decision to commit his future to Wests Tigers further highlights the strong future that we are building at the club and I'm sure that David will play a big part in delivering that."
David epitomises what it means to be Wests Tigers.

Wests Tigers CEO Justin Pascoe
Wests Tigers Coach Michael Maguire said Nofoaluma's positive attitude and love for the club was a tremendous asset for the team.
"I'm really pleased to see David continue his time with Wests Tigers," Maguire said.
"He has worked extremely hard at his game to continue to improve not only himself but the team as a whole and has grown into one of the senior players at Wests Tigers.
"David has a tremendous love for the club but, more importantly, has a determined desire for it to be successful and continues to work extremely hard to make that happen.
"I'm really looking forward to watching him continue to improve over the coming years and play a leading role in the success of this club moving forward." 
PLAYER PROFILE: DAVID NOFOALUMA
Born
28th November, 1993 (Newcastle, NSW)
Height
182cm
Weight
94kg
Position
Wing
Junior Club
Campbelltown Collegians
Campbelltown Warriors
NRL Debut
Wests Tigers v South Sydney, ANZ Stadium, 17/05/13 (Rd.10)
Rep. Honours
NSW U/16's (2009)
Australian Schoolboys (2010)
NSW U/18's (2010)
Prime Minister's XIII (2015)
NSW City Origin (2016)
2 Tests for Samoa (2016, 2019)
Awards
NYC Premiership (2012)
Dally M Try of the Year (2013)
RLPA Dream Team (2017)
Wests Tigers Kelly-Barnes Award (2020)
Dally M Winger of the Year (2020)