Wests Tigers are pleased to congratulate long-standing Member June Ross as the club's Member of the Month for January, 2021!
June was nominated for the Member of the Month Award by her granddaughter Madeleine as part of the new recognition for Wests Tigers Members in 2021.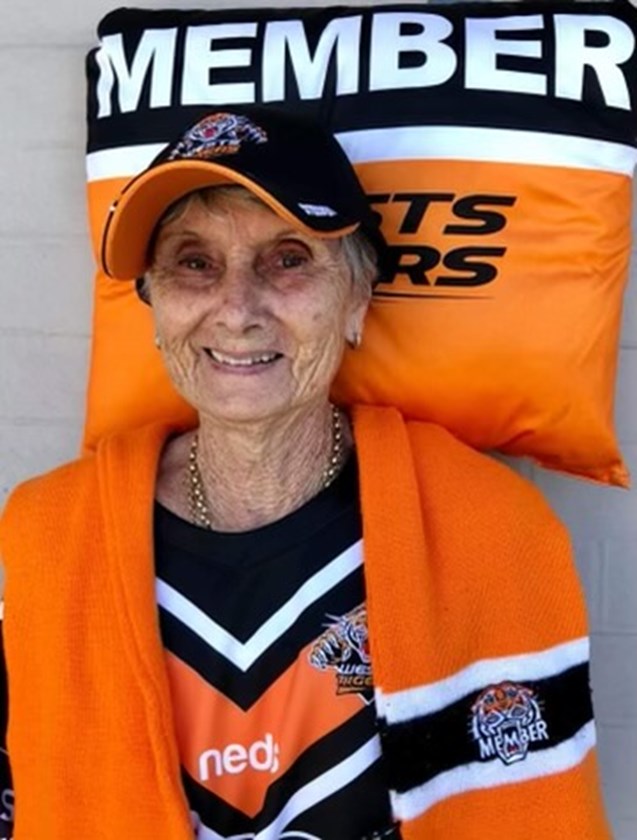 As a reward for her continued support and dedication to Wests Tigers, June was awarded a signed 2021 Wests Tigers jersey as well as a Zoom call with local junior and Life Member Chris Lawrence, who retired at the end of the 2020 season.
For successfully nominating her grandmother, Madeleine was also awarded a $50 merchandise voucher to spend at the club's online RoarStore.
Madeleine's successful nomination of June is as follows:
"My grandmother is a diehard Member of Wests Tigers. My grandfather has been ill and she has been taking care of him at home which has been quite isolated and difficult for her during COVID. She has bought me and all my cousins (her other grandchildren) Memberships for years so we can share in her love for the Wests Tigers.
"I was able to attend every home game last year but she was only able to go to one due to my grandfather's illness. She would love this surprise to be the Member of the Month from a club she loves so much.
"She has always considered Wests Tigers her family — making her actual family become so intertwined in her love for the club — and even if she didn't receive the rewards with it, being the Wests Tigers Member of the Month would mean a lot to her. She is a great women who we all adore.
She has every single (or close enough to) piece of Wests Tigers merchandise in her home and she could tell you of taking three generations of family to Leichhardt oval to sit on the hill — now upgraded to the grandstand — to watch the mighty Wests Tigers. Thanks for your consideration: 2021 is going to be a great year for the Wests Tigers!"
To nominate someone you feel should win the Member of the Month for February, make sure you click here to fill out our online form!