Moving from Brisbane to Sydney sounds easy, right? For Joe Ofahengaue, it wasn't as straightforward.
His journey to the Wests Tigers started with an awkward video conference call with the CEO and coach, involved a stint in living with James Roberts and finished with moving his young family south of the border.
Now that he's arrived at the club, he sees it as more than just playing rugby league. It's a chance for a fresh opportunity – on and off the field.
"I've got an opportunity to be the best player and best person that I can be," Ofahengaue said.
"I'm seeing this as a fresh opportunity for me and I'm really excited to be here.
"I just want to be a good father and a good fiancé.
"I've brought my family down to Sydney and we only live 10 minutes from training."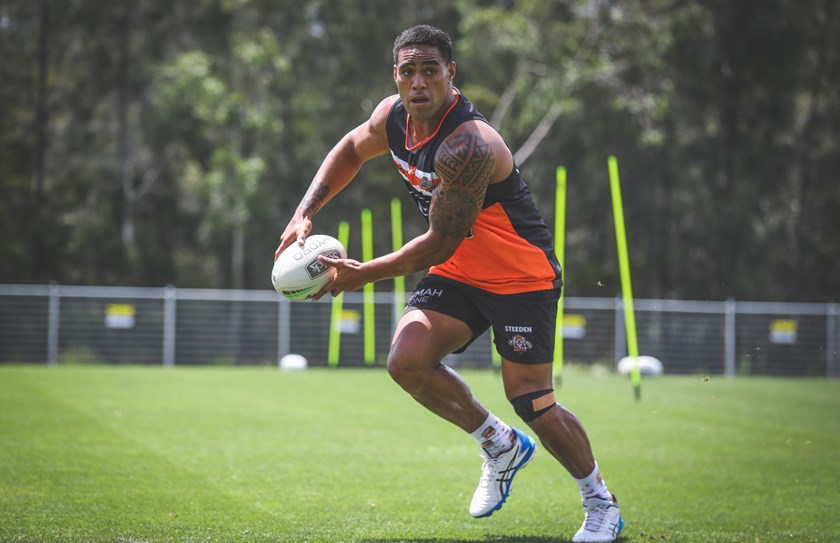 At first, the thought of moving his family across states was daunting, considering he'd only ever played for Brisbane. The Queensland representative played 105 NRL games for the Broncos since debuting in 2015.
"I thought the move was going to be hard because I was moving my little family down here, away from everything we knew," Ofahengaue said.
"The staff and everyone here have been awesome. Justin [Pascoe] the CEO has been very welcoming and 'Madge' [coach Michael Maguire] has been great for me. The players have also been so supportive."
Behind-the-scenes action at Channel 9!
However, his first meeting with Pascoe and Maguire wasn't ideal. In fact, it was an awkward and surprising Zoom video call.
"When I was first looking at joining the club, my manager didn't really tell me that it would be a whole boardroom full of people. I thought I was just having a quiet Zoom meeting with Adam Hartigan – the football manager," he said.
"I turned it on and there was Justin the CEO, 'Madge' and the footy manager. I just thought it was going to be 'Harty' and me, so I went in wearing my tracksuit and I had just been on a run and I was sweating.
"I was really embarrassed because I saw all the big dogs on the Zoom. I had to adjust and after a couple of minutes, I felt really comfortable.
"I now know they're pretty relaxed guys."
Although it wasn't what he had expected of the meeting, Ofahengaue liked what he heard during the chat – and from that moment, he was sold on joining the club.
"'Madge' has signed a couple of players who can do some great stuff and I'm in the same boat. I've really clicked with some of the newer and more experienced guys like Jimmy Tamou and Jimmy Roberts," the prop said.
"We all want to have big years this season. I have clicked with a lot of players and they've made it a lot easier for me. This club is heading in a good place. It has great staff and great people."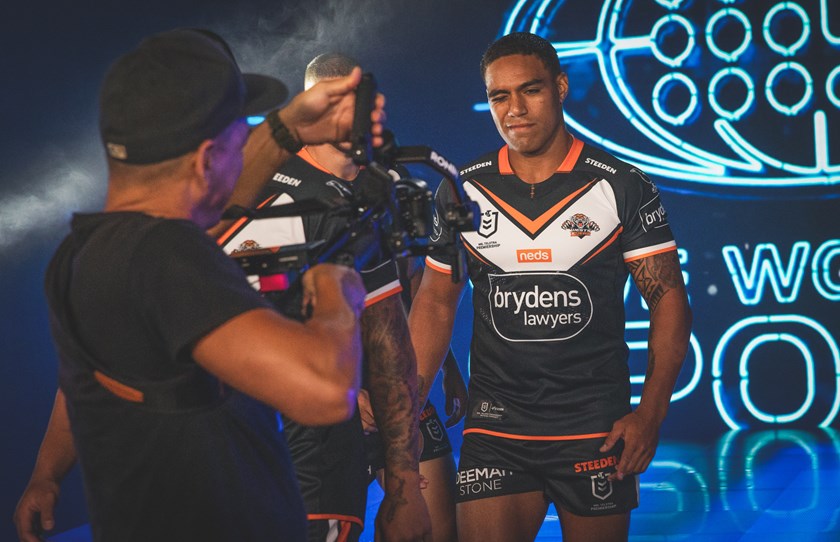 Not only is Ofahengaue eager on playing impressive rugby league, he also wants to help the people around him.
One player he's keen to support and encourage is former Broncos teammate James Roberts, who also joined the club during the off-season.
The pair even lived with each other for a couple weeks when they first joined Wests Tigers.
"Jimmy's fitting in really well. Me and him are really tight. We're both very similar – both smart-asses. We spent a lot of time in Brissy together," he said.
"He just loves playing footy and he can't wait for the new season to start. He's in a great headspace at the moment. We don't have to say a lot to Jimmy because we can just tell what type of headspace he's in.
"We have to make sure he has the right people around him. I like to think I'm one of the good guys around him.
If Jimmy can keep his head on and do his thing, we're going to see some good things out of him.

Joe Ofahengaue on James Roberts
But there was one thing that stood in their way when they lived together.
"He used the toilet with the door open — there's no privacy with him," Ofahengaue laughed in disgust.
"I didn't really like it, so I needed to end it."
Ofahengaue is also eager to win games of footy this year. It's been nearly 17 months since he last sung a victorious team song, having gone 0-15 with Brisbane in 2020.
While he's desperate to taste victory again, he knows he needs to be consistent at training and when the season starts.
"It's not about me getting a win. It's about me getting better and how much I can help the team," he said.
"Obviously winning games can be lovely but for me to get to that point, I need to be consistent. In saying that, I'm here to win!"