It's been an exciting week in the North West as Wests Tigers have participated in a number of community programs across Tamworth and Gunnedah.
With the NRL season kicking off next month, the entire Wests Tigers playing group and coaching staff travelled to Tamworth for pre-season training and to host several community activities.
Over 80 Members and fans came down to Scully Park in Tamworth for their chance to grab some signatures and a photo with their favourite players. Not only were the kids excited to see the NRL stars, but the players were also overjoyed to see a great turnout.
The club was excited to launch a cadetship program at the Winanga-Li Aboriginal Child and Family Centre in Gunnedah. The community centre aims to strengthen the region by providing education and support for children and families whilst recognising, respecting and accepting differences in people. The cadetship program will help provide employment pathways for Indigenous youth, helping create career and education opportunities.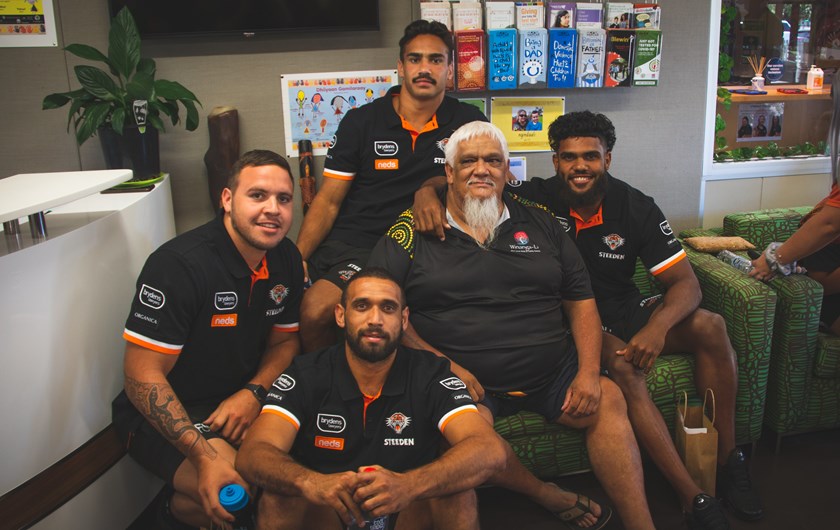 Wests Tigers also had the chance to visit the Challenge Disability Service Centre, giving players and staff the opportunity to meet over 50 clients.
The club was extremely proud to participate in the Unite Harmony program throughout the week, an initiative that aims to encourage and unite high school students to be leaders in their community. 
The club was able to deliver a leadership focused Unite Harmony session at Tamworth High School to a group of 30 disengaged students.
The club also delivered a Celebrating Differences Unite Harmony session to a group of 20 Indigenous students at Tamworth Peel High School.
Wests Tigers star recruits James Tamou and James Roberts, along with Head Coach Michael Maguire, had the opportunity of visiting the Whitehaven Mine, as the club strengthened its strong partnership.
The players also took to the field for some junior rugby league clinics, seeing 130 participants at the Gunnedah NRL Junior Clinic and over 60 juniors at the program in Tamworth. Meanwhile, over 20 coached attended a coaching workshop with Maguire and his coaching staff.
"It's great to come back out here and help the community," James Roberts said.
"I used to be one of those little kids. It just gives them hope that their dreams can come true like mine have. Being a good role model is very important."
Wests Tigers Foundation Manager Nathan Cooke was overwhelmed by the support of the community.
"It's really important for the club to engage in the community, and it was great seeing that happen this week in Tamworth and Gunnedah," Cooke said.
"Our goal is to create positive change. Our vision is to enrich the lives of people in the community.
"From a community and foundation perspective, we're trying to drive that lasting positive change within the community and we were fortunate to have been able to deliver the 'Unite Harmony' program while up here.
"There were stories about some really disengaged students, but once they found out that they'd been selected amongst 20-30 students to participate in program, there was a sense a pride."