Everyone remembers their first day at a new job. The nerves kick in when you walk up to the front door, you're greeted by an unending number of unfamiliar faces and you know there's plenty to learn ahead of you.
It was all the same for recruit Daine Laurie when he rocked up to Wests Tigers for the first time last week.
The only difference, his first day at the club was the start of a five-night pre-season camp to Tamworth.
"It was pretty freaky. I was training with Penrith and then I got the call that I was coming over here. It happened so quickly," Laurie said.
"I found out that I was coming on camp with the boys. I was pretty rattled there for a bit."
As he stepped onto the bus bound for Tamworth, Laurie started to get to know his new teammates.
"I hadn't met many of them until I got onto that bus. It was pretty weird to be honest because I had been at Penrith for five years," he said.
"I was pretty rattled. I was really nervous because I didn't know many of the players, but it was a good experience for me."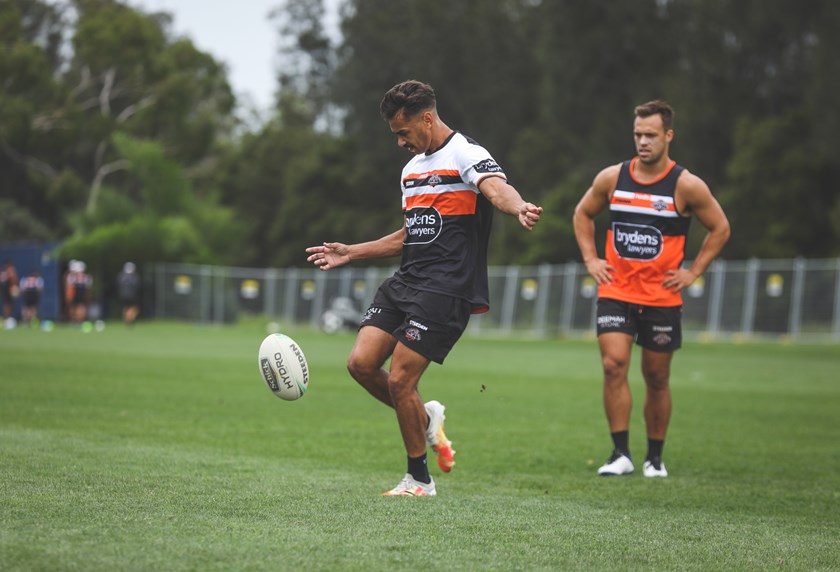 There were a few familiar faces, former Panthers teammates, James Tamou and Shawn Blore.
"There were a couple boys I knew from Penrith, so they made the transition pretty easy.
"The boys have made me feel very welcome and I can't wait to rip in with them this year," he said.
A week into his time at the club, Laurie has already clicked with coach Michael Maguire and he's excited to represented Wests Tigers this season.
He had previously signed on from the start of the 2022 season, but his arrival was fast tracked a year early.
"'Madge' [Maguire] was pretty good. He's pretty straightforward, he doesn't beat around the bush – that's what I like about him," Laurie said.
"I reckon the club is going in a good direction. When I got the opportunity to come across, I took it with both hands and I can't wait to see how this year turns out for the club."
The 21-year-old fullback made his NRL debut last season, and he now has eyes on debuting for Wests Tigers.
"It was awesome [to debut]. Ever since I was a little kid, all I ever dreamed about was being an NRL player. To run out there and see all my family was unreal and I'll never forget it," he said.
"My uncle, Daine Laurie, debuted here [at Wests Tigers]. The club has always held a special part in my heart, so to get another 'Daine Laurie' up on that board would be unreal – so that's my goal."