Wests Tigers have strengthened the relationship with the Indigenous community of Gunnedah through partnering with the Winanga-Li Aboriginal Child and Family Centre.
The community centre aims to strengthen the region by providing education and support for children and families while recognising, respecting and accepting differences in people.
Wests Tigers are committed to helping achieve improved outcomes for Aboriginal children and their families and closing the gap on Aboriginal disadvantage.
The club has joined forces through a cadetship program, that will help provide employment pathways for Indigenous youth, helping create career and education opportunities.
Wests Tigers Indigenous players – James Roberts, Daine Laurie, Kiah Cooper, Allan Fitzgibbon and Tyronne Roberts-Davis – along with Head Coach Michael Maguire and Captain James Tamou visited the centre in Gunnedah on Wednesday afternoon.
The team had the opportunity of touring the facilitates and received a warm welcome to country. The welcome was delivered by Greg Griffiths and provided the Wests Tigers with a small insight into the strong traditions of the Gomeroi Nation.
"It's great to come back out here and help the community," Roberts said.
"I used to be one of those little kids. It just gives them hope that their dreams can come true like mine have. Being a good role model is very important."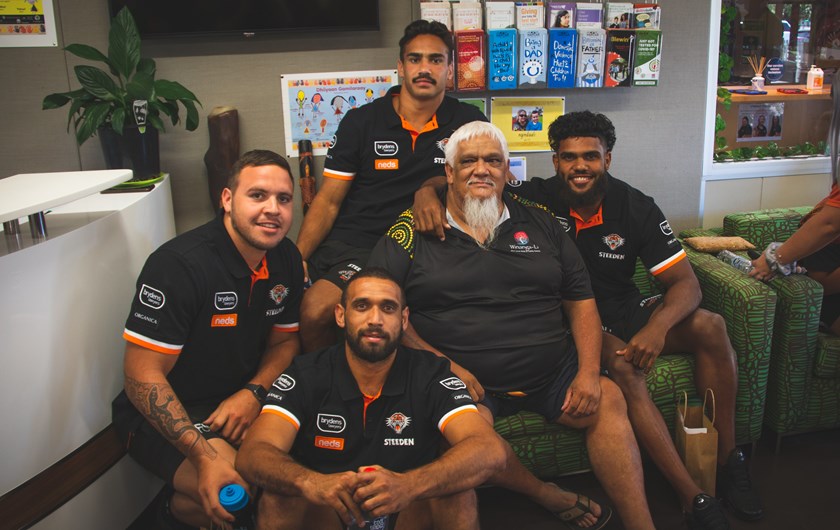 Maguire, who has become an ambassador of the centre, is committed to strengthening the club's relationship with the Indigenous community.
"We're really enjoying watching the indigenous space grow," Maguire said.
"I'm very fortunate that I get to work in the Maori space, the Samoan space as well.
"As a club, I want to create an environment welcome to all. I want it to be a club that is welcoming to all Indigenous people."
This work at Wests Tigers is proudly supported by the Wests Tigers Foundation. To learn more about the Foundation, please click here.