Wests Tigers Head Coach Michael Maguire liked what he saw during Saturday night's trial match against Sydney Roosters at Kirkham Oval despite his side going down by six points.
With Maguire blooding a young side in the first hit-out of the season, he was impressed with a handful of youngsters and is excited to see them play alongside the senior players next Sunday against Manly-Warringah.
"It was good having players back playing footy. We had a fair range of kids from our younger grades to our men and I thought they did well," Maguire said after the match.
"It was definitely a first run. It was good to get the rust out — a lot haven't played for 12 months — and now I'm looking forward to next weekend which is the real trial."
2021 Match Highlights: Trial, Wests Tigers vs. Roosters

Although he didn't want to single out any standout performers, Maguire was more than happy with the efforts of new recruits Tuki Simpkins and Daine Laurie.
Simpkins, who joined the club from North Queensland, scored the club's first try of 2021 when he barged his way over on Saturday night.
Laurie also looked comfortable in Wests Tigers colours after joining the club just two weeks ago. The former Panther started at five-eighth against the Roosters before having a stint at fullback to start the second half.
"Tuki Simpkin was one that really shone for us," he said.
"Daine's a competitor. He's exactly what I expected. He's got good composure and he's quick. I'm looking forward to seeing him grow."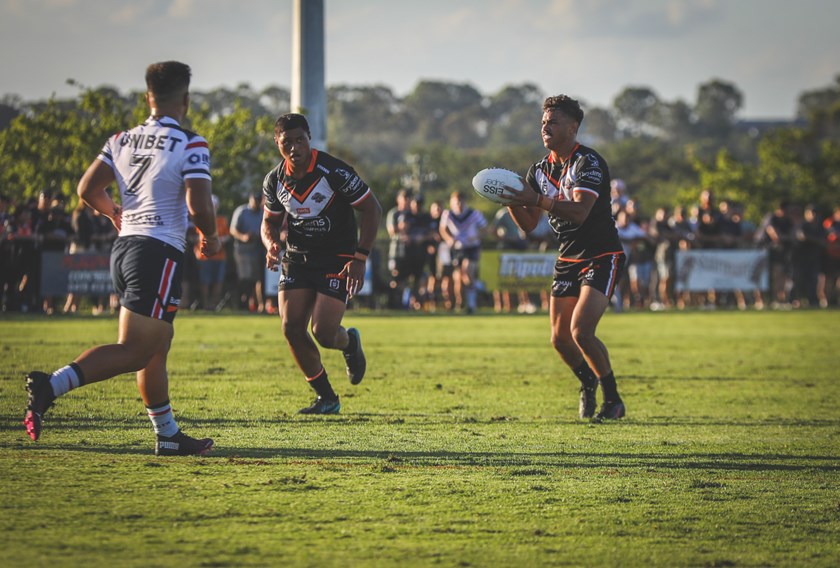 Maguire was also delighted with the efforts of his dummy-halves, as Jacob Liddle and Jake Simpkin compete for the number nine jersey.
The younger of the two – Simpkin – started the match and looked comfortable in the middle, before the more-experienced Liddle played a decent stint in the middle of the match and in to the start of the second half.
"The two hookers showed themselves to be well prepared and I thought they showed some good signs," Maguire said.
"I was really pleased for him [Simpkin]. It was his first game in a while. He said himself that it was great just to play footy and he has good composure.
"I thought Jacob Liddle also showed some good signs around running."
There will be a bigger test for the number nines – and the entire team – next Sunday when Wests Tigers host the Sea Eagles in the final trial match at Leichhardt Oval.
"We will have all our senior players around them [Simpkin and Liddle] next week and we can see how they play with them," Maguire said.
"We'll have the big men rolling onto the ball — that's a big part of the position — and I'll be looking at that a lot. We'll see how they go next week."