Just like most New Zealand boys, Tukimihia "Tuki" Simpkins grew up wanting to be an All Black because rugby union was his life.
Not only did he play the 15-man code for the entirely of childhood, but his family were also entrenched in the country's national sport.
His dad is the coach of the prestigious Rotorua Boys' First XV team — the same side Tuki once played for — and his dream was for his son to become an All Black one day.
But when an opportunity arose to play rugby league, Tuki packed up his bags and headed over to Australia.
 So how did his dad take it when his son said he was converting to rugby league?
"At the start, he was a bit shaky with me playing rugby league," Simpkins laughed.
"Dad wanted me to be a rugby union kid, and I guess I wanted to be an All Black – obviously growing up in New Zealand.
"But once I got the opportunity to play rugby league, he switched around and he's happy that I'm here."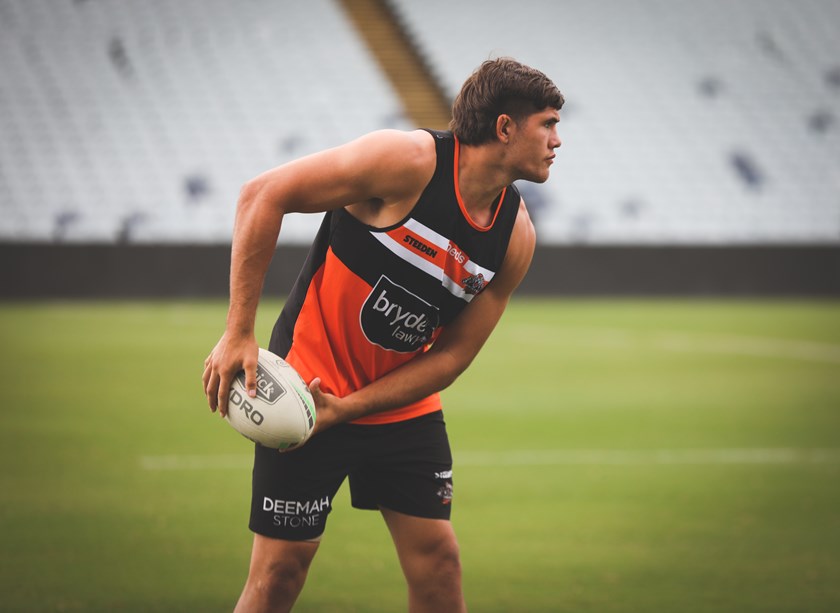 Not only does his dad now support his career change, but he was the man who helped Simpkins end up at Wests Tigers this year.
The young forward was playing for North Queensland when Wests Tigers Head Coach Michael Maguire approached Simpkins' dad ­— who was Tuki's player manager at the time — to see if the youngster was interested in moving to Sydney.
"One day I was at training with the Cowboys and I got a call from my dad, saying 'Madge' [Maguire] had rung him," the 19-year-old forward said.
Feeling good as Round 1 approaches
"The three of us got on a Zoom chat and Madge was talking to me about the vision at the club and how he wanted me to come.
"I couldn't really turn it down because I wanted to take the opportunity. I came down to Sydney as quickly as I could and now I'm here."
Although he's across the ditch away from his loved ones, family is everything to Simpkins, with his dad being his idol and mentor.
"He's definitely my rock. He's been looking after me since I was a little kid. He's always giving me advice and teaching me the ways. Having him to rely on through the tough decisions really helps me,"
"Family means everything to me. I'm calling mum and dad every day. They keep telling me to work hard and that I'm making them proud – that's why I'm here."
Simpkins is from the small city of Rotorua on the North Island of New Zealand — a tourist destination renowned for its geothermal activity and Maori culture. Australian may know it as the place to go quad biking, zip-lining or to roll down a giant hill inside an inflatable ball.
 "We don't do any of the tourist things back home – that's just for the Aussies who come over," Simpkins laughed.
"It's a pretty small place. Me and the boys just chilled around. Our rugby crew was pretty tight, and we'd hang around at each other's houses. There's not much to do in the small town."
Simpkins is a proud New Zealander, having played for the country's junior rugby union team.
"I love the Kiwis – I made the junior New Zealand teams through rugby union and I got to go through their system," he said.
"Getting to represent my country in the lower grades was pretty special and a proud moment.
"I'd love the opportunity to play for the Kiwis in rugby league one day."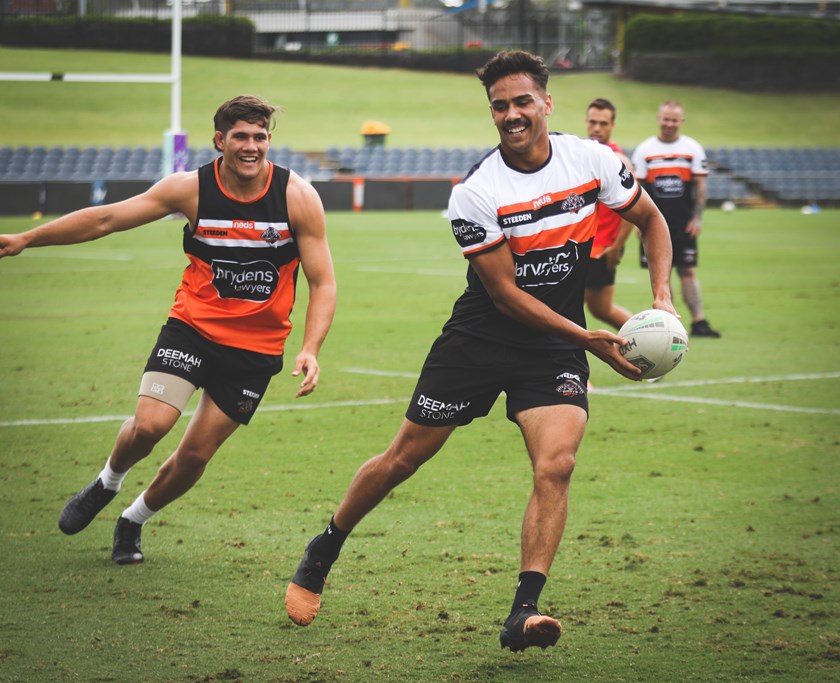 For now though, his focus is on Wests Tigers and he's been thriving at his new club. He even scored a try in his first start for the team during last weekend's trial match against Sydney Roosters.
"I'm loving it here. It's been a good transition coming in. The boys have been very welcoming and I'm fitting in nicely," he said.
"It would mean everything to me if I got the chance to make my NRL debut. My parents have made so many sacrifices to me; there have been so many tough times away from home and all the tough training. It would all go towards that and make it worth it."
The only negative about moving to Sydney?
"The traffic is so bad," Simpkins said.
"It's a big change to New Zealand and even Townsville. It's a lot busier and a lot more people — traffic is the worst.
"I haven't got a car yet, but I've been driving the boys' cars around a little bit and the traffic is crazy — I've got a bit of road rage.
"But it's all good. I'm loving living in Sydney and playing for this club."