From growing up in remote village in Samoa, to moving to New Zealand without knowing any English, and then heading over to Australia as a teenager — Kelma Tuilagi's journey to the NRL is far from ordinary — and his opportunity to play rugby league is something he'll never take for granted.
Tuilagi grew up on a farm in a rural area of Samoa, where his family produced their own food off the farm, and although he came from humble beginnings, he's proud of where he's from and what he learnt from a young age.
The challenges continued when Tuilagi was eight years old, when he and his family moved to New Zealand — knowing very limited English. It wasn't until Tuilagi was in Year 5 at school that he started learning the language.
He spent six years living in New Zealand, before his family made the move to Melbourne, where Tuilagi's journey to the NRL started.
"I'm pretty grateful for where I am right now, because I didn't grow up with much," the Wests Tigers recruit said.
"It was pretty rough, actually — we didn't have much money or anything like that.
"We had a farm and that's all we had to rely on. It was pretty tough for us at times."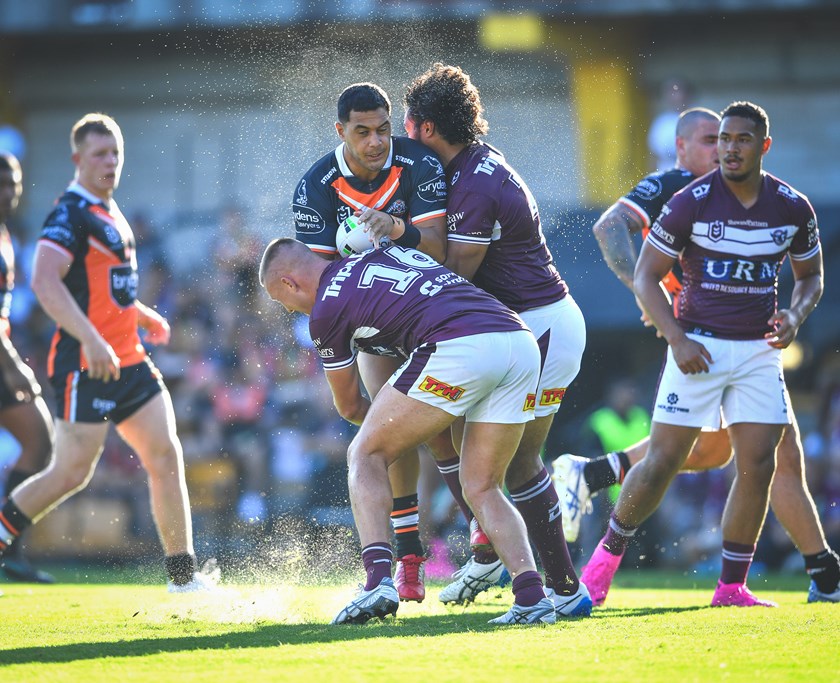 Although Tuilagi didn't grow up with much wealth or many possessions, he was always provided for by his family — and that's why now he wants to give back to the people who gave their all for him.
"For me, playing footy and having an NRL contract is not about me — it's for my family," he said.
"When I get paid, I send money back to my parents to go towards the family because they were the ones who supported me when I was growing up. I just want to give back to my parents."
Tuilagi has joined Wests Tigers on a two-year deal that will see him move into the NRL squad in 2022 after the completion of his development contract in 2021.
Under a development contract, he will train with the NRL squad on a full-time basis and will be eligible to make his first grade debut after Round 10.
However, he's already had the chance to pull on the Wests Tigers colours on two occasions during the club's pre-season trial matches against Sydney Roosters and Manly Warringah.
The match against the Roosters at Kirkham Oval was a special moment for Tuilagi with his family making a surprise visit from Melbourne — the first time he had seen them in a while.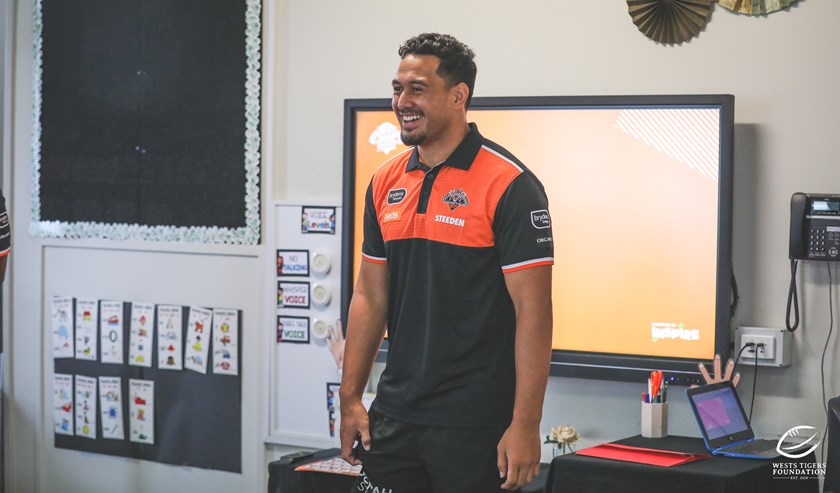 "It was good to see my family for the match — they surprised me for the game," Tuilagi said.
"It was a good moment because they hadn't seen me play for two years because I was injured in 2019 and then COVID came along last year."
A Glenora Bears junior, Tuilagi represented the Junior Kiwis in 2018 before signing a two-year deal with Melbourne, where he featured heavily in the Intrust Super Cup competition with Easts Tigers — scoring five tries in 14 games during 2019.
He was involved in last year's premiership-winning squad with the Storm, and although he didn't get the opportunity to take to the field, he gained valuable experience amongst seasoned players while in the COVID-19 bubble.
"I spent most of my time in the bubble. It was about six months on the Sunshine Coast and I wasn't able to see my family at all," he said.
"It was a great experience because we stayed in a nice resort. It was really nice at first, but once you get used to it, you get bored and then sick of looking at everyone's faces. You get over it pretty quickly.
"It was pretty tough for the players who weren't playing, but we had the mindset to do what we needed to do to prepare the top side."
There was, however, one other issue with being in the bubble — they were fed too well.
"I was in fat club for the first month when I joined Wests Tigers," he laughed.
"I came to the club overweight because I had been living the 'bubble life' up in the Sunny Coast, getting fed a lot,"
"I'm all good now … pretty fit."
Tuilagi is thriving under the coaching of Michael Maguire, with the incoming forward gaining valuable knowledge on and off the field.
"I've spent a lot of time with 'Madge' [Maguire] – fixing up what I need to do with my footy," the recruit said.
"He also talks to me about life away from footy which is really good because I'm new to Sydney and I'm a Melbourne boy.
"I live near Parramatta and there are a lot of nice restaurants. I love my coffees and there's some good ones up the road. I like Sydney life."