Wests Tigers halfback Luke Brooks has never attempted a goal during his eight-year NRL career and doesn't recall lining up for a shot since high school — yet he's more than confident to take on the goal-kicking duties if called upon in Round 1 against Canberra.
With notable goal kicker Adam Doueihi suspended for the opening game of the season, Brooks is prepared to step up to the tee when required.
The Wests Tigers halfback had his first taste of goal-kicking during last Sunday's trial match against the Sea Eagles, and looked more than comfortable as he slotted four goals from five attempts — including several from out wide.
"I'll definitely put my hand up for it in Round 1 if that's what's best," Brooks said.
"It felt good to get a few kicks last weekend. It was good to get some practice and I'll be confident if I'm handed the job.
"A few of us have been giving it a go at training so there are a few capable of taking on the role."
Brooks believes he hadn't had a shot at goal for at least eight years, prior to last weekend.
"It had been a while since the trial — probably Year 12 at school, so U/18s," he said.
"It's something all kids kind of did so it wasn't that different."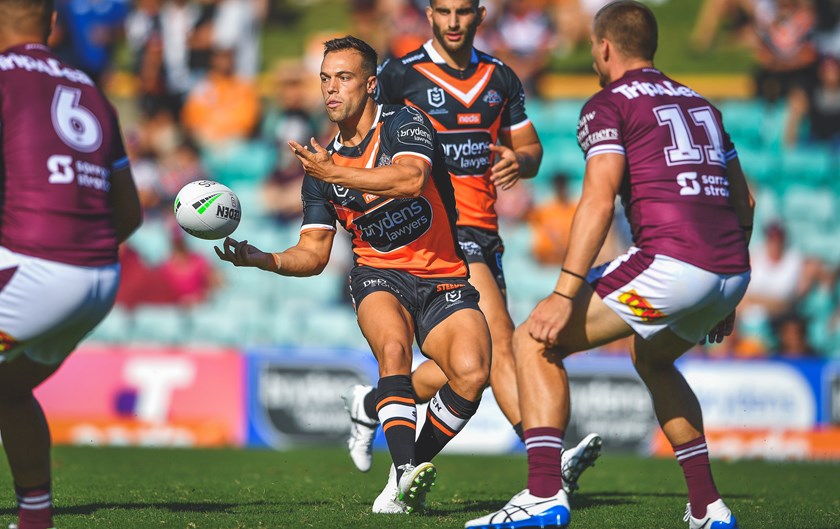 Not only was Brooks happy with how his goal-kicking went last weekend, but he was also pleased with how the team performed as they recorded a 52-18 win.
"It was really pleasing to see and we showed that we're up for it this year," he said.
"At the end of the day, it was only a trial so we can't take too much out of it, but it's always nice to get a good win before the season starts."
In his ninth season of first grade, Brooks is ready to take his game to a new level in 2021 following a disruptive campaign last year. The halfback played just 17 games throughout the COVID-19 affected season.
"I know what my role is this year. I'm here to lead this team around the field and take ownership," Brooks said.
"It makes it easier when you know your role and I know that I'm the halfback and really have to take control. I need to step up and take responsibility of this team.
"I can't be looking around, waiting for someone else to take ownership, I've got to take the lead.
"I can't wait to head out there and show everyone what we've been doing all pre-season."
Match: Raiders v Wests Tigers
Round 1 -
Venue: GIO Stadium, Canberra