Wests Tigers have put in the hard yards throughout pre-season and they're now ready to roar in 2021, according to captain James Tamou.
The new skipper says the team is high on confidence following their 52-18 trial match win against Manly-Warringah and they're up for the challenge against Canberra Raiders on Sunday afternoon.
"Coming out of that [trial] game and getting the confidence that we need, I'm pretty pumped for Round 1," Tamou said.
"We've got a special bunch here — and I know it's easy to say that — but confidence is sky high at the moment.
"The real test will be against Canberra down there."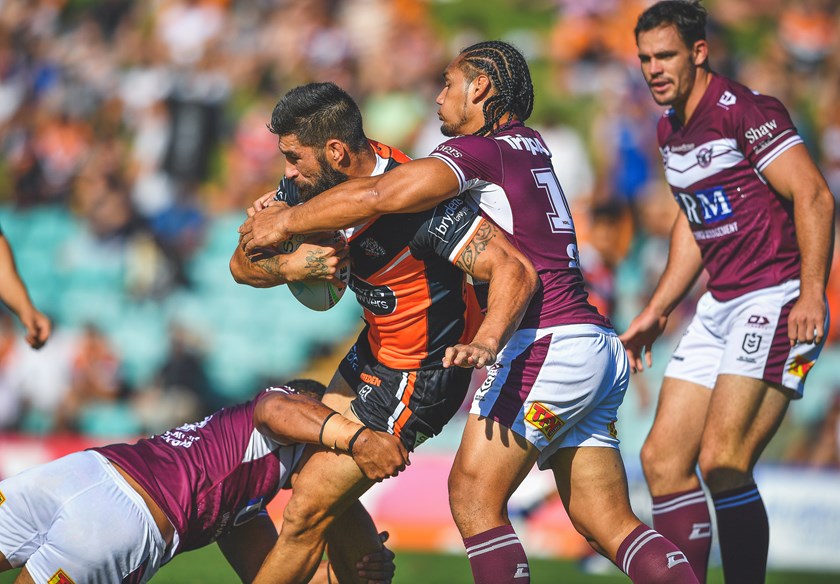 Tamou has liked what he's seen over the past couple of months and believes Wests Tigers have what it takes return to the finals in 2021.
"Having not played finals for a little while, we're ready to change that and with the bunch that we've got I'm pretty confident that we can," he said.
"In saying that, it's easy to say that coming off that trial match.
"Manly weren't at their strongest and the Raiders have been highly touted as a premiership team so it's going to be a tough one but I think we've done the work."
Not only will Tamou make his Wests Tigers debut on Sunday, it'll also be his first opportunity to lead from the front on the field as captain.
The 32-year-old veteran is loving his new role as skipper of the club and is excited to lead a team bursting with young talent.
"The situation I find myself in is pretty rare having just come into a club and been named to captain the team," Tamou said.
"It's an absolute honour, especially considering the rich history of the club.
"I wanted to come into the club to lead, but at first I wanted to observe. With my experience, I know that's where I could help, especially considering we have a young squad.
"Being the oldest player in the team, there are different ways to help and that can be upstairs in the head as well as with my actions.
"It's up to me to lead this team and I'm here to make a difference."
Tamou is also looking forward to wearing the Wests Tigers colours alongside youngster Daine Laurie, who he played with at Penrith last season.
"He's pretty exciting. I'm happy for him to be here. He's deceptively quick and strong — he puts his all on the line. I remember back at Penrith, he fought his way into that first team because we just had to have him on the field," Tamou said.
"When we were opposing him when he was in the second team at training, he was carving us up and putting his body on the line, to stop people like big [Viliame] Kikau. I knew what he was capable of so it's good to see him now."
Match: Raiders v Wests Tigers
Round 1 -
home Team
Raiders
3rd Position
away Team
Wests Tigers
14th Position
Venue: GIO Stadium, Canberra