Western Suburbs Magpies have kicked off their 2021 Knock On Effect NSW Cup campaign with a 32-18 loss to Canberra Raiders in cold conditions in the nation's capital.
The Magpies held a narrow advantage at half-time but the Raiders were too strong in the second half — scoring four tries in the final 40 minutes.
Although the Magpies weren't able to leave GIO with two competition points, there were plenty of positive signs as they fiercely competed against an experienced Raiders line-up.
Young hooker Jake Simpkin — who is a member of the Wests Tigers NRL squad — was a standout on Sunday afternoon as he scored a try, set up two and saved one at the other end.
The Magpies were gifted the first attacking set of the game after the Raiders dropped the ball of the opening kick-off and the away side took advantage of the early possession with forward Edenn Rogers-Smith barging his way over the line.
The Raiders, however, reduced their deficit to two points moments later when Harley Smith-Shields slid through on the left edge.
The home side took the lead for the first time in the match after 15 minutes when Albert Hopoate scored in the right corner and Sam Williams nailed the conversion from the sideline.
Western Suburbs retook advantage of the scoreboard with 10 minutes to go in the first half when talented youngster Jake Simpkin showed off his footwork to weave around defenders and score under the posts for a 12-10 lead.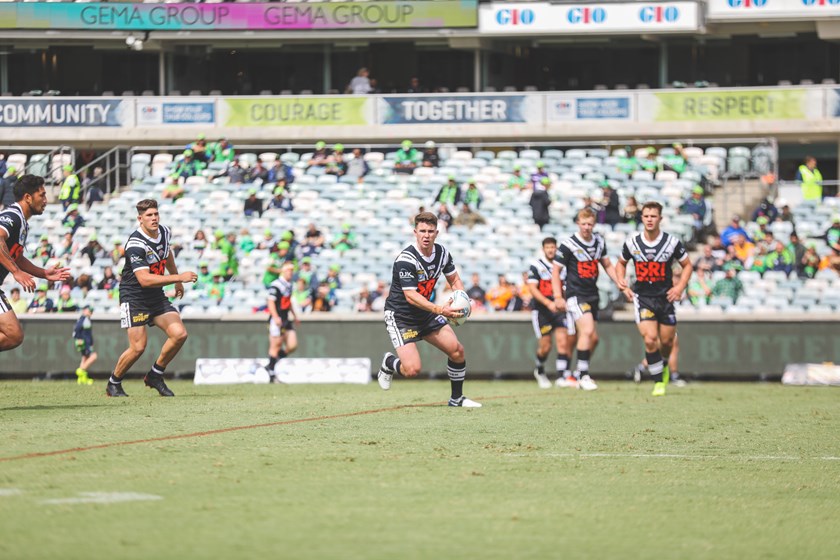 The lead changed for a fourth time in the match when Raiders fullback Caleb Aekins split the Magpies defence up the middle to score under the points.
The home side then extended their lead to 20-12 with 26 minutes remaining when winger Semi Valemei crossed in the left corner.
Raiders five-eighth Matt Frawley and winger Hopoate scored late to consolidate the home side's advantage with Magpies forward Alex Seyfarth crossing for a late consolation try.
Western Suburbs will now turn their attention to their first home game of the season as they host North Sydney Bears at Campbelltown Stadium next Sunday afternoon.
Canberra Raiders 32 (Hopoate 2, Smith-Shields, Valemei, Frawley; Williams 1/2, Schneider 3/4 goals) def. Western Suburbs Magpies 18 (Rogers-Smith, Simpkin, Seyfarth; Madden 2/2, Dockar-Clay 1/1 goals).
Match: Raiders v Magpies
Round 1 -
Venue: GIO Stadium, Canberra