Wests Tigers coach Michael Maguire believes a heavy workload in defence followed by errors in attack let his side down during their 30-12 opening round loss to Canberra Raiders.
Maguire's men looked impressive in the first 40 minutes, as they defended their own line for large periods, but a lacklustre second half proved decisive.
"If you spend that much time tackling, fatigue comes into the game," Maguire said after the game.
"We didn't help ourselves out in the second half at all. We went away from what we've been practicing and spoken about. There are definitely areas of our game that we've got to look at.
"You've got to dig through those periods and come out the other side. We shot ourselves in the foot with things we did."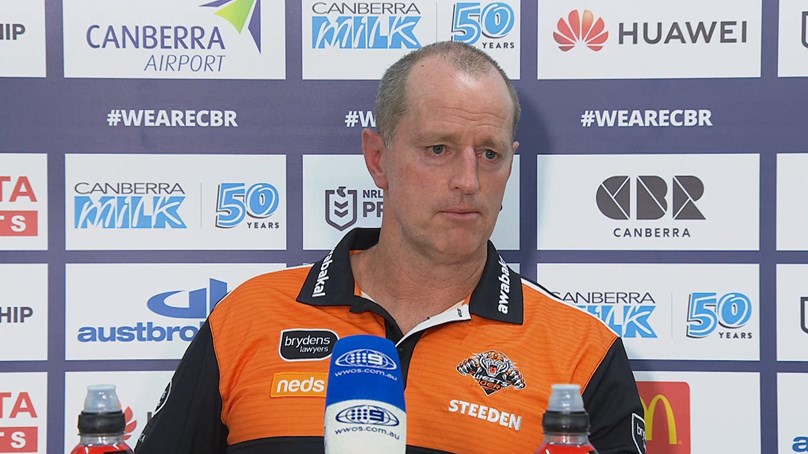 Maguire was disappointed with his side turning over possession on multiple occasions and said his players need to get the basics right.
"The team needs to make their tackles and do their job defensively. We did a strong job in the first half," he said.
"There were times we had to defend our line for large periods of time. We weren't able to do that in the second half and Canberra were able to dominate.
"At the end of the day, you've got to learn to look after the ball and we'll have a look at that."
On a pleasing note, Maguire was impressed with how fullback Daine Laurie played in his first game for Wests Tigers.
2021 Match Highlights: Rd.1, Raiders vs. Wests Tigers
"He's a good kid and a good player. The more he plays, the better he's going to get," Maguire said.
"He's still finding his way which you do early in your career.
"He saved a number of tries in the first half and returned the ball with speed. I think if we can create opportunities with the ball, Daine is going to be a highlight with what we do."
​