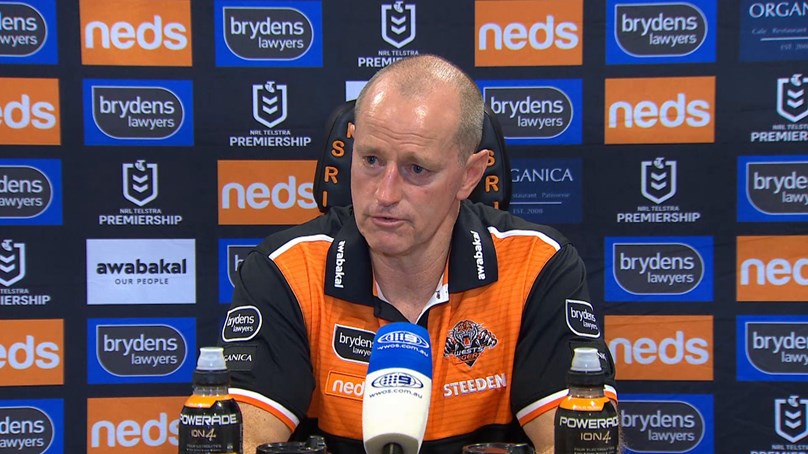 Wests Tigers coach Michael Maguire has shared his disappointment following Wests Tigers' 40-6 loss to Sydney Roosters at Campbelltown Sports Stadium.
Maguire was far from satisfied by his side's performance, admitting they failed to execute in the big moments and need plenty of improvement.
"I can't fault the attitude on how hard my players work, but we need to look at how effective we are," Maguire said after the game.
"We need to make sure our attitude is right in every little area.
"We put ourselves under pressure. The Roosters played a pretty simple game, but they do things fast and quick."
Although Maguire admits Wests Tigers were a long way from their best, he knows what needs fixing and placed the onus on his players to improve ahead of their Round 3 clash against the Newcastle Knights.
2021 Match Highlights: Rd.2, Wests Tigers vs. Roosters
"The players know what they need to do, so it's up to the individuals to do so. They're the ones that keep moving forward," the coach said.
"We're definitely not happy with that scoreline at all. It's not acceptable for us as a club. We're the ones to fix that."
With the Roosters finding plenty of success down their right edge throughout the 80 minutes with Brett Morris scoring a hat-trick, Maguire said he'll need to take a look at his side's left edge.
"They gave us a workout down our left edge and we're going to have to look at that," Maguire said.
"Obviously the guys on that left edge need to have a good look at themselves and we need to look at how to rectify that.
"I'll make changes where I feel fit. We can't accept that scoreline and that result.
"We're all accountable for what we do and as a team, we need to fix that ... it was very disappointing."
Maguire's men will be eager to bounce back next Sunday afternoon when they travel to Newcastle to take on the Knights at McDonald Jones Stadium.
Liddle at his scheming best