Footy fans will be treated two games of rugby league on Easter Monday with the Knock-On Effect NSW Cup team in action before Wests Tigers NRL clash against the Parramatta Eels.
Western Suburbs Magpies will look to build on last Sunday's 50-6 thrashing of the Knights in Newcastle when they host the Eels at Stadium Australia this long weekend.
Ben Gardiner's side is high on confidence following their convincing win at McDonald Jones Stadium, and will be eager to back it up this time around.
"It gave the players a lot of confidence in their skill — they know the ability they have, and it was just good to see it in action last weekend," Gardiner said.
"It was a pleasing result for the boys because they've been training well and knew they had it in them."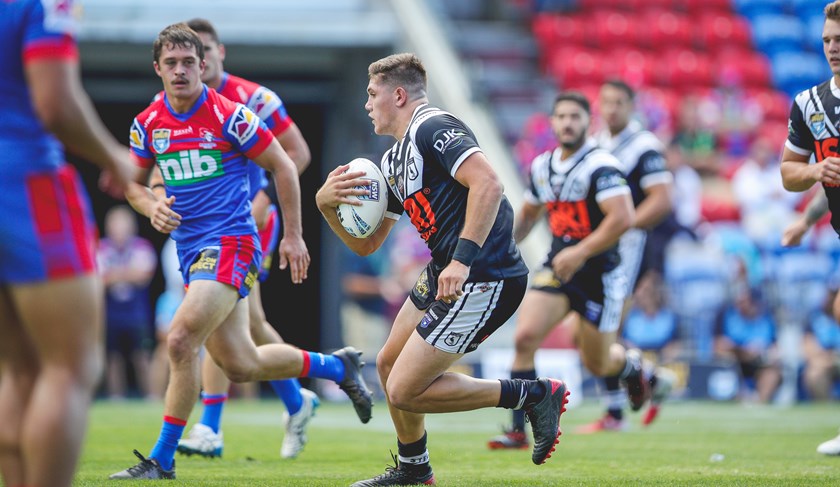 With one win from three starts, the Magpies will face the Eels — who have played just one game this season — a 22-20 win against Newtown last weekend.
The match will be played as the curtain-raiser to first grade, giving the fans plenty of action on their long weekend.
"Not only is it a thrill for the young guys to play before the NRL team, but it's also a thrill for the fans to come and watch two games of footy," the coach said.
"It's great for the young boys to have the NRL players there watching on before the game. Last week in Newcastle the whole NRL team and the coaches were out on the field cheering the NSW Cup team on.
"The Easter Monday game is massive for the club — not just for first grade but our team first. It's going to be a big test against the Eels and we're looking forward to the match."
Experienced NRL player Joey Leilua will once again feature for the Magpies on Monday after not being selected in Michael Maguire's NRL team. The centre was impressive in the side's win over the Knights in Round 3 and has been a massive boost for the team since his arrival.
"It's an honour to coach someone with his experience. He's been a true professional since linking up with us. All I've said to him is to come in and enjoy your football," Gardener said.
"No matter what grade you're playing, it's about playing the best football and being the best player as possible. He's been great for some of the young boys — they've been learning off him."
The match kicks-off at 1:30pm at Stadium Australia on Monday.
Match: Magpies v Eels
Round 4 -
Venue: Stadium Australia, Sydney