Wests Tigers Coach Michael Maguire has paid tribute to the late Tommy Raudonikis as a true character of the game as his side prepare to honour the halfback this Sunday at Leichhardt Oval.
With Raudonikis' iconic number seven jersey to be rested across all grades on the day, Maguire recognised the Western Suburbs' legend importance to Wests Tigers today and spoke about the emotion that will be felt tomorrow afternoon.
"It'll be a great day for rugby league," Maguire reflected ahead of his side's Round 5 clash against the Cowboys.
"It's really important that we take the time to celebrate Tommy.
"He's a great man and I've been fortunate to spend some time with him over the years. He was a great character and he was a player that everyone not only wanted to play with but also be around. That's what made him so special.
"We're very honoured to be able to honour him throughout the day," he said.
"It's a special moment for the club and we've got to make sure we handle the emotion of that day right. But what we're confident we'll do is use what's in the air and around on the day to put our a great performance on the park."
With a capacity crowd expected to fill the suburban ground once again on Sunday, Maguire said it was important to utilise the energy to his side's advantage on the weekend as they look to secure their first victory at home this year.
"It's a great experience as a Coach to see a packed crowd," Maguire enthused.
"You walk out and there's a lot of energy in the crowd and everyone seems to enjoy coming there because it's a boutique little ground with a few beers on the hill.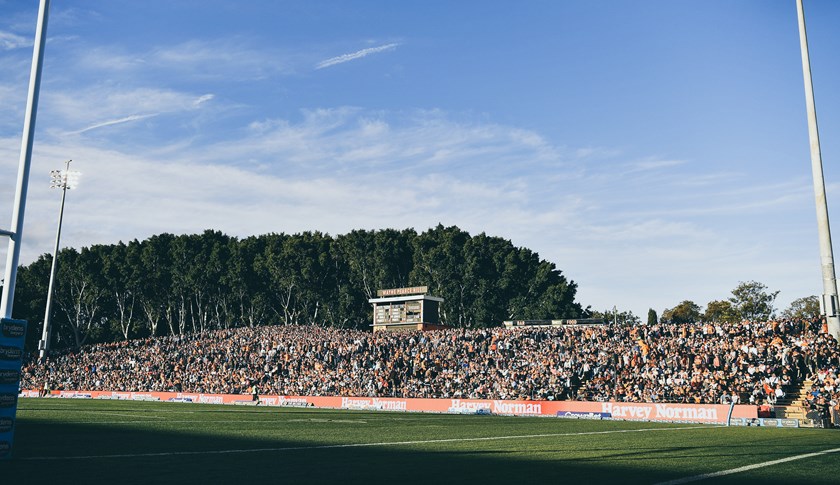 "For us, it's a special place and so is Campbelltown. We're fortunate that we're spread throughout a number of areas and can have some special grounds."
Off the back of a close but disappointing defeat to Parramatta on Easter Monday, the Wests Tigers Coach believes his side are building a sound platform for the year ahead but emphasised the need to persevere for longer periods of time. 
"The areas of our game are improving but we've got to be able to sustain that for longer and better periods of time," Maguire said.
"We need to build more pressure in attack to put teams under the pump, but when the game turns and the momentum swings we need to handle that better.
"No matter what's in front of you in a game you've got to be able to handle those situations and that's where we're at as a team.
NRL.com preview Cowboys clash

"We're not getting the results and everyone sees the result as the outcome," he added. "But what we're doing and what we're building as a group, there's a lot of good signs — we just need to keep doing that over the 80 minutes.
"We've had some big games over the past month and there's times we could have been a lot better and taken better opportunities or built pressure. 
"We need to keep doing that over and over to become the team we can be."
Match: Wests Tigers v Cowboys
Round 5 -
Venue: Leichhardt Oval, Sydney