Although Wests Tigers were overly disappointed in last week's performance against North Queensland, captain James Tamou said his players need to remain positive as they look to bounce back from the Leichhardt defeat.
With 20 weeks still remaining in the 2021 campaign, Tamou said there's plenty of time to turn their fortunes around and they can't dwell on last Sunday's result.
"We've got to lift our spirits and we can't be kicking stones," Tamou said.
"It's only Round 5 of a 25-round season … In our review, we discussed how we're going to bounce back.
"We were really upset at our standards because we let ourselves down. We've looked at the negatives with everything we can fix."
Despite not playing as well as they had hoped, Tamou said the players have shown a number of positives against some of the top sides in 2021, but need to play well for the entire game.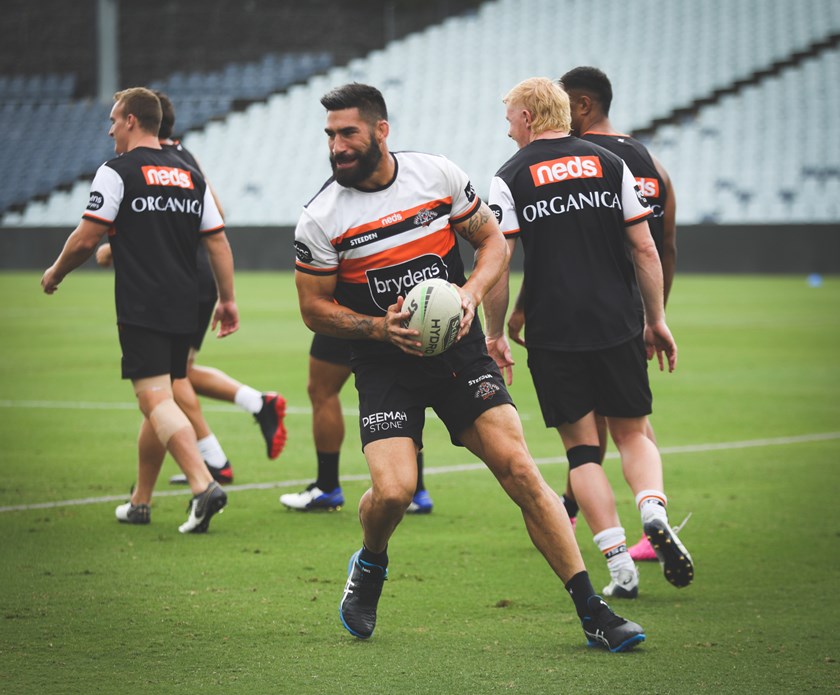 "We need to be an 80-minute team. We've mixed it for a short amount of time against some of the best teams in the competition, but not the whole 80 minutes," Tamou said.
"In every game, we've played well in a short period of time and we haven't been able to put a good 80 minutes together.
"It's about looking at our standards and working out what type of team we want to be. We were really upset at our standards because we let ourselves down. We've looked at that and we need to improve."
Wests Tigers will be aiming to bounce back on Saturday evening at Stadium Australia when they face the South Sydney Rabbitohs — who have won four-straight games.
NRL Team Announcement: Round 6
"I have full confidence in our ability, players and staff that we will get it right," he said.
"We're looking to bounce back because a lot can change in a week.
"We've got South Sydney on Saturday, so we need to bring our best."
Highly-rated young hooker Jake Simpkin will debut in the Round 6 clash after being named to start in coach Michael Maguire's side — and Tamou believes the inclusion of the 19-year-old will lift the spirts of the side.
"When bringing in a debutant, brings enthusiasm and lots of energy. I'm excited for him," Tamou said.
"He's tough and loves to get amongst the tough stuff."
Match: Rabbitohs v Wests Tigers
Round 6 -
Venue: Stadium Australia, Sydney