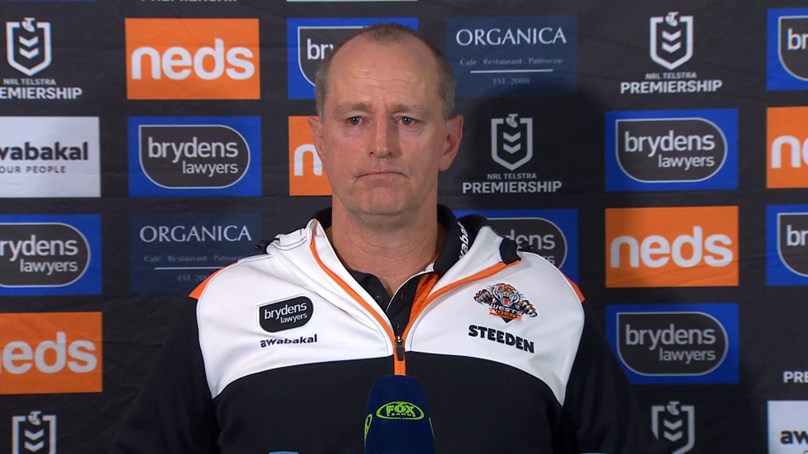 Wests Tigers coach Michael Maguire said he would like technology to be used more throughout NRL games to ensure the right outcomes are made at crucial stages.
Following a thrilling match against South Sydney at Stadium Australia, Maguire said he would've liked the Bunker to have been allowed to intervene at a number of moments throughout the Round 6 fixture.
"With the technology that we've got in our game, I don't understand why we don't use it," Maguire said after the game.
"There were moments in the game, like when a foot touched the line down in the corner … when 'Garns' [Luke Garner] copped a boot in the face there at one stage — technology should be able to refer to that."
"With the technology that we've got, we should be using it so we can go 'hang on — those things are happening in a game.'"
Maguire referred to the moment Garner was struck in the head by a stray Latrell Mitchell boot — and although vision was captured — the referees couldn't intervene as the play had moved on.
"I'd like that to be reviewed straight away, instead of after the game when there are different circumstances. Who knows where the game could've gone if that changes?"
2021 Match Highlights: Rd.6, Rabbitohs vs. Wests Tigers
"Then we go up the other end and get a penalty against us. Those moments change the momentum."
Although Wests Tigers suffered a heartbreaking loss in golden point, Maguire was proud of his 17 men who took to the field on Saturday evening.
"What we saw tonight was what the Wests Tigers are about," Maguire declared.
"It was a rollercoaster. The boys had put a lot of work in.
"That's the standard we need to set ourselves If we continue to play like that, we'll find wins.
"The effort the boys put in is exactly what I've been talking about. We need to do that each week."