It will be another special afternoon at Campbelltown Sports Stadium as the club celebrates the life of Tom Raudonikis OAM with the Round 9 match dedicated to the Western Suburbs legend.  
Saturday's game will mark the first time that Wests Tigers will have played at Campbelltown since Raudonikis' passing last month, with a number of unique game day initiatives set to take place.
Wests Tigers will wear a specially-designed jersey for the clash which pays tribute to the talented halfback, while a stage will be set up on the North West hill including the four playing jerseys he wore throughout his career — Western Suburbs, Newtown, New South Wales and Australia.
Footy fans will be treated to three games of rugby league with Ron Massey Cup and NSW Women's Premiership games being played ahead of Wests Tigers' NRL clash against the Gold Coast Titans.
MATCH DETAILS
Date — Saturday, 8th May, 2021
Time — 5:30pm AEST
Venue — Campbelltown Sports Stadium
Match: Wests Tigers v Titans
Round 9 -
Venue: Campbelltown Sports Stadium, Sydney
EVENT DETAILS
1:00pm — Gates Open at Campbelltown Sports Stadium
1:10pm — Ron Massey Cup, Western Suburbs vs. Glebe Dirty Reds 
3:05pm — NSW Women's Premiership, Wests Tigers vs. Glebe Dirty Reds 
5:30pm — NRL, Wests Tigers vs. Gold Coast Titans
TICKETS AND MEMBERSHIP
General Game Day Enquiries
The Membership marquee will be located at the Leumeah Road entrance to purchase Membership or for any Membership enquiries.
General Admission Members need to redeem a ticket for this game. General Admission Member cards will not scan. For more information on what is required for your specific Membership to access this game please click HERE. 
Member beanies and scarves will be available for purchase for $25 from the Membership marquee.
Looking to become a Member? Please call our Membership Team on 8741 3300, visit the Membership team at the game or click HERE!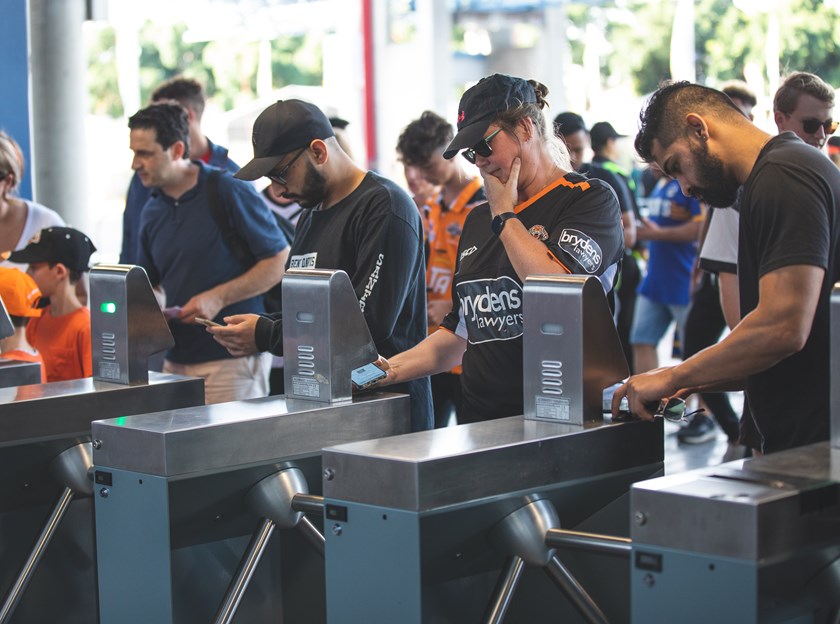 WHAT'S ON AT THE GAME
Show Your Stripes
Don't forget to bring your Wests Tigers Members scarf to the game on Saturday with the club continuing the Show Your Stripes campaign in 2021. As kickoff approaches, Members and fans will stand together with scarfs above their heads to support the players as they take to the field. You can still participate even if you can't make the game by posting a photo on social media using #ShowYourStripes to make it onto our big screen at the game.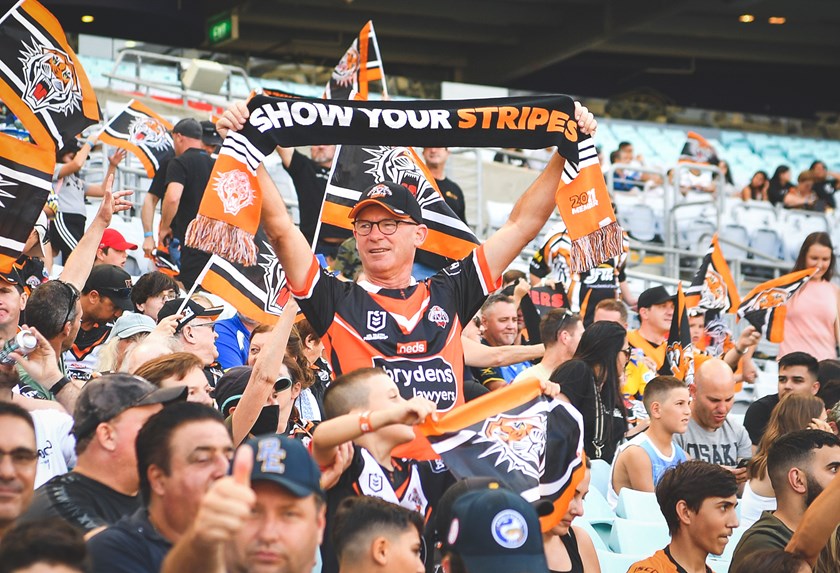 Happy Mother's Day
To celebrate all the Mothers attending the game, Wests Tigers will be distributing 500 fresh tulips at the gates on arrival.
Be in it to win it
Be in the running to win a number of prizes on offer at Campbelltown Sports Stadium in Round 9. Through the surprise and delight promotion, Wests Tigers will be giving away a Chemist Warehouse Pack, Pinot and Picasso Camden Voucher and a Wests Tigers Women in League Jersey.
Family Zone
There will be plenty of activities for the kids on Saturday with jumping castles and a Wests Tigers pass the ball activation on offer for free.
COMMUNITY 
50-50 Raffle
Be part of the excitement! Make sure you get your tickets in the 50-50 Charity Raffle! Jump online and get your tickets for your chance to win the major cash prize pool drawn at the game. The raffle will be drawn after half time. Supporting our charity partner Smart Pups. The winner will also score a special Tommy Raudonikis OAM Memorial jersey.
Smart Pups
Smart Pups Assistance Dogs improve quality of life for children with special needs and their families by providing trained assistance dogs Australia-wide. Trained in task-specific skills, Smart Pups Assistance Dogs have a profound effect on the lives of children with autism and seizure-related syndromes by reducing anxiety, alerting to imminent seizures, assisting with routines of everyday living, increasing community acceptance, and providing the loving companionship of a furry best friend for life. Life changing!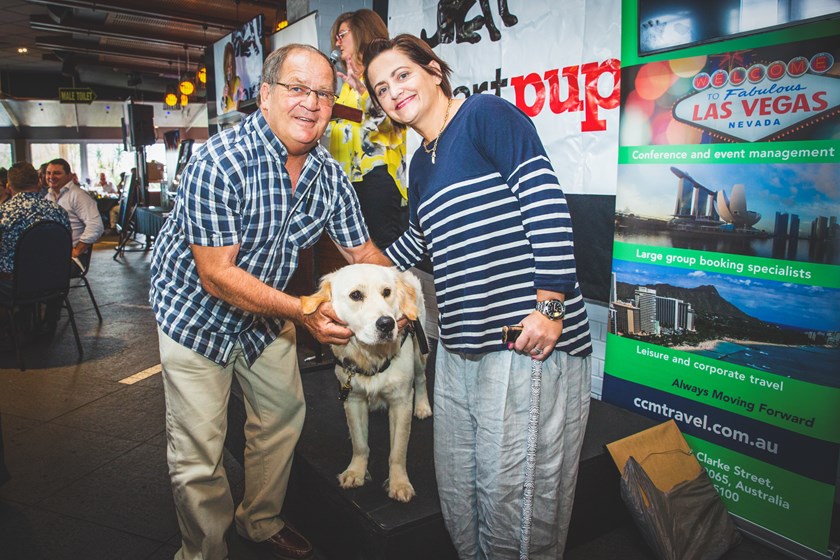 WestConnex Quiet Room
ASPECT is one of the largest service providers for people on the autism spectrum. Wests Tigers and Autism Spectrum Australia have partnered together for over four years, delivering a number community initiatives including the WestConnex Quiet Room. The Quiet Room is a controlled space at our Wests Tigers home matches for families who have a child experiencing autism and for the family to attend a rugby league match.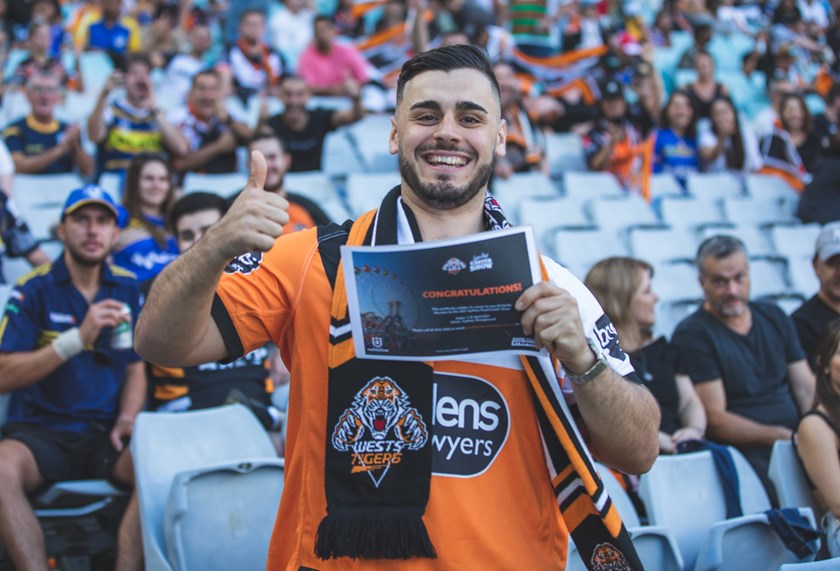 WESTS TIGERS MERCHANDISE
Members and fan will have the chance to pick-up all the 2021 official merchandise at Campbelltown Sports Stadium.
The Merchandise outlet will be located at the Leumeah Road entrance.
Members and fans can also grab all the latest gear at the official online store.
MATCH DAY TRAVEL INFORMATION
Fans are encouraged to plan their trip and consider all the available travel options ahead of time.
Drive with your group and use nearby local parking. Allow extra travel time on the roads as traffic may be heavier getting to and from the game. You can find real-time updates on traffic conditions at livetraffic.com.
When catching public transport, plan ahead at transportnsw.info and allow extra time. Trains run regularly to Leumeah Station on the T8 Airport & South Line which is a short walk from Campbelltown Stadium.
It's mandatory to wear a face mask when travelling on services in Greater Sydney, Blue Mountains, Central Coast and Wollongong areas from 5pm Thursday 6 May until 12.01am Monday 10 May. You can also check real-time capacity indicators when planning your trip or boarding services. Remember you'll need to use an Opal card or contactless payment card/device when travelling to and from the event on public transport. 
Additional measures and staff will be in place around transport hubs and the stadium to safely manage crowds arriving and leaving the event so please be patient, practise physical distancing while in queues and follow the directions of staff on site.
When catching public transport, plan ahead and allow extra time. Trains run regularly to Leumeah Station on the T8 Airport and South Line which is a short walk from Campbelltown Sports Stadium.