Wests Tigers skipper James Tamou has sent praise towards Adam Doueihi after the five-eighth starred in the side's 16-8 win over St George Illawarra on Sunday.
Not only has Tamou labelled Doueihi as the in-form player at the club, but he's also been impressed by the leadership shown by the 22-year-old.
"I think being young and being thrown into the leadership spotlight in the team you're guessing yourself thinking 'why should I be here?' but everyone knows why Adam is here," Tamou said.
"Everyone knows why he should be here and leading this team — he's got that voice that when he speaks, everyone listens.
"Not only that, but he also backs it up and puts his body on the line. He makes himself accountable and for a team to go forward and be successful, he has to go forward and make everyone else accountable.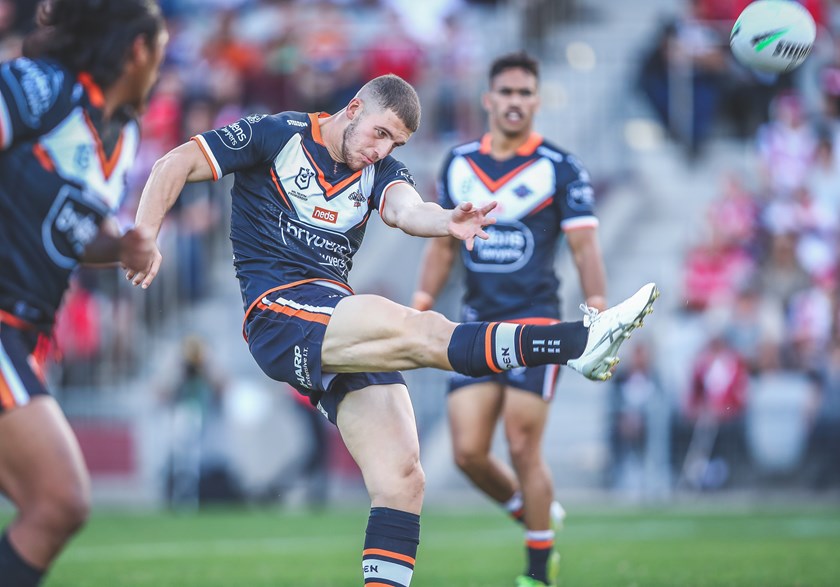 "You might see Adam walking around and keeping to himself, but on the field or training paddock, he gives it his all and is a bit emotional."
When Doueihi is at his best, it takes the pressure of Brooks and allows the halfback to play his natural game — according to Tamou.
"For Adam to do that, maybe it allows 'Brooksy' a chance to take a step back," he said.
"For him [Brooks] and Adam to be at their best, it is just the way it has to be with Adam taking on the bigger role.
"Adam adds a lot more than what he looks like."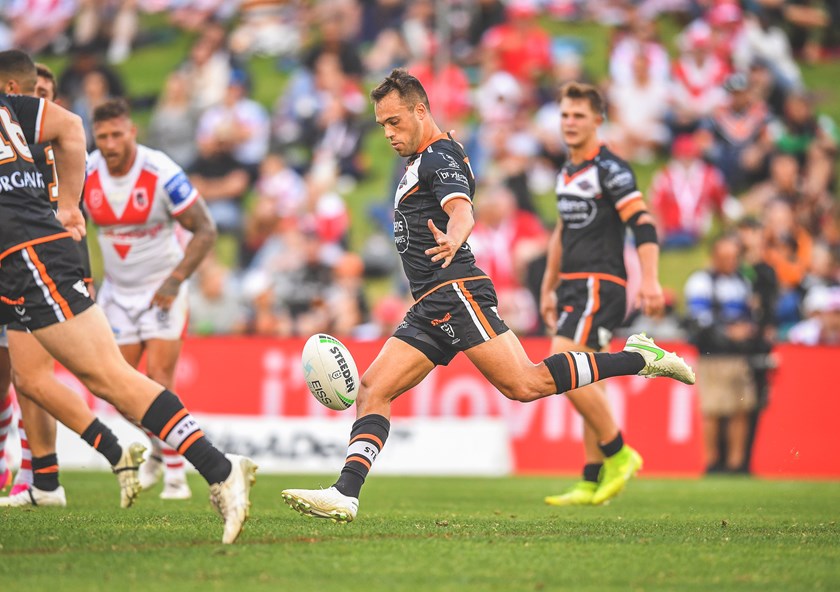 The Wests Tigers captain praised his halves following the club's eight-point win over the Dragons in Round 8.
"I think our halves won us that game, not only with their attack but defensively as well," Tamou said.
"They put their bodies on the line with Brooks putting himself in front of [Dragons forward Josh] Kerr a couple of times, Adam coming out of the line to stop the play. For him to do that, it allows Brooks to take a step back for them to play their best footy."
Although Wests Tigers have won just two games this season, they sit only two competition points outside the top eight with two thirds of the season remaining.
"It's good to have something to build off now. It was obviously a scrappy win [against the Dragons], but a lot to take out of it," he said.
"It's not unrealistic [making the top eight]. We have to find something in ourselves to get a roll on and climb up the ladder. We get a few wins in a row and we're hitting the top eight. We've just got to keep everyone injured free and find a bit of form in such areas but I'm happy with how we're playing."
Match: Wests Tigers v Titans
Round 9 -
home Team
Wests Tigers
15th Position
away Team
Titans
7th Position
Venue: Campbelltown Sports Stadium, Sydney