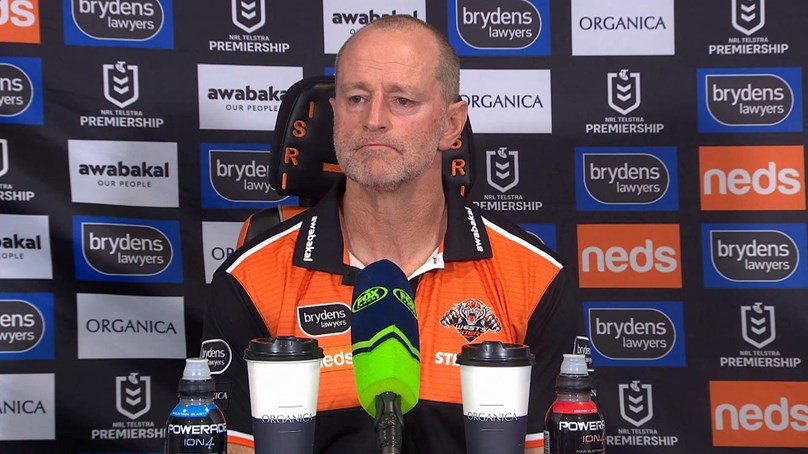 A passionate Wests Tigers coach Michael Maguire has shared his disappointment following his side's 36-28 loss to the Gold Coast Titans at Campbelltown Stadium.
Maguire was frustrated with the inconsistency shown by his team and said they need to be better from the start of games.
Maguire's men rallied late to set up a close finish, but a slow start — in which they conceded three tires in the opening 12 minutes — cost them in the end.
"We should never have been in that spot," Maguire said.
"I've sat here a few times and said the same so all of us need to fix it. It is straight forward what needs to be sorted out.
"We turned up last week and found our shoulders and defended strongly and tonight the Titans are a team that throw the ball around and we got scattered."
Although Wests Tigers showed positive signs in attack — having scored five tries — Maguire was more than disappointed with his side's defensive performance as they leaked 36 points, including 24 in the first half.
2021 Match Highlights: Rd.9, Wests Tigers vs. Titans
"You have got to have a look at where we are at the present moment and not think that you can just turn up and things are going to get done defensively," he said.
"We have got to learn how to do it week in and week out if we are going to be a fair dinkum team here.
"We have to find a way to fix that because it was pretty embarrassing there today.
"I'm not going to come up with any excuses. We as a group need to find out how to fix it and do it fast.
"Everyone's jobs are accountable around what we do on the field and how we train and we have some good young players coming through in reserve grade, so I have to have a look at the dynamics of what we are doing because we have to do something to fix this consistency around what has been going on for quite some time."
With just two wins on the board this season, Maguire has called on his players to own the opportunity of turning the club's fortunes around.
"I shouldn't have to tell players to be like that. They have to want to be like that. They have got to want to be the players and the staff that want to get the Wests Tigers out of this position we are in," Maguire said.
"If we own that then we can change that inconsistency. And they have got to want it more than anything they have ever wanted.
"I guess I'm talking to my players at the moment and I'm talking to the fans because they would be frustrated. I get that. That is what we are working towards fixing and building here."