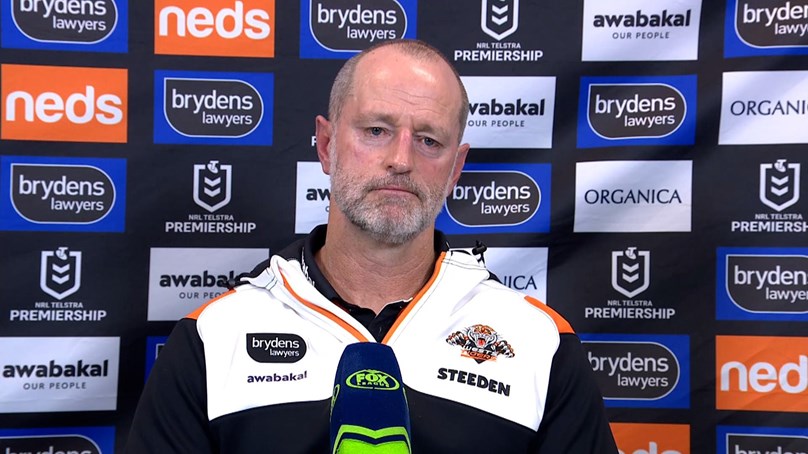 Wests Tigers coach Michael Maguire has lamented missed opportunities but was proud of his side's effort following their 30-26 loss to the Warriors at Central Coast Stadium.
Maguire's men fought back from an eight-point half-time deficit to set up a thrilling finish, and nearly snatched the game at the death, but couldn't score in the dying stages on Friday night.
"It's a game I believe we should've won — that's what hurts," Maguire said after the game.
"I've got a playing group that believes the same thing.
"We had tries there that shouldn't have been let in, so it's back to work."
Maguire was disappointed his side couldn't capitalise on key opportunities in the second half but couldn't fault his players commitment towards hard work.
"We definitely shouldn't have put ourselves in that position, with the opportunities we had," the Tigers coach said.
"We've got to learn how to get those games. I've got to keep working hard with the playing group.
2021 Match Highlights: Rd.11, Warriors vs. Wests Tigers
"It's tough because we're putting in a lot of work. They're putting in a lot of work to improve themselves, the organisation and the team.
"You could see the effort there — it was definitely there.
"You so the hurt and the passion at the end, it shows what the club means to them. We've got to stay at it.
"I believe in this playing group and they're growing a lot of resilience."
Although Maguire was proud of his side's fight to the end, he was disappointed with how they defended following errors.
"We've got to learn how to defend off our errors and then we won't have the points come against us," he said.
Wests Tigers will turn their attention to next Friday night's Indigenous Round clash against St George Illawarra at Bankwest Stadium.
Match: Warriors v Wests Tigers
Round 11 -
Venue: Central Coast Stadium, Gosford