Rugby league icon Larry Corowa MBE is proud to be a part of Wests Tigers' Indigenous Round clash against St George Illawarra on Friday night.
One of the most famous Indigenous players of all time, the man known as "The Black Flash" will be recognised in a pre-game ceremony amongst a group of former Balmain, Wests and Wests Tigers Indigenous players.
Not only is Corowa excited for the NRL to celebrate past and current Indigenous players this weekend, but he also says Indigenous Round is a great opportunity to influence, educate and improve the understanding of Indigenous culture and issues among non-Indigenous Australians.
"I'm looking forward to flying down for the game and I'm honoured to be part of the celebration Wests Tigers have put on at the game this Indigenous Round," Corowa said.
"I'm happy to help out in any way for Wests Tigers."
A Balmain Tigers legend and member of the club's Team of the Century, Corowa played two Tests for Australia in 1979 and toured Great Britain and France with the 1978 Kangaroos.
He was the competition's leading try-scorer in his debut season, bagging 24 tries in 21 matches throughout 1978.
He was a cult hero amongst the game, and even had songs written about him, as well as receiving an MBE from Queen Elizabeth for services to sport and was an Australia Day Ambassador.
Having debuted in the late 1970s, there was no such thing as Indigenous Round in his playing days, but he says it's important to still recognise the past Indigenous players.
"We didn't have any Indigenous Round or anything like that back then, so it's great to see the past and present players recognised now," Corowa said.
"Rugby league is a big part of the Indigenous people in the country and the metropolitan areas. It's very huge for us.
"Growing up, rugby league was a big part of my life and still is — it's the same for all the former players.
"It's great that the current players are getting the recognition they deserve and representing their colour and race."
Corowa is passionate about helping people — in particular the Indigenous community — and promoting good health and wellbeing.
He's worked as an Aboriginal development officer and has previously been involved in the ARL and CRL in promotion and junior development.
He says it's important to use rugby league and Indigenous Round as a tool to promote healthy habits.
"It's paramount to promote good health and wellbeing," he said.
"We need our kids and our mob to get into fitness more — running, training, doing sports. That helps other diseases. A lot of our mob have diabetes, asthma and other illnesses. It's important to go and see your doctor.
"Go get into a gymnasium or go down to your local sporting club — get active and be part of the community in the sporting world."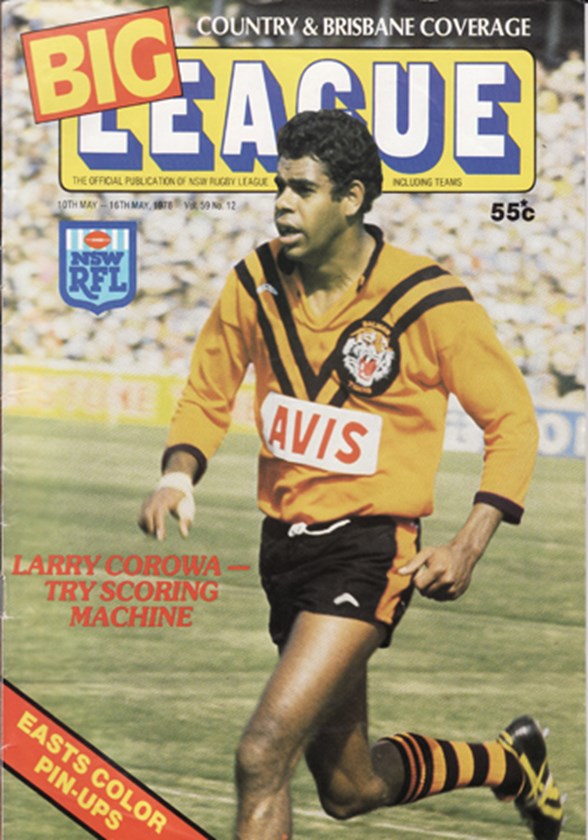 This Indigenous Round, Corowa has also called on the NRL to ensure past players can help promote the game and give advice to the current and rising players.
"I think the most important thing for me is to communicate with the former players and bring them into the fold," he said.
"The former players can give great advice on the best ways to get into the community to promote and develop the Indigenous kids who play rugby league.
"It would be great if the NRL could grab former players — who have been there and done that — and can engage them."
Corowa achieved plenty throughout his playing days, and he'll never forget the times he played against his rugby league idols.
"I grew up as a mad South Sydney supporter. I used to watch all the games at three o'clock on a Saturday afternoon — match of the day. Souths were on nearly every weekend," he said.
"My two heroes and role models were Arthur Beetson and Eric Simms. They were great players and I looked up to.
"I was fortunate to play against Eric down in Goulbourn. That was a proud moment.
"I also got to play against Arthur in his last year at Parramatta — at the end of his career. That was an honour and a great experience — I was overwhelmed to play against my idol."
Corowa is now proud to see a fresh crop of Indigenous stars in the game — especially a couple at Wests Tigers.
"I'm very proud to see so many Indigenous players in our game and I want to see more Aboriginal boys, especially at the Wests Tigers," the rugby league legend said.
"I've taken a particular interest in both of the boys — Daine Laurie and James Roberts.
"I've met 'Jimmy the Jet' and think he's a fabulous player because of his speed, which is his main attribute. Hopefully he can get back injury free — get fit and get his head right and play some really good football. He's still got a lot to offer the game and I think the Wests Tigers is the right fit for him.
"Daine Laurie has been playing really well. I know his family down the road at Ballina/Lismore area. They're all in the mob down there.
"He's a tremendous prospect and I was delighted to see him come across from Penrith. He's secured his position with some great games this year and he can only get better. He's got natural talent and he's just got to put his head down and get himself twice as fit, twice as strong. He'll go a long way because he's a very good player."
Match: Wests Tigers v Dragons
Round 12 -
home Team
Wests Tigers
13th Position
away Team
Dragons
8th Position
Venue: CommBank Stadium, Sydney