Wests Tigers halfback Emily Curtain has spoken about her side's desire to play on the big stage ahead of the NSW Women's Premiership finals.
Over the past fortnight, the Women's team has featured as curtain-raisers to the NRL matches at Bankwest Stadium and Leichhardt Oval.
With two rounds remaining in the regular season, Curtain said playing at the main stadiums has been a boost for her side and praised the club for strongly supporting women's rugby league.
With Wests Tigers launching the Roar Academy and Women's Academy in 2021, the club has shown its commitment to women's rugby league and endeavours to strengthen women's pathways from grassroots to the elite level.
"It was pretty good to play in front of our home crowd [last Friday night], especially at Leichhardt Oval before the NRL game — it's a great opportunity for us girls," Curtain said.
"It's amazing to be given the opportunity to play at these types of grounds.
"We also got to play at Bankwest Stadium the other week and that was a great experience.
"It shows that the club thinks about us and makes sure that we're also the top tier with the men."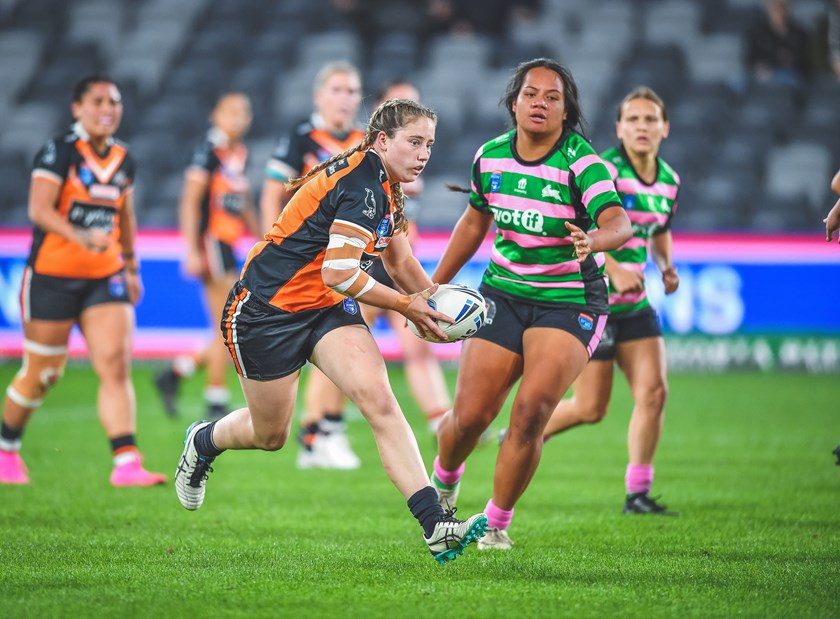 Wests Tigers have been boosted by the return of Emily's twin sister, Sophie Curtain, who returned to the lineup a fortnight ago.
The twin sisters progressed from the club's U/19s Tarsha Gale team and now play in the top tier together — an example of the women's pathways at the club.
The duo starred in the side's 68-4 thrashing of Glebe Dirty Reds last Friday night.
"It was a lot of fun out there and it was great to see the girls score 14 tries, but it's a shame my boot wasn't a bit better to get that score up," she said.
Wests Tigers sit fourth on the ladder with two rounds remaining in the regular season and can secure a place in the finals with a win of the ladder leading Central Coast Roosters this weekend.
"It's going to be a challenge for us but we're ready to take on the opportunity," the halfback said.
"The last two games are very important for us. We will definitely use those games as momentum heading into the finals."
Match: CC Roosters v Wests Tigers
Round 14 -
Venue: Morry Breen Oval, Central Coast