One of the best things about being an NRL coach is letting young players know that they're going to make their NRL debuts.
Michael Maguire got to do that twice this week — naming Tuki Simpkins and Junior Pauga in his Wests Tigers side for the clash against Brisbane on Sunday afternoon.
Simpkins has won a place on the bench, while Pauga will start in the centres for the Round 18 match at Suncorp Stadium.
"I read the team out to the playing group because of how the week unfolded," Maguire said.
"The way all the players got around both of them when I announced their names was special — it was a special moment for our team.
"There's a strong bond amongst this playing group … the bond between the boys is always growing.
"These young men have worked extremely hard to get their opportunity to play in the NRL and these two boys are well-deserved."
Simpkins will become Wests Tigers Player #248 on Sunday afternoon after catching the eye of Maguire this season.
The 19-year-old forward is viewed as a rising prospect in rugby league having transitioned from rugby union in Rotorua, New Zealand. 
Simpkins has played 12 games for the Western Suburbs Magpies in the Knock-On Effect NSW Cup this season, averaging 112 running metres and 32 tackles — with a tackle efficiency of 96 percent.
"Young Tuki came down from the Cowboys throughout the pre-season and he's been excellent," the coach said.
"I've actually enjoyed coaching young Tuki. He's very hungry to learn and work at his game and he's been performing really well for us at reserve grade.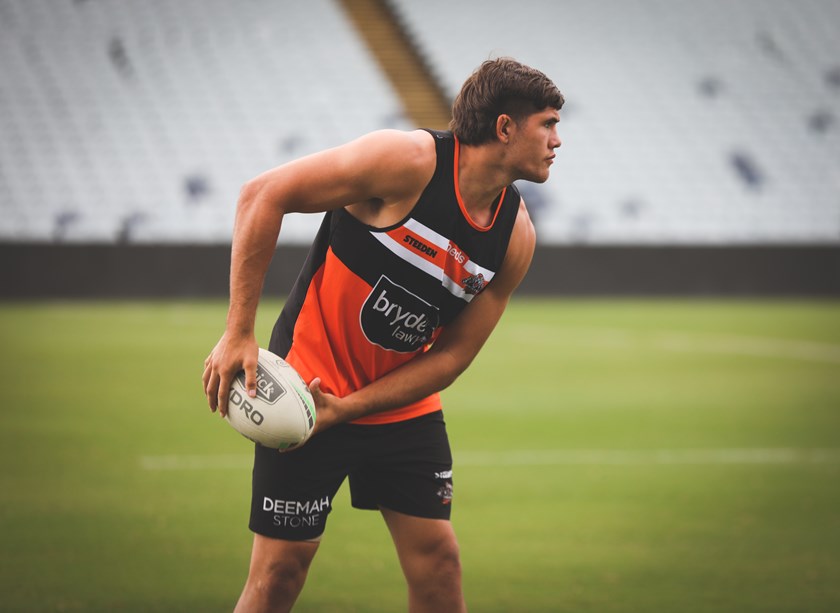 "This is his opportunity to come in … we've got an opportunity to bring the younger guys forward.
"We've got a good crop of younger men coming through that have done a good job for us. It's now about learning to do it over and over."
Having been included in Maguire's 21-man squad over the past three weeks, Pauga now gets his shot in the starting side this weekend.
He joined Wests Tigers this year — featuring five times for Western Suburbs Magpies in the Knock-On Effect NSW Cup.
"Junior has come down from Queensland mid-way through the season and he's another one who's just applied himself and he really deserves the opportunity to play first grade," Maguire said.
"He works so hard in the background and we're all looking forward to having Junior out there on the field."