With Wests Tigers celebrating Junior League Appreciation Round ahead of our Round 20 clash against the Warriors on Friday night, we're excited to recognise some of the amazing Junior Rugby League officials and volunteers, who do a fantastic job in the community.
We caught up with Leichhardt Juniors President, Cheyne Harrison!
How long have you been a Junior League Volunteer and why do you volunteer your time?
I've been volunteering for five years. I'm from a rugby league family and was always keen give my time to the game that gave me so much. When my brother and I had our sons we spoke about which club they would play for. I live at North Rocks and Bronson lives at Breakfast Point so at first we looked at Holy Cross or Concord Burwood.
After the Juniors vs. Wanderers Old Boys game in 2017 we saw Leichhardt Juniors were struggling with numbers, with Holy Cross Concord Burwood and Wanderers already in great shape we thought Juniors needed us more. I played six years at Juniors and almost all my closest friends are from here so it was an easy decision in the end. 
What is your favourite thing about Grassroots Rugby League?
Through my junior years I had some very kind people look out for me — John Critchley, Kenny Brown, Joe Dougal, Mick and John Manning, Brian Coleman, Carl and Robyn Anderson. These people are the reason I give so much time to junior footy. For no benefit of their own they picked me up, fed me, guided me through the tough teenage years and I can only hope I can replicate the positive experience they gave me with all my kids at Juniors.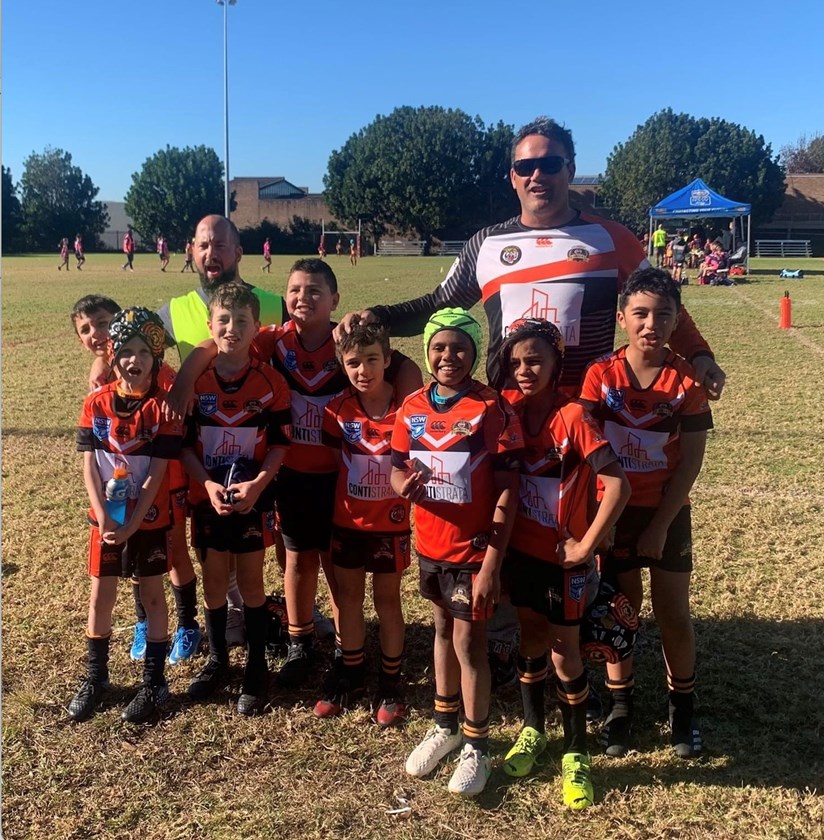 What would you say to encourage others within the community to become a Junior League volunteer?
My aim in rugby league is for kids to fall in love with the game! We kit our kids out with gear immediately, so their first experience is one of great joy. Once you connect with a kid and encourage them to interact in the session our goal is to coach well, build confidence and communicate our training plan with new parents so they understand the process. Correct tackle technique, contact with the ground, general volume of catch pass and tackle each session so we can prepare the kids for the real thing. One of our rules at Juniors is no child can play until they have made 50 tackles at training. This is done through 4 training sessions. The end of each session is so important as it is the last memory a child has before they go home and we always want it to be a positive one.
By volunteering in rugby league, you will unknowingly play an integral part in so many people's lives. You become a mentor, father figure and the kids almost become your own. A good coach can change a game, a great coach can change a life! Rugby league needs good people to keep our kids in the greatest game of all!