Wests Tigers coach Michael Maguire says his side is primed for a big finish to the season and has plenty of hope for a finals finish.
With six rounds remaining in the regular season, Wests Tigers sit two wins outside the top eight, but have a number of winnable games to close out their campaign.
"We have a good opportunity," Maguire said ahead of Friday night's clash with the Warriors.
"Where the competition is has made us extremely alive and we're hoping to push our way to the finals.
"The next game is important for us, to go out there and get the two competition points.
"There's a style on which we want to play and there are areas of our game that we want to work on."
Daine Laurie: 'We're not out of it'
Maguire has also spoken about the situation surrounding James Roberts after the speedy centre was hit with a one game suspension and a $7,500 for failing to comply with a Queensland Public Health directive.
"The club has spent a lot of time in conversation with him," Maguire said.
"Jimmy is going along well now. He's making sure he's physically right for when he does come out, so he'll be ready to play.
"He's doing a lot of training inside the hotel but being locked down is challenging."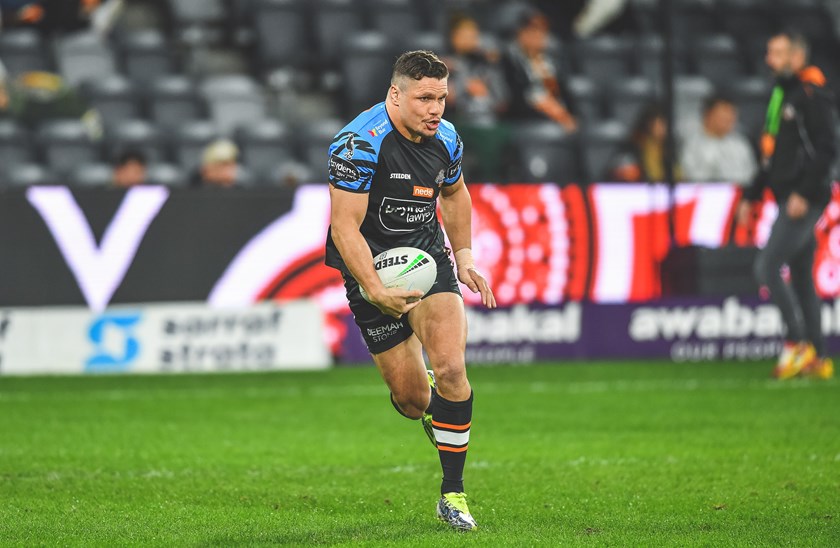 Maguire is pleased with the training efforts Roberts is putting in, considering the situation, and will make a call on his NRL return date once he arrives with the playing group next Wednesday.
"I know in the hours he's allowed to train, he's being doing lots," the coach said.
"We'll have to see when he joins the squad and starts to run.
"When you have athletes going 100 percent in a sprint, you have to make sure the hamstrings and quads are ready to go."
Maumalo bracing for emotion in clash against former team
The Wests Tigers coach also commented on the media reports that have linked the club with Raiders centre Curtis Scott — shutting down any suggestion of him joining the club.
"At the present moment, we're not going down that path," Maguire said.
"He's contracted with the Raiders, and I'm not too sure where they sit with him, but they've got him now and next year. Where he goes is up to the Raiders.
"We're approached as a club by many — we get linked to most players across the game.
"We're very focused on building our squad and we know what we need to build … we're going to continue to grow."
Match: Wests Tigers v Warriors
Round 20 -
Venue: Suncorp Stadium, Brisbane