With Wests Tigers celebrating Junior League Appreciation Round ahead of our Round 20 clash against the Warriors on Friday night, the club would like to recognise and thank the Junior Rugby League Development Officers in Sydney's South West.
This team covers a range of areas, including Liverpool, Macathur, Camden and Southern Highlands — across the Group 6 JRL and Wests Tigers Macarthur districts competitions.
The role of a NRL Game Development Officer is diverse and requires a number of key skills to promote the game of Rugby League.
Promoting the game of Rugby League comes in a variety of formats including participation programs, engagement clinics as well as school gala days. 
NRL Game Development Officers also coordinate Coach Education courses to ensure Community officials, Junior Coaches and referees are accredited and compliant with all game policies.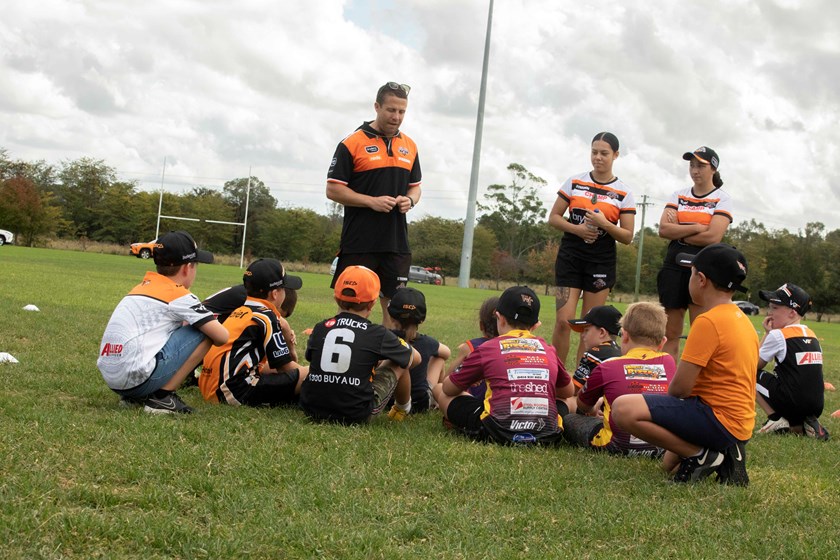 The NRL Game Development Officers within the South West include a number of programs and engagements across the year. These include:
NRL League Stars program
NRL Beyond the Goalpost program (referee & coaching courses)
School Gala Days
Community School Blitz alongside Wests Tigers
Primary School PSSA competitions
Assembly visits/award presentations
Coach educations courses
Junior club liaison with the NRL
NRL introductory clinics
Game Development Officer Kurt Mangan, who works across Sydney South West Secondary Schools, said he loves making a difference in young people's lives.
"The opportunities we provide in collaboration with the Wests Tigers can make a huge difference to young people. Seeing smiles and the making of friendships is the most enjoyable part of being a GDO," Mr Mangan said.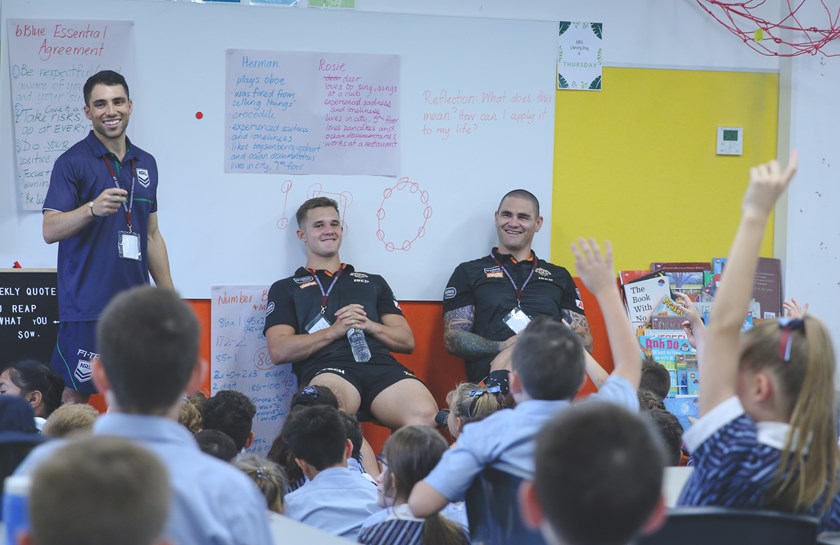 Game Development Officer Chris Browne, who works in South West Primary Schools, also shared about how rewarding the role is.
"Seeing kids who do not play Rugby League getting out there and having a go, seeing the smiles on their faces when the Wests Tigers players attend their school is something magical. The role of a GDO is something I am grateful for," Mr Browne said.
Wests Tigers Community Manager Keehan Diamond commends the work and dedication the Game Development Officers do in the South West of Sydney.
"The team in the South West work really hard in delivering quality Rugby League programs and school carnivals to the community" Mr Diamond said.
"The grassroots space is so important to our Game as is not only provides our future players, but also the opportunity to grow the Rugby league supporter base. Wests Tigers are really excited about continuing the work we are doing in the grassroots space."
MEET THE TEAM
Scott Borg — NRL Game Development Regional Manager — Western Sydney
Kurt Mangan — NRL Game Development Officer — Sydney South West Secondary Schools 
Chris Browne — NRL Game Development Officer — South West Primary Schools
Jake Brightwell — NRL Game Development Officer — South West Primary Schools
Mitchell Brasington — NRL Game Development Officer — Coach and Education