The NSW Rugby League has today confirmed that its major competitions will not go ahead for the remainder of the 2021 season due to the ongoing COVID pandemic.
With all NRL teams set to remain in Queensland with their extended squads for the rest of the 2021 season, NSWRL have made the decision to forgo the Knock-On Effect NSW Cup, Jersey Flegg Cup, Ron Massey Cup and Sydney Shield competitions, as well as the Grand Final of the Harvey Norman NSW Women's Premiership, having already previously cancelled its finals series.
While fully supportive of NSWRL's decision to ensure player safety and welfare, Wests Tigers are disappointed for the countless number of players, coaches and officials who have worked tirelessly in the state-based competitions this year — particularly given the difficulties of having the previous season also abandoned.
Wests Tigers' Knock On Effect NSW Cup side, Western Suburbs Magpies, were on track for a finals finish — sitting in third position on the ladder.
Under the guidance of new Coach Ben Gardiner, the Magpies had produced a very strong season and the best attack of any team in the competition and would have certainly been competitive in the finals campaign.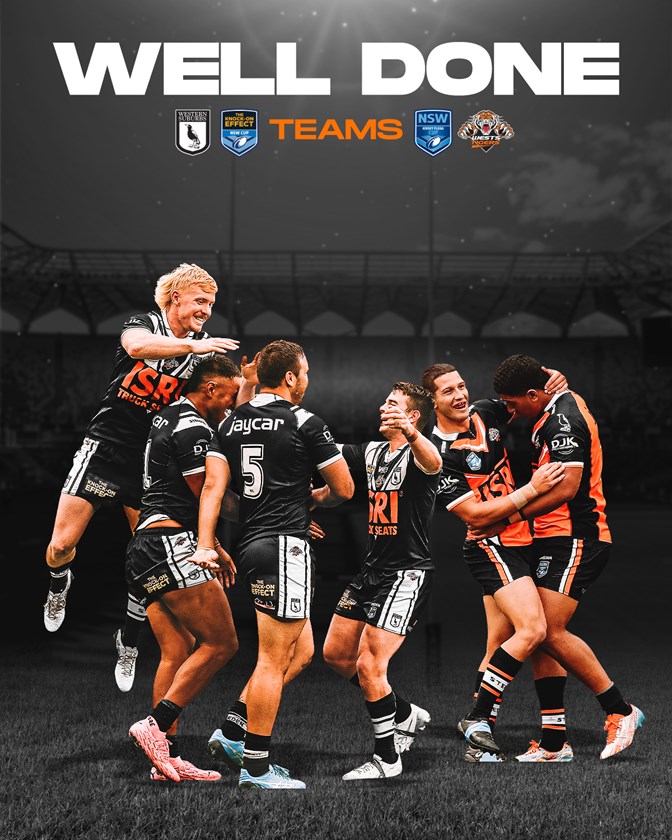 The same is also true for the club's Jersey Flegg side, who will finish 2021 without a single defeat — top of the ladder with eight wins and three draws through mid-June.
The strongest side in the competition, Wayne Lambkin's men had the best attacking and best defensive record of all clubs and were on track for not only the Minor Premiership but a very strong finals campaign as well.
Wests Tigers Harvey Norman NSW Women's Premiership side were also unlucky in their qualification for the finals series, which was suspended in the initial COVID outbreak in Sydney back in June.
Having finished the regular season in sixth, the team was not able to contest their finals fixture against Cronulla and subsequently saw their season finish abruptly — the competition also officially cancelled today as part of the NSWRL announcement.
Wests Tigers would like to again thank all the players, coaches, officials and volunteers throughout its pathways network all their hard work and contributions to the club this year.