Who knows how far the Wests Tigers Jersey Flegg team could have gone if it wasn't for the competition to be abruptly halted after 14 rounds?
What we do know, though, is Wayne Lambkin's men had a remarkable campaign as they finished undefeated and at the top of the ladder when COVID-19 forced the competition to be suspended — an amazing achievement by the U/21s squad.
The talented youngsters won eight matches and recorded three thrilling draws to finish as the ladder leaders with the best attacking and defensive records in the competition.
"It was a shame how it ended, not knowing that it was our last game together. We feel like we had so much more to give — that hurts the most," halfback Ben Stevanovic said.
"It's sad that we didn't get to finish the year and possibly win the premiership, but we gave it our best shot."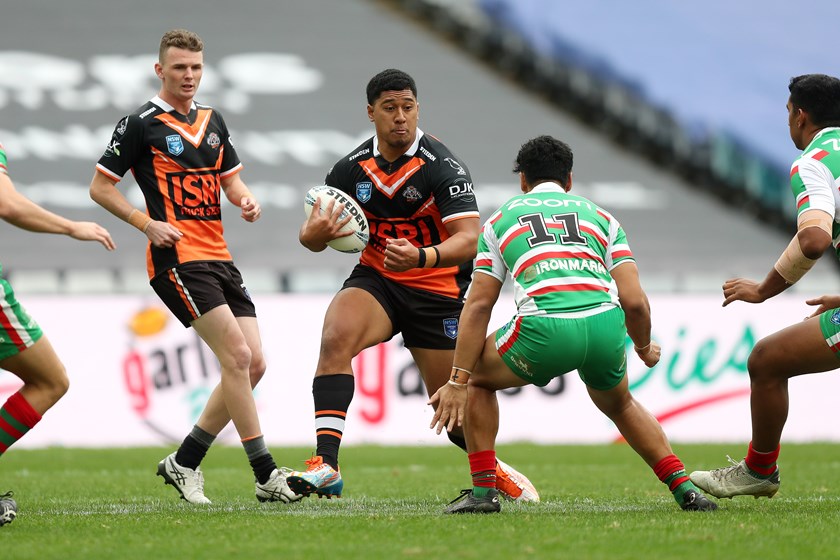 Although it was a disappointing end to the season, all the Jersey Flegg players and staff have plenty of reasons to be proud of themselves.  
"Having time to reflect on the season, from the start we just clicked as a team," Stevanovic said.
"We were fortunate to have such a strong support crew — we've got some of the best coaches in the system.
"We had such a strong connection and culture within the team. We would rock up to training wanting to be there and wanting to put in for everyone because you didn't want to let anyone down."
A MATTER OF STATS
Ladder position — 1st
Wins — 8
Draws — 3
Losses — 0
Points scored — 359 (most)
Points conceded — 219 (fewest)
Players used — 30 (second fewest)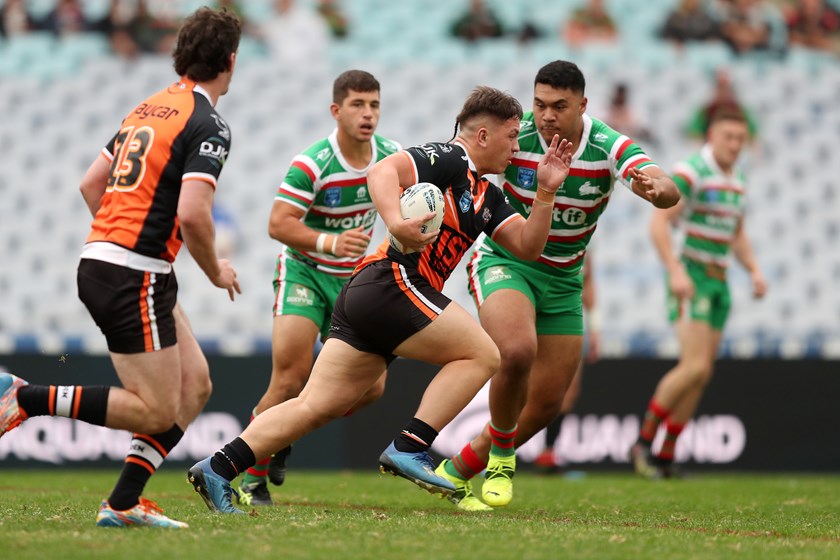 BEST GAME
They may have had a number of larger results throughout the season, but the Round 12 win over the second-placed Dragons was the most polished performance of their campaign.
Despite having a number of late changes to the forward pack and at fullback, Wests Tigers dominated throughout the match. Having led 18-6 at half-time, the side continued to impress against one of the competition heavyweights as they secured a 30-10 victory to lock down top spot on the ladder.
Rua Ngatikaura bagged a first-half double, Brandon Webster-Mansfield, Timanu Alexander and Tyler Field also found the line, while Ben Stevanovic booted a perfect five from five goals.
STANDOUT PLAYERS
Wests Tigers Members and fans have plenty of reasons to be excited for the coming years with a list of talented players coming through the grades at the club, with a number of them to feature at NRL training during the off-season.
Rua Ngatikaura
Ngatikaura was arguably the best player in the Jersey Flegg side throughout 2021. A Wests junior, Rua captained the team, he led by example, driving the team culture on and off the field. Playing a similar role to Melbourne's Brandon Smith, starting the game at hooker, Rua quite often filled the lock position during matches. He formed combinations with other middle forwards close to the try line, often resulting in points. His attitude was always on display, he worked tirelessly in middle defensively and encouraged those around him to meet the same standards.
Logen Dillon
Dillon was an integral part of the Wests Tigers Jersey Flegg team in 2021. He possesses great speed and agility that resulted in many try scoring opportunities, finishing the season as one of the leading try-scorers in the competition. His ability to set up his outside men is also a tremendous asset and something he'll be looking to take to a new level in 2022.
Brandon Webster-Mansfield
Webster-Mansfield has developed into very good back-rower. Having played most of his junior football as a centre, Brandon made an easy transition and became a handful for the opposition edge defences. Brandon is a Wests junior who has made the most of his opportunity with a strong desire and attitude to succeed.
Liam Scolari
Never doubt the value of a good winger — Liam's hard running in yardage and ability to finish a scoring opportunity was never underestimated by his teammates. An energetic individual who trains as hard as plays, Liam is always honest with his preparation and has high expectations of his own performances. He was a leader on field, continually identifying opposition individuals and plays, as well as encouraging those around him. His efforts and attitude don't go unnoticed by his teammates.
Aiden Perry
Perry forced his way into the starting team after taking up a train-and-trial opportunity in the pre-season. From the very beginning it was obvious that Aiden was the type of individual we wanted as part of the team — great work ethic, determination and an engaging character. His energy was infectious, and he was able to create a positive vibe around the team environment. A valued member!
2022 OUTLOOK
Wests Tigers will be looking to take their 2021 form when they return to training this coming pre-season.
Although a number of players no longer qualify for the U/21s age bracket, the likes of halfback Kade Hill and forwards Elifasa Leilua, Brandon Webster-Mansfield and Fonua Pole will return to the side in 2022.
Exciting youngsters Brandon Tumeth and Justin Matamua, who are both eligible for SG Ball next season, are likely to be key members of the Jersey Flegg squad.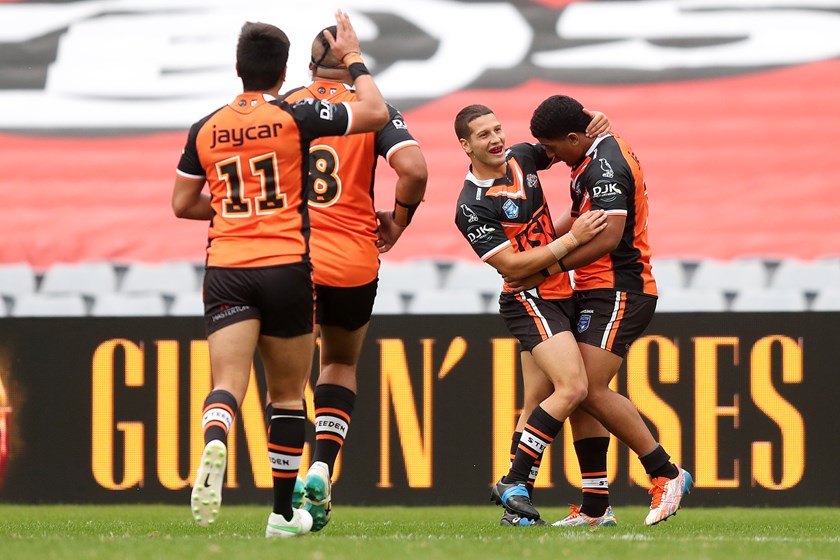 2021 RESULTS
Match: Wests Tigers v Roosters
Round 2 -
Venue: Leichhardt Oval, Sydney
Match: Thunderbolts v Wests Tigers
Round 3 -
Venue: Casey Fields, Melbourne
Match: Wests Tigers v Eels
Round 4 -
Venue: Campbelltown Sports Stadium, Sydney
Match: Wests Tigers v Bulldogs
Round 5 -
Venue: Leichhardt Oval, Sydney
Match: Rabbitohs v Wests Tigers
Round 6 -
Venue: Stadium Australia, Sydney
Match: Wests Tigers v Sea Eagles
Round 7 -
Venue: TG Millner Field, Sydney
Match: Dragons v Wests Tigers
Round 8 -
Venue: Ziems Park, Sydney
Match: Wests Tigers v Thunderbolts
Round 11 -
Venue: Lidcombe Oval, Sydney
Match: Wests Tigers v Dragons
Round 12 -
Venue: Lidcombe Oval, Sydney
Match: Wests Tigers v Panthers
Round 13 -
Venue: Lidcombe Oval, Sydney
Match: Eels v Wests Tigers
Round 14 -
Venue: Merrylands Oval, Merrylands