Wests Tigers are pleased to announce Kevin Gamble as the club's Member of the Month for September, 2021!
Kevin was nominated for the Member of the Month Award by his wife, Celise Gamble, as part of the recognition for Wests Tigers Members in 2021.
As a reward for his continued support and dedication to Wests Tigers, Kevin was awarded a signed 2021 Wests Tigers jersey as well as a Zoom call with local junior and Life Member Chris Lawrence, who retired at the end of last season.
For successfully nominating Kevin, Celise was also awarded a $50 merchandise voucher to spend at the club's online RoarStore.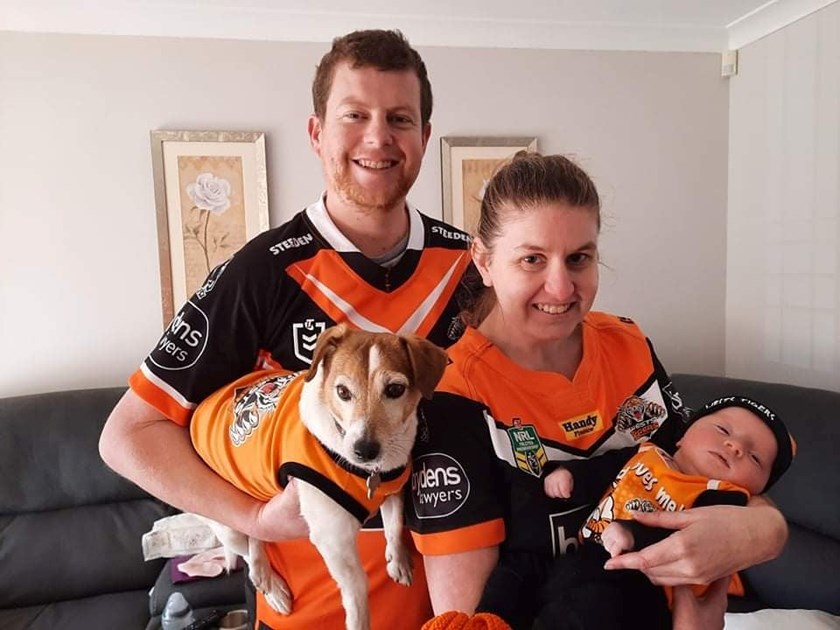 Celise's successful nomination of Kevin is as follows:
My husband Kevin lives and breathes Wests Tigers. Kevin is such a passionate member and supporter who sticks by his team win, lose or draw. He has a designated Tigers room full of flags, blankets, memorabilia and more! Kevin never misses a game watching them all from either his Tiger room or at the ground live. His wardrobe is full of WestsTigers gear and apparel and he wears orange and black wherever he goes. Being a primary school teacher in the Illawarra region, he shows his passion and even decorates his classroom in Wests Tigers colours while trying to convert the next generation of Dragons fans over to the orange and black. When we got engaged, he organised an announcement to be made on the big screen at ANZ Stadium during the Wests Tigers vs Dragons game in 2014. Then for our wedding, we had a Wests Tiger theme, with many inclusions to support this. Some of which were orange and black clothing for the entire bridal party and another was that our wedding entrance was to nothing other than eye of the tiger! The most recent demonstration of passion was with our new daughter, Lucy (yes, named after one of our current Wests Tigers players). She was born on the 12th May and has been dressed in the orange and black colours ever since. Kevin can't wait to take her to her first ever live game experience. Kevin is the most deserving person for member of the month as everything that he does revolves around the Wests Tigers and he has proudly turned us into a Wests Tigers family.
Remember to nominate a friend or family member for next month's award!