Although it was just a taste of first grade, youngster Jake Simpkin burst onto the scene in 2021 to show his potential for the future. 
Making his debut against South Sydney in Round 6, the 19-year-old hooker played nine games throughout the season — five from the starting side and four from the bench.
Not only did he have some impressive performances in the top grade, but Simpkin was also one of the best players for Western Suburbs Magpies in the Knock-On Effect NSW Cup in 2021.
For the Magpies, he scored seven tries from nine matches and averaged 71 running metres a game, as well as making 234 tackles with an efficiency of 91 percent.
Simpkin also re-signed with the club for a further two-year deal to keep him at Wests Tigers until at least the end of the 2024 season.
"I couldn't be happier to be here at the club," Simpkin said.
"I'm really enjoying and excited by what we're building at Wests Tigers and I want to be part of that long-term.
"I'm determined to keep putting in my best performances each week now and be a contributing factor to bringing success to the club."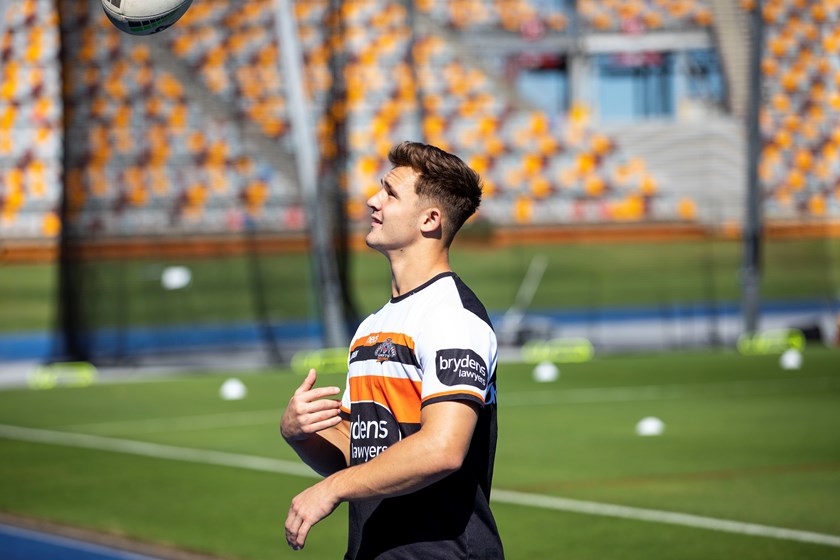 STAT ATTACK
Appearances — 9
Tries — 2
Total running metres — 341 
Receipts — 526
Tackles made — 234
Tackle efficiency — 91%
NRL Fantasy points — 279 (avg. 31)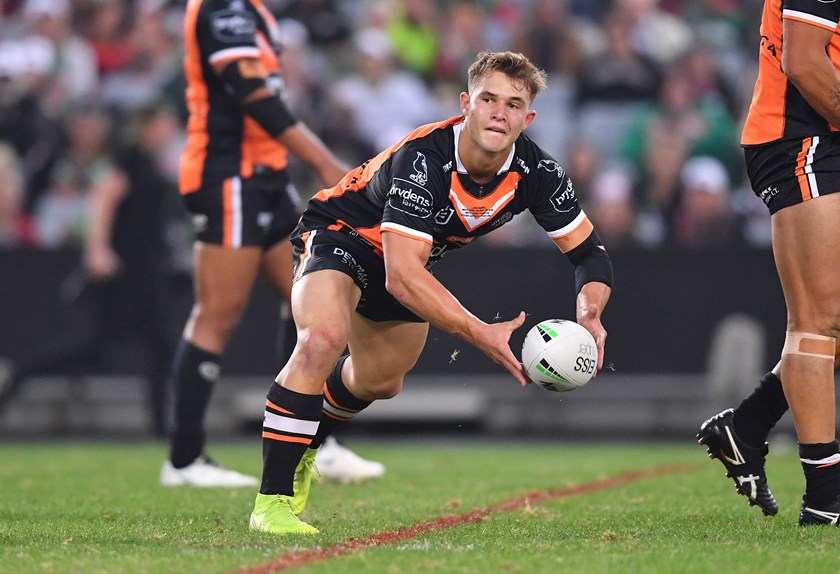 BEST TRY
The 19-year-old scored his first NRL try in Round 9 against the Titans. 
Simpkin works hard and gets his first NRL try
WHAT WAS SAID
We firmly believe that Jake is a real up-and-coming talent and his long-term commitment to the future of this club is a strong show of intent in what we're building at Wests Tigers. In addition to his clear on-field ability, Jake is a fine young man and we're privileged to see him develop as both a player and a person at Wests Tigers.

Wests Tigers CEO Justin Pascoe
I think healthy competition drives the environment to big things. I think if 'Lids' [Jacob Liddle] and I are biting at each other's heels then it will go a long way to us being successful in that role.

Wests Tigers hooker Jake Simpkin
STANDOUT PERFORMANCE
Simpkin will never forget his NRL debut match against South Sydney in Round 6.
The young hooker gave it his all as he played 82 minutes in the match that went to golden point.
He produced a massive 58 tackles, touched the ball 110 times and ran for 68 metres.
After the game, he was battled and bruised, and although Wests Tigers suffered a heartbreaking loss, Simpkin had plenty of reasons to be proud of his debut game.
SOCIAL SCENE
Cool, calmed and composed — Simpkin arrives for his NRL debut at Stadium Australia.
Locked in until the end of the 2024 season!
2022 FORECAST 
Simpkin will put forward a solid case of why he should be the starting hooker throughout the pre-season, however Jacob Liddle would be the current front-runner for the number nine jersey. 
The duo worked in tandem at the backend of the 2021 and it's likely both hookers will be in the 17 next season.
"I'm happy with how Jakey is going and he's improving every week," Liddle said.
"He's like a sponge — he soaks everything up.
"He's pushing me and I'm pushing him to get better. It's pushed me to be more of a leader and I've been working on that.
"It's been working well. Where the game is at, at the moment, with the game speed, that impact hooker coming off the bench is working for a few teams."