Wests Tigers will be looking forward to playing at Campbelltown Sports Stadium in front of a strong home crowd against the New Zealand Warriors this Friday night.
Round 3 is Multicultural Round in which Wests Tigers will recognise and celebrate cultures involved with the club and the community. All Members and fans are encouraged to showcase their culture at the match and take part in the activities on the night.
MATCH DETAILS
Date — Friday, 25th March, 2022
Time — 6pm AEDT
Venue — Campbelltown Sports Stadium
Match: Wests Tigers v New Zealand Warriors
ROUND 1 - FRIDAY 25TH MARCH
Match: Wests Tigers v Warriors
Round 3 -
home Team
Wests Tigers
16th Position
away Team
Warriors
12th Position
Venue: Campbelltown Sports Stadium, Sydney
EVENT DETAILS
4:30pm - Pembroke Road Ticket Box and Corporate Gate opens
4:45pm - Leumeah Road Ticket Box opens
5:00pm - Gates Open
6:00pm – NRL, Wests Tigers vs. New Zealand Warriors
TICKETS AND MEMBERSHIP
Wests Tigers Members are encouraged to arrive early and check out our Member Recognition Wall located at Leumeah Road.
Come and check out our Membership options and speak to our friendly staff who will help sign you up and ensure you don't miss any action across the 2022 NRL season.
For Membership enquiries, Wests Tigers Membership team will be available at both the Pembroke and Leumeah Road entrances.
Remember to bring your scarf and #ShowYourStripes by holding it up in support of the team as they run out onto the field.
General public tickets can be purchased here.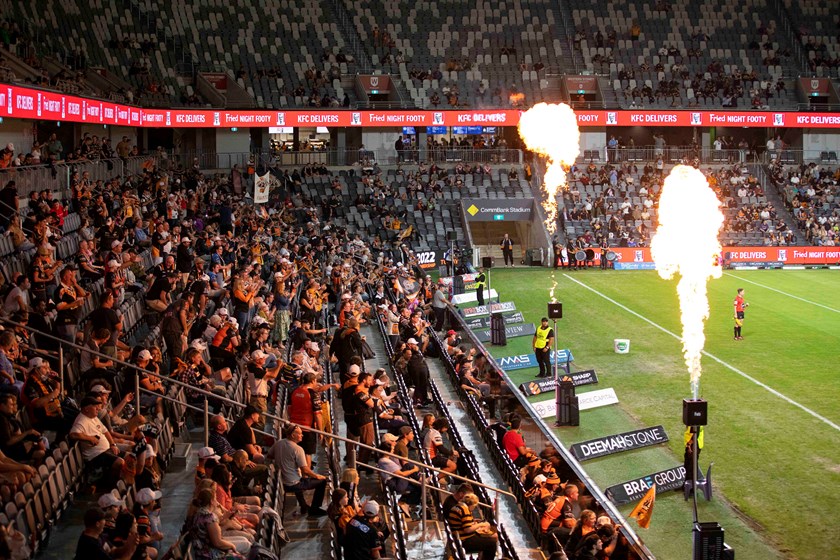 MERCHANDISE
Members and fans will have the chance to pick-up all the 2022 official merchandise at Campbelltown Sports Stadium.
The Merchandise outlet will be located at the Leumeah Road entrance.
Members and fans can also grab all the latest gear at the official online store.
What's On
As we celebrate Multicultural Round we will be delivering a welcome to country as well as a variety of performances from the Lebanese, African and Maori cultures throughout the evening.
Pre-game, representatives from our talented Junior Rugby League players Macarthur and Group 6 area will take part in a march-past and before the game make sure to take the kids to our Kids Zone for lots of fun with our jumping castle.
Don't forget to get into the theme of Multicultural Round by trying some of the different foods on offer including kranskies, souvlaki, falafel and hangi.
Our Wests Tigers will run out between various national flags to recognise and represent the many cultures that are associated and involved with Wests Tigers and the game of rugby league.
Wests Tigers premier partner KFC is also our match day partner for this round and will be conducting a KFC Bucket Catch Challenge at half-time with fans in attendance being given the chance to participate.
Post-game, Wests Tigers players will be handing out mini footballs to Members and fans in attendance. Will you be one of the lucky ones to get one?
Show Your Stripes
Don't forget to bring your Wests Tigers Members scarf to the game on Friday with the club continuing the Show Your Stripes campaign in 2022. As kickoff approaches, Members and fans will stand together with scarves above their heads to support the players as they take to the field. You can still participate even if you can't make the game by posting a photo on social media using #ShowYourStripes.
COMMUNITY
Official Match Day Charity Partner
Wests Tigers are pleased to have Settlement Services International (SSI) as our official charity partner for Multicultural Round at Campbelltown Sports Stadium.
SSI is a community organisation and social business that supports newcomers and other Australians to achieve their full potential.
SSI work with all people who have experienced vulnerability, including refugees, people seeking asylum and culturally and linguistically diverse (CALD) communities, to build capacity and enable them to overcome inequality.
This Harmony Week, join SSI and Wests Tigers in celebrating Australia's cultural diversity and ensure all members of our community feel a sense of belonging.
Wests Tigers 50/50 Charity Raffle
Wests Tigers will be supporting charity partner, Settlement Services International through the 50/50 Charity Raffle.
To purchase your tickets, support a great cause and go in the chance to win part of the total funds raised, head to the match this week or if you are watching from home purchase your tickets here.
MATCH DAY TRAVEL INFORMATION
Fans are encouraged to plan ahead and consider all the available travel options.
When catching public transport, plan ahead, allow extra time and sit or stand on the green dots. You can also check real-time capacity indicators when planning your trip or boarding services.
Trains run regularly to Leumeah Station which is less than a five-minute walk from the stadium.
A number of bus services are available within walking distance of Campbelltown Sports Stadium. Bus stops can be found on O'Sullivan Road and Pembroke Road using the following bus routes:
870 - Campbelltown, Ingleburn, Liverpool via Harrow Road and Glenfield
871 - Campbelltown, Ingleburn, Liverpool via Glenfield and Leacocks Lane
872 - Campbelltown, Ingleburn, Glenfield via Macquarie Fields
881 - Campbelltown, Leumeah (North Loop Service).
For more information including bus route maps and timetables visit Transport NSW.
Remember it's mandatory to wear a face mask when travelling on public transport, and you'll need to use an Opal card or contactless payment card/device.
Drive with your group and use nearby local parking. Allow extra travel time on the roads as traffic may be heavier getting to and from the game. You can find real-time updates on traffic conditions at livetraffic.com.