It may have taken him 2784 days, but Wests Tigers halfback Jackson Hastings is excited to be making his 50th NRL appearance on Monday.
Hastings played his first game for the Sydney Roosters in the final round of the 2014 season and has utilised his experience to become an improved player on the field, and a better man off the park.
Not too many celebrate their 50th, but after going through my journey, it's a pretty big milestone for myself

Jackson Hastings
After a three-year stint at the Roosters, Hastings completed an ill-fated move to Manly that ended with the halfback travelling to England in search of a fresh start.
Hastings stated that his recent three week suspension has allowed him to reminisce on the ups and downs of his career and appreciate all the hard work that has led to this moment.
He opened up about his emotional reaction to receiving a scrapbook compiled by his late grandfather, who always stuck by him when times were tough.
"When I looked back at that scrapbook and his messy handwriting in the messages he wrote under the photos, it did bring a tear to my eye". 
"He was someone who definitely supported me and wanted me to do well. He saw my Dad go through the process and always told me when I was a young kid that I'm Jackson, not Kevin. That really stuck with me".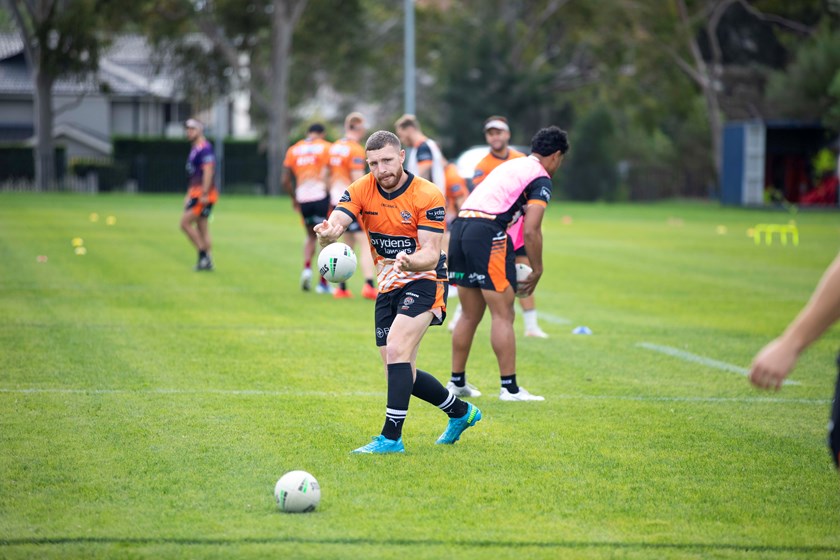 Hastings admitted that he is still pinching himself about signing with Wests Tigers, stating that the opportunity to play under Michael Maguire was too good to pass up.
"Madge was a massive factor for me because of his vision and his drive".
"A lot of the young kids that have massive futures, you might not have seen yet. Some are injured or waiting to break onto the scene, so it's very exciting".
Hastings also described his excitement to be moving into the club's new Centre of Excellence, believing that the facility will enable Wests Tigers to attract the league's top talent.
"For a player, to have those facilities in the one spot, as opposed to jumping around, it saves a lot of headaches"
After making his club debut at five-eighth, Hastings will move into the halfback role for Monday's clash against Parramatta. The reshuffle will see Luke Brooks wear the number six, and Hastings hopes that the change will unlock the running game of his halves partner.
"I've played seven pretty much my whole life, so it wasn't a massive move for myself".
"It'll just free Brooksy up to not worry about that side of the game. He can be himself, run the ball and play some eyes up football".
Hastings has immense respect for Brooks and the way that he continues to demonstrate mental toughness and a strong work ethic in the face of intense scrutiny.
I've never seen anyone get beat up the way he does by the media, and the way he takes that mentally is pretty incredible. I've never seen him kick stones or complain once

Jackson Hastings
"Hopefully we see a man of the match performance on Monday night, because if anyone deserves it, it's Brooksy".