Dally M Medal winner Jessica Sergis will make her long-awaited Wests Tigers debut this weekend against North Sydney Bears in the Harvey Norman NSW Women's Premiership.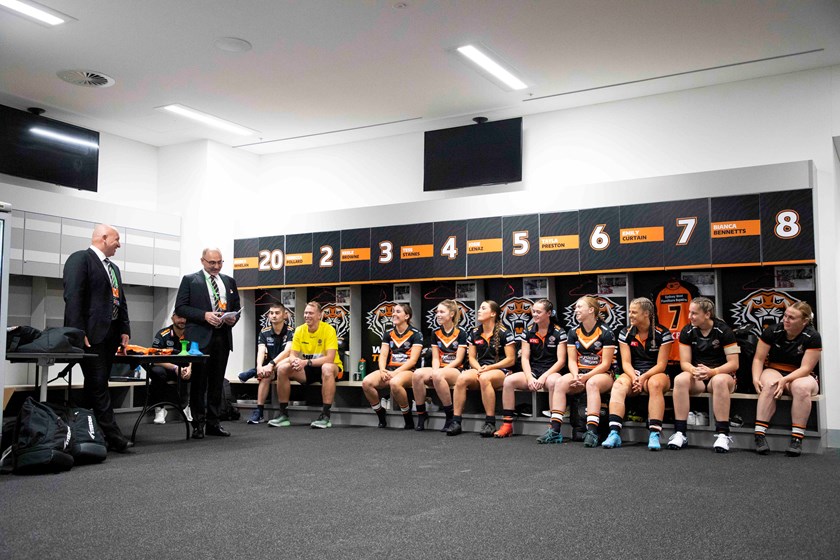 Sergis will become Wests Tigers player #60 on Sunday, joining five others who have made their club debut this season.
Speaking ahead of her first outing, Sergis has given a big thumbs up to Wests Tigers bid to join the NRLW next season.
I'm so pumped to represent the Wests Tigers in the Harvey Norman Women's Premiership. There is so much to offer here, including a new state-of-the-art facility which is soon to open."

Jess Sergis
I know how much the club is striving for that NRLW license so, fingers crossed, we can get it," said the premiership-winning back.
"We're going really well at the moment with two wins from two and I'm so excited to continue to build on that with the girls."
It's such a great club and especially with what they've built throughout the pathways here, it really shows."

Jess Sergis
"I think with a lot of NRLW clubs, they haven't been that strong on the pathways side.  What I've noticed here is that the club is very loyal to its girls," Sergis explained.
"As I said, growing those pathways and doing all the right things, I think the next step would be the NRLW, and I think they would, fingers crossed, go well."
Sergis excited ahead of Wests Tigers debut
Another prominent woman backing the Wests Tigers NRLW bid is Federal Member for Reid, Fiona Martin.
Ms Martin was on hand recently to witness the club's season-opening win over South Sydney at CommBank Stadium, sharing a photo opportunity with the squad.
"Elite and senior female athletes inspire young girls and other women," said Martin.
"Seeing women succeed in sport encourages girls to believe in themselves and seeing articulate female athletes also empowers young females in other aspects of their lives. That's the motto of "If she can't see it - she can't be it"
We need higher visibility and equality for women's sport to address the broader issues that girls and women face."

Member for Reid, Fiona Martin
Coach Brett Kimmorley believes the club is uniquely placed to provide a stream of local talent should it be given the green light for an NRLW side.
You've just got to look at the number of local girls in this team, and our Tarsha Gale side, to see how many we have coming through the pathways system. Really good players who want to go as far as they can in the game."

Brett Kimmorley
Wests Tigers Harvey Norman Women's side boasts seven girls with NRLW experience, including Sergis, Kezie Apps, and injured star Botille Vette-Welsh.
The vast majority of the squad are from the local catchment area including, captain Emily Curtain.
Curtain says it has been a dream of hers for several years to play at the top level and represent her local community.
"I've been with the Wests Tigers now for a few years playing in the Tarsha Gale and Harvey Norman teams, but the opportunity to play with the club in the NRLW would be a dream come true.
My journey I think is an example for other young local girls, knowing there is a pathway to the top for anyone who has the same aspirations."

Captain, Emily Curtain
Wests Tigers' Harvey Norman NSW Women's Premiership side plays North Sydney Bears at North Sydney Oval this Sunday afternoon at 1:00 pm.