Magic Round did not go according to script for Jake Simpkin, but his story may inspire other young Queenslanders to follow a similar path.
The 20-year-old hooker was heavily concussed at Suncorp Stadium and forced from the field in the first half against North Queensland Cowboys. He'll now have to follow a strict set of concussion protocols in the coming days.
The day before the knockout mishap Simpkin was explaining to other young Queenslanders about the path that he has travelled, one that took him from Toowoomba to Concord, via Brisbane's Wynnum Manly.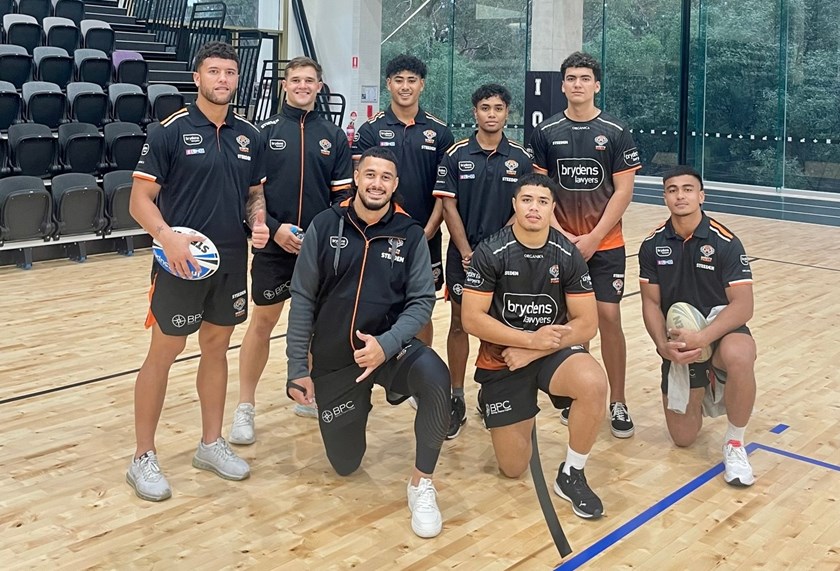 The focus of Wests Tigers Pathways Program is on developing and retaining local talent, but like all clubs, recruitment extends much further afield.
Wests Tigers development team made good use of the Magic Round weekend, hosting a rugby league clinic for about thirty young teens from all parts Brisbane. Club talent Scout Troy Clarkson ran the session for the players, many of whom were from local Iona College.
It was also a 'magic weekend' for a handful of other young aspiring NRL players, some who are already 'on the books' at Wests Tigers. Chris Fa'agutu, Javon Andrews,  Mou Taumaletila-Maulolo and Jeconhia Seden attended the Clinic as assistants, before getting up close and personal with Michael Maguire and the NRL squad at their Brisbane hotel.
Pathways Manager Matthew Betsey says it's important to provide opportunities well beyond the club's own back yard, "Not all young Queenslanders will go on to play with a club in their home state. That's just the way it is.
It's really important that we can offer opportunities to others like the boys up here in Queensland.  This type of development is to compliment all the great work we are doing in our own local area."

Matthew Betsey
What made the night even more special for the four young men mentioned above, was being on hand for Junior Tupou's jersey presentation on the eve of his NRL debut.
Tupou would go on to score his first try in his very first NRL appearance. It was one highlight for the team on what was a difficult night at the office for the team.