Wests Tigers most promising pathways players have been put through their paces by a handful of NRL stars in preparation for a 'trip of a lifetime'.
An Under 18's Cubs team has been hand-picked for a Cultural and Development tour of New Zealand, with the side to play in the curtain-raiser to the Round 16 NRL match against the Warriors at Mount Smart Stadium next Sunday.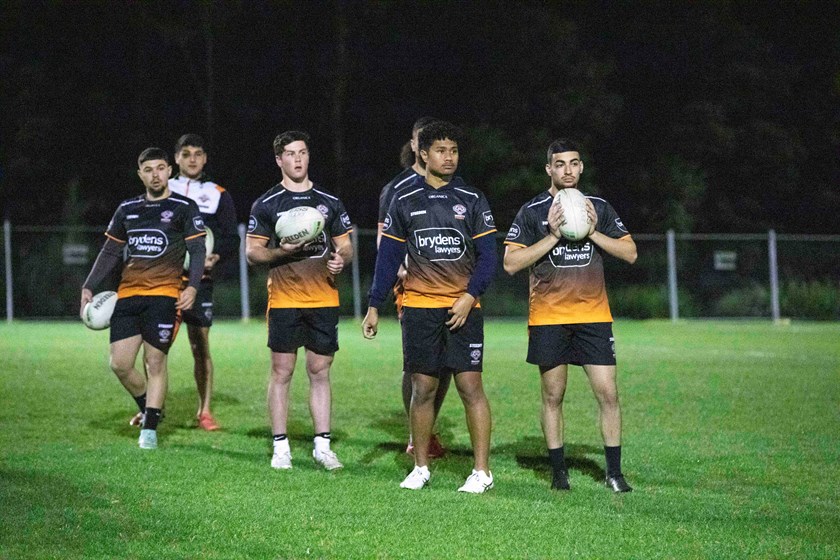 The aim of Wests Tigers Cubs Program is to identify and develop the best local juniors from the club's catchment areas.
The touring Cubs team is made up of Wests Tigers best rising stars with players selected from the 2022 Western Suburbs and Balmain Harold Matthews Cup teams. Many other pathways players will also be on representative duty next weekend, at the Australian Schoolboys Championships in Redcliffe.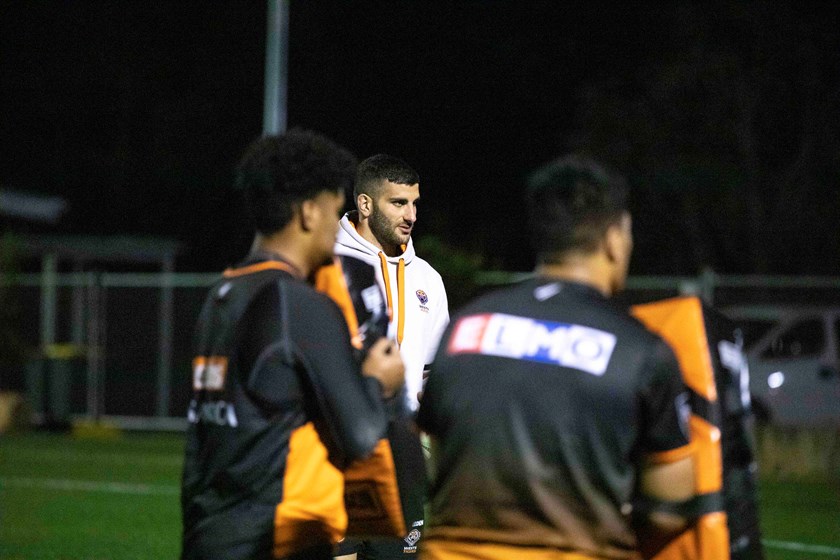 Alex Twal, Jock Madden, Kelma Tuilagi, and Jake Simpkin were all on hand on Thursday night at the club's Concord base to provide a 'key positions session' for our emerging stars.
The session - which had players grouped in specialist positions - was designed by interim head coach Brett Kimmorley. In his role as Pathways Coaching Manager, Kimmorley was actively involved in the Cubs program.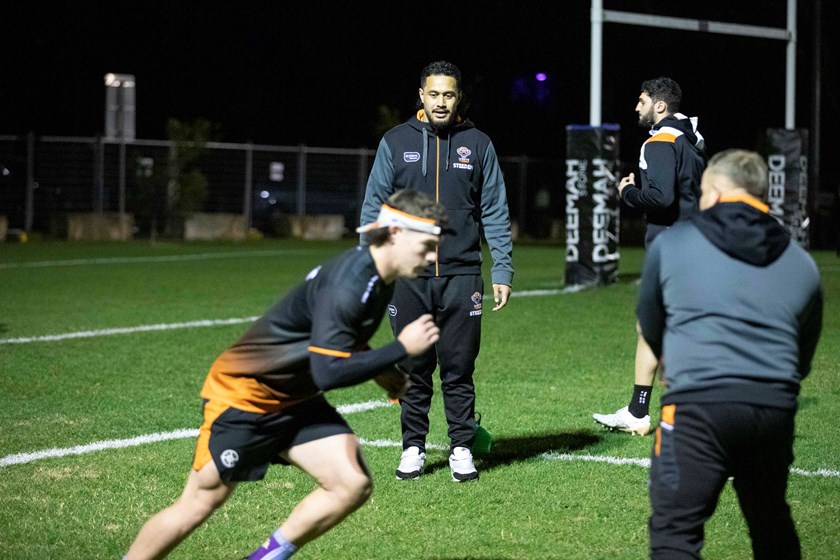 Next week's tour is about much more than running out at Mount Smart Stadium. As Kimmorley explains, it's also about preparing 'NRL ready' players.
"This is a wonderful opportunity for these young men, and they are to be congratulated on being selected. It's a big trip for the club as a whole and these fellas will learn a lot from the experience."
Yes, we want them to do well against the Warriors side, but it's much more than that. Experiences like this will help them develop in the Wests Tigers way as good people, not just good footballers."

Brett Kimmorley
Thursday's session was another important experience for the Cubs, and for our own players too who took time out to help.  I know the NRL boys enjoyed it just as much as the younger guys."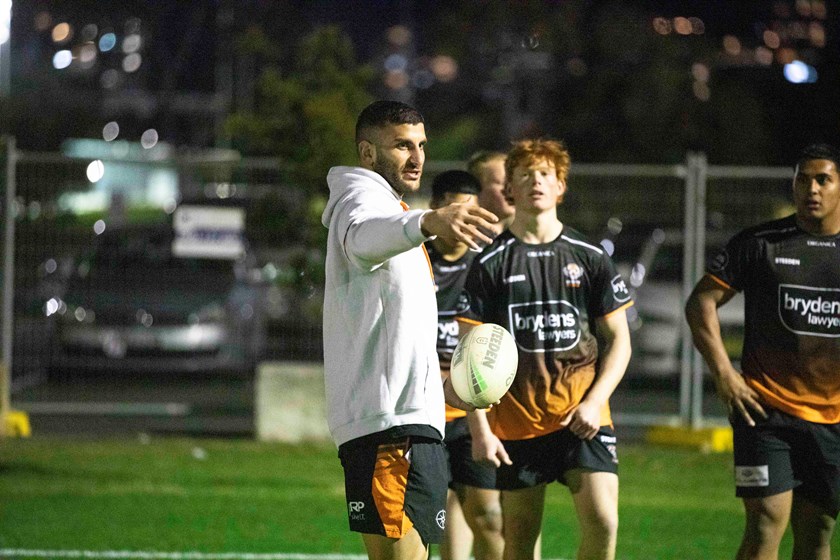 Twal, who took charge of those in key forward roles,  was impressed by the players' thirst for knowledge.
"They are such a talented bunch and being among the best in our pathways, I expected that would be the case.  But what really stood out for me was how polite and attentive they were. 
They were full of questions and it's obvious they are super keen to learn and become better."
This club means so much to me so to be able to help the next generation of players is a real privilege. It's massive."
Any way I can help, I'm more than happy to pass on some of the things I've picked up over the years."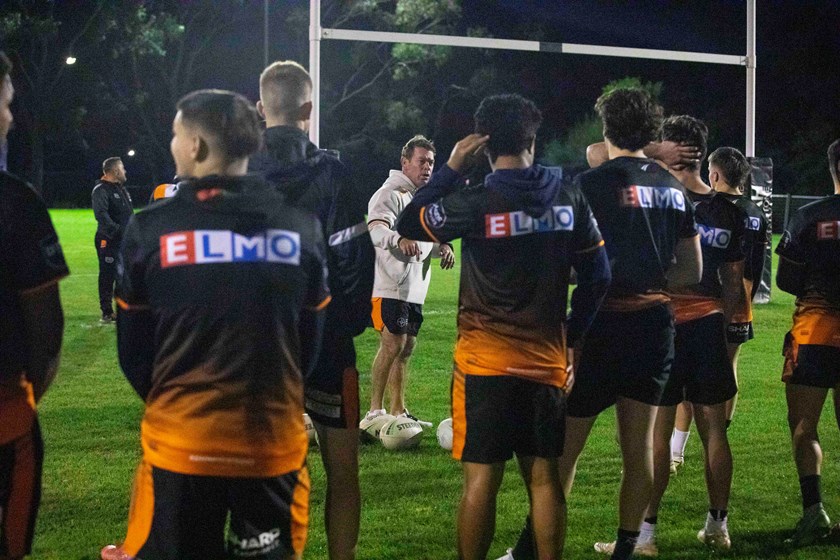 Cubs' halfback, Levi Conti says he's over the moon to be heading to New Zealand.
We are all just so excited and lucky too to be going over there with the NRL team.  It is the trip of a lifetime for many of us."
To have a session with the NRL boys was unbelievable.  I learnt so much in a short space of time."
We are one lucky group of Cubs that's for sure."                                           
Head of Pathways Matthew Betsey is equally excited about the opportunities being provided to Wests Tigers stars of the future.
"I'm so excited for all the boys involved, whether it be those attending the Cubs tour, or those playing in the Schoolboys Championships," Betsey said.
It's rewarding to see the continued investment in our pathways providing opportunities for these young men."

Matthew Betsey
"The development of our local juniors into 'NRL ready' players will remain a key focus of the club in our short and long-term future."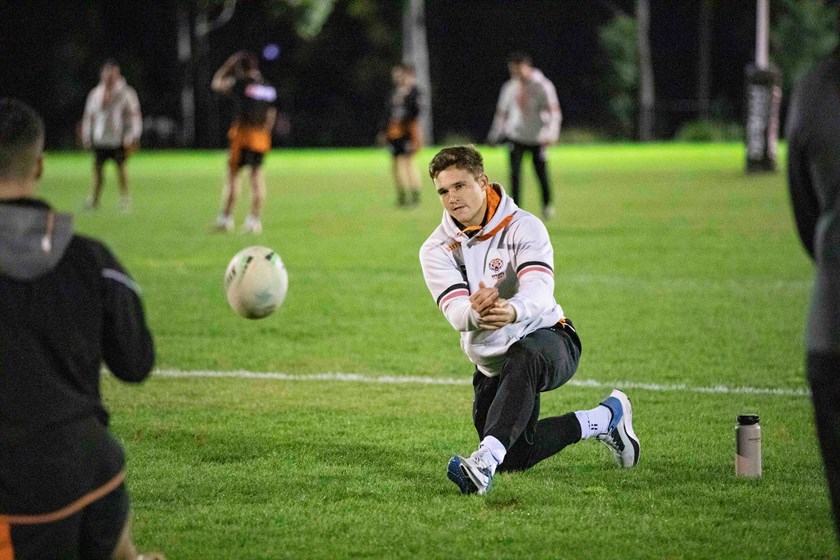 Nine of the club's pathways stars not attending the tour of New Zealand will play at the Under 18's Australian Schoolboys Championships next weekend, including Western Suburbs Harold Matthews premiership-winning captain, Kit Laulili'i.
Another seven boys have been selected to represent NSW in the Under 15's National Championships.
Wests Tigers Under 18's Cubs Team
Cameron Kanaan, Ofele Lene, Wade Zreika, William Craig, Taj'h Colquhoun, Jonathan Ibrahim, Levi Conti, James Folaumoetui, Heith Pritchard, Tony Sukkar, Lachlan Galvin, Jeremiah Leatigaga, Zak Clarke, Alekolasimi Jones, Luke Keppie, Daniel Waqa, Lachlan Bush and Aidan Harb.
Wests Tigers Pathways players - Australian Schoolboys Under 18's
Jordan Miller, Tom Fisher, Heath Mason (NSW Combined Catholic College), Solomone Saukuru, Kit Laulili'I, Tallyn Da Silva (NSW Combined High Schools), Alex Conti, Lipina Ata (NSW Combined Independent Schools) and Chris Fa'agutu (Queensland).
Wests Tigers Pathways players - Australian Schoolboys Under 15's
Alex Isdale, Ali Karnib, Peter Ta'ai (NSW Combined High Schools), Onitoni Large, Ashton Large, Heamasi Makasini, PJ French (NSW Combined Independent Schools).