Wests Tigers are hoping to keep the good times rolling when the club celebrates its own Women in League Round on Sunday.
The match against the Knights at Campbelltown Sports Stadium will be the club's fourth major event in the space of just ten days, capping what has been a highly eventful fortnight, on and off the pitch.
Match: Wests Tigers v Knights
Round 21 -
home Team
Wests Tigers
15th Position
away Team
Knights
13th Position
Venue: Campbelltown Sports Stadium, Sydney
Following the team's heart-breaking loss in Townsville, the club held its Women in League High Tea last Thursday, where former Olympian Jana Pittman was the keynote speaker.  Players from Wests Tigers premiership-winning Harvey Norman Women's team were among the 140 guests in attendance.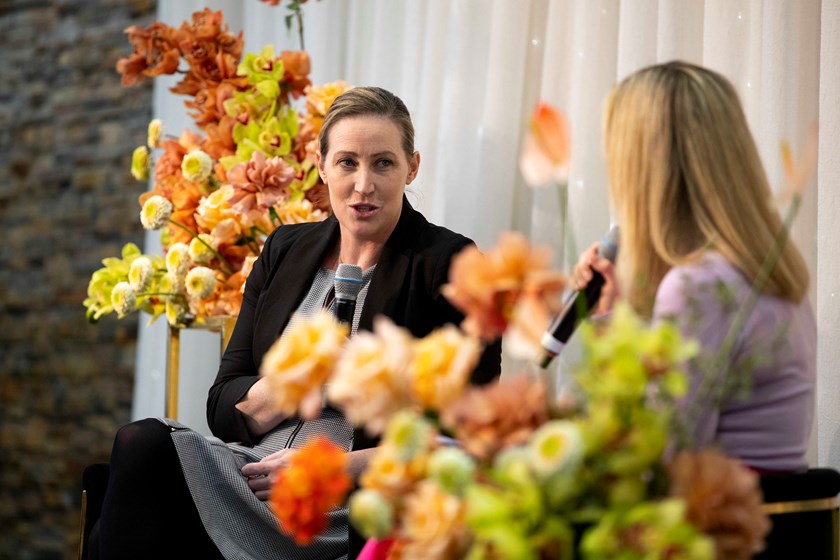 Twenty-four hours later the club hosted an exclusive Members Night in Brisbane, on the eve of the team's victory over the Broncos.  The location of this annual 'road trip event' has varied over the years, with similar events held in Canberra and Melbourne.  
The event was put on hold through the Covid pandemic, making this year's gathering at City Hall in Brisbane's CBD, extra special for those in attendance. 
The event was hosted by popular sports presenter, Alissa Smith who interviewed several players including premiership-winning captain Scott Prince and former teammate Robbie Farah. 
Members came from far and wide to share an evening with their favourite players, from North Queensland to Campbelltown and from many parts in between. New friendships were made, and old friendships rekindled, showcasing the role our club plays in connecting its community.
Craig Walker has been a Wests Tigers Member for 14 years and now lives in Brisbane. Craig randomly appears in a keepsake photo owned by another Brisbane-based Wests Tigers Member, Daniel White.  The photo was taken at Leichhardt Oval when Robbie Farah played his final game for the club.  Until Friday night's event, these two Members had never met. Now that they have, both families plan to stay well connected.
Then there's the story of the cousins who hadn't seen each other for 30 years, but through Wests Tigers, have reunited.  Josie and Anna are both from South-western Sydney but drifted apart.  Thanks to a mutual Wests Tigers Friend on Facebook, they reconnected. Now they are part of a four-strong ladies' crew, including Natalie (Rooty Hill, NSW) and Jodie (Mackay, QLD) who travel together to at least one interstate game each season.
Kerry Dunn was another at the event who emailed the club the very next morning, "I just wanted to say thank you for a great evening last night.  I had a great time, and it was lovely to interact with the players."
Last night reinvigorated my loyalty to this club, this team, and the future. Well done."

Kerry Dunn, Wests Tigers Member
Rachel Cummins is Wests Tigers Head of Fan Engagement, who has organised several club events over the past few years.
"I spend a lot of time talking with our members and what really stands out for me through events like this, is just how important our club is in their lives."
We are all a part of this huge community, connected through our love of Wests Tigers."

Head of Fan Engagement, Rachel Cummins
When you hear some of these stories, it makes you realise that being a Wests Tigers member, is about so much more than wins and losses."
Cummins says the post event feedback from Friday's event has been outstanding.
"As with all events we host we do a follow up with those who attend, including questions about the venue, catering, player engagement, value for money and overall satisfaction.
This was an exclusive event which allowed our members to interact and spend quality time with the players."
Feedback from this event was among the most positive I have seen in my time at the club."

Rachel Cummins